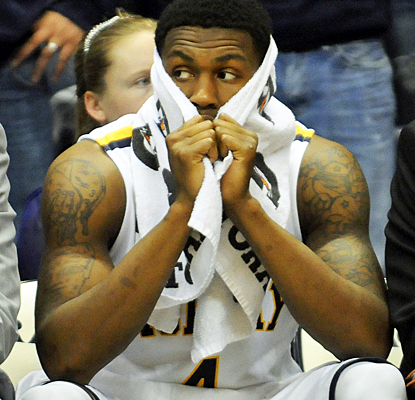 While Murray State's first loss of the entire season is getting the most play nationally, two other potential mid-major tournament teams suffered their first conference losses in the past week.
St. Mary's dropped a game that could easily be expected when one shares its conference with a heavyweight rival. Their
73-59 loss to Gonzaga
is far from a resume-killer, considering the Bulldogs' own strong national profile and the Gaels' 20-point win last month. St. Mary's still holds a game-and-a-half lead over the Zags in the West Coast Conference, and of their remaining league opponents, only Loyola Marymount has a winning conference record.
The psychology of this rivalry, however, is what makes it fascinating. Gonzaga has owned the West Coast Conference lock, stock, and barrel for over a decade, winning 11 of the last 14 regular-season titles outright and splitting two more, including with SMC last season. The Gaels are fighting out from under a long history of being under Big Brother's thumb. Still, the hostile atmosphere in a place like the Kennel can make even the toughest veteran teams buckle at the knees.
Some of the students who
camped out for two days
admitted that there was a desperation in the air Thursday night. The Bulldogs had won 24 of 27 meetings since 1999, and the January loss was a gut punch to the West Coast dynasty. The players played with an aggression borne of similar fury, aiming to ensure that their title wasn't being taken away without a fight. Saint Mary's sophomore guard Stephen Holt, who recorded 13 points, six rebounds, and five assists in round 1, was held scoreless on only four shot attempts. Junior point guard Matthew Dellavedova scored 20, but was held to a 3-3 assist to turnover ratio, far below the 6-1 that he carded last month.
Gonzaga was fighting to ensure what they felt was rightfully theirs. Last Saturday, the Denver Pioneers faced a stiff battle for whatever acclaim they could earn.
Middle Tennessee State's gaudy 21-3 record and 10-0 mark in the Sun Belt was garnering the Blue Raiders some Top 25 votes and made their trip to Denver a magnet for ESPN2's national coverage, as if it hadn't already been
eventful enough
.
MTSU hadn't been seriously tested in the Sun Belt, with only two of those first 10 wins coming by a single-digit margin. Only two opponents all season had shot better than 50 percent from the floor against Middle, and one of those was Vanderbilt. Additionally, Vandy was the only Blue Raider opponent to commit fewer than 12 turnovers against Middle's stifling defense. Denver added its name to both of those columns last Saturday.
I spoke to MTSU coach Kermit Davis on my radio show Wednesday night and posed a question about whether or not the team may have overlooked Denver after a tough Thursday battle with potential NBA lottery pick Tony Mitchell and North Texas. His response contained the phrase, "You must not follow our team very closely."
Leaving that aside, those of us who do follow college basketball closely are well aware of the dangers of 18-to 22-year-olds who are told they're having great seasons. Swagger can be corrosive as well as addictive, and adversity can cause difficult side effects. Like the Kennel, Denver's Magness Arena was a boiling cauldron of energy, stirred by students and other fans who had never had national TV cameras in the house. The Blue Raiders wilted, losing 75-60, then came home to stew for four days.
After the thorough dismantling by Denver, Middle came out Thursday night and pressed through the first half against a young Western Kentucky team that's already seen its coach fired. The Raiders shot 28.9 percent in the first half, prompting
Davis to say after the game
, "
We played selfishly in the first half. We hadn't done that in a while. At one time out, I asked 'Has everybody got a shot up now? Is everybody good now?' It was like everybody was trying to get a shot off."
Middle's margin for error is dwindling, an at-large bid to the NCAA Tournament now a difficult proposition. This tournament-championship-or-bust pressure will only continue to escalate with every win, for the players as well as Davis, who is entering uncharted territory. He hasn't had a season like this since 1994, when his Chipola Junior College team went 27-5. It's safe to say that none of those games were being televised by ESPN.
The motivation of Denver to knock off the league bully and the desire of Gonzaga to maintain their conference stranglehold may pale, however, in comparison to the heat that has swirled around Murray State during their 23-game unbeaten run. Every Ohio Valley Conference opponent knew that their dates with the Racers would be accompanied by national scrutiny and possible TV coverage.
The kicker to Murray State's loss was that it came at home, a rare condition for the nation's final unbeaten team. Only three of the last 10 final unbeatens took their first loss on their own court.
Murray State coach Steve Prohm acknowledged the pressure of being the 800-pound gorilla after the loss, saying, "
"You don't know, but it had been stressful that every single night, everyone expects you to win at Tennessee-Martin by 30." That stress is all that an inflated No. 7 ranking brings.
MSU's Jewaun Long admitted that he felt like the Racers had "
let a lot of people down in life"
after allowing the unbeaten streak to come to an end.
Long's teammate Ivan Aska had a different approach, saying "In a way, (I'm) glad we lost ahead of time than way in the tournament or somewhere." Therein lies Murray's dilemma.
Going into the OVC Tournament unbeaten would have helped their at-large chances in the event of a stumble, especially since that would have involved a win over Saint Mary's in a BracketBusters game on February 18. Now, the Racers have to take a blemished record on road trips to Southeast Missouri and Tennessee Tech, both of which played them within eight points on their home court, plus a return engagement with their conquerors, Tennessee State.
No one else in the OVC is ranked in the top 150 on ESPN's InsideRPI, and another league loss would hurt more than non-league wins over Southern Miss, Dayton, and Memphis may help. Unless they pull a win over Saint Mary's, Murray State has a series of games that can do more harm than good to their resume going forward. Another league loss and a failure to win the OVC Tournament could lead to a lot of additional stress on the Racers come Selection Sunday.
Saint Mary's can at least move forward secure in the knowledge that only a truly epic collapse can keep them out of the Big Dance. Middle Tennessee and Murray State have no such luxury, needing to keep the pedal to the floor and knock out all opposition rather than take the decision to the Selection Committee's scorecards.