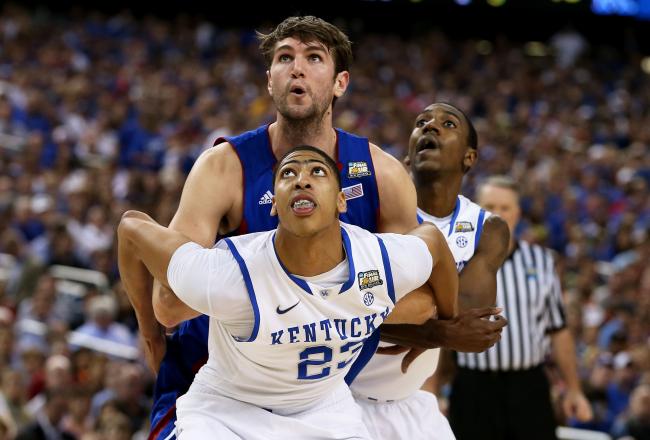 If you're like me, you're seeking college basketball news to read and write about aside from the usual offseason slobbering over high school players. Sometimes, we have to invent that news ourselves. Spreading rumors about coaches on the hot seat is considered tacky and indecorous when we don't have the ear of any prominent athletic directors, though.
On a blog that went to the effort of seeding and bracketing a full tournament that trumpets itself as featuring "the real best 68 teams in the nation," it almost seems like something's missing if we don't actually play it through and see how the event would have unfolded. The only way I know of to do that involves our boys at
WhatIf Sports
.
WhatIf gives you options to match nearly every team in America against one another and decide how those games would have played out. Depth chart changes can even be made, reflecting such real-world events as Fab Melo's ineligibility for Syracuse.
The format for the Bilas Invitational was that each matchup would be simulated seven times, in effect making each game an NBA-style series. The first four were each under the "Use Home Court" option. Any beyond that used the "Neutral Court" option.
The results that will be posted are of the winning team's fourth win in that seven-game series. You can go simulate these games and you'll get highly different results, but these are what the simulator produced for me.
Go
here
to take a look at the full S-Curve, and the bracket is
here
. We'll start with the overall top seed, the Kentucky Wildcats, and their journey through the East Region.
Play-In Game:
St. Bonaventure 64, Colorado 54
Colorado's last lead in the game was 11-9, but they valiantly clung to life, even fighting back into a 38-38 tie early in the second half. The Bonnies then launched an 11-1 run, only to see the Buffs rattle off 10 in a row themselves, seven by Carlon Brown. Brown's banking runner tied the game at 49 with 6:11 remaining.
From there, though, the Bonnies caught fire from outside, draining three three-pointers as part of a 13-2 run that put the game away.
Andre Roberson outdueled Andrew Nicholson 16-10 on the boards and also recorded three blocks and two steals. Neither man was much of a scoring factor, though, with Nicholson outscoring Roberson 9-6.
Carlon Brown led the Buffs with 17 points. Demetrius Conger paced the Bonnies with 14 points on 3-for-4 from deep. Two of those long shots came during St. Bonaventure's closing surge.
The victory allowed SBU to move on and face Kentucky. Talk about small favors.
Round 1:
#1 Kentucky 70, #16 St. Bonaventure 58
The Bonnies actually led 35-33 at the half, despite a massive first half from Anthony Davis, who dropped 15 of UK's first 25 points. Davis also had five rebounds and seven blocks at the half, and if you would expect that to put him on track for a triple-double, you'd be right.
\
St. Bonaventure relinquished the lead early in the second half, but the score was still 48-46 after an Andrew Nicholson banker with 11:47 left. From there, Kentucky scored 11 in a row, and SBU never got closer than eight the rest of the way. In fact, St. Bonaventure only scored three points in the final 6:18 and shot 34.5 percent for the game.
Davis finished with 20 points, 14 rebounds and 12 blocks. Michael Kidd-Gilchrist scored 15 of his 17 in the second half. Andrew Nicholson led the Bonnies with 22 points, 11 rebounds and three blocks, but was held scoreless for the game's final eight minutes.
#9 Long Beach State 80, #8 California 71
The 49ers led for the majority of the first half, but their in-state rivals battled back in front early in the second. Cal's lead was all the more impressive since Jorge Gutierrez and David Kravish both committed three fouls in the first half.
After Justin Cobbs drained both ends of a one-and-one to cut the Beach's lead to 69-65, LBSU's defense tightened up, forcing three misses and a turnover leading to a 6-0 run. Gutierrez drained a three to cut the lead to seven, but Casper Ware responded in kind to truly ice the game.
Larry Anderson scored a game-high 22 points for the 49ers, who put five guys in double figures. Gutierrez shot 8-of-16 from the floor en route to 21 points, adding four steals. LBSU moved on to face Kentucky.
#12 Iona 77, #5 Michigan 73
Michigan led by one at halftime, despite 2-for-6 shooting from Trey Burke, who missed nine minutes with foul trouble. Burke made up for lost time with 16 in the second half, including seven straight to put the Wolverines up 45-44 with 13:09 left.
From there, though, the Gaels took control with a 12-2 run. During that time, Tim Hardaway Jr. clanked five shots and Iona's Mike Glover rebounded all of them. Burke and Jordan Morgan tried to shoot the Wolverines back into the game, and Hardaway did knock a three-pointer with 11 seconds left to cut the lead to four. Sean Armand made three of four free throws to ice the game.
Five Gaels scored between eight and 14 points, paced by Glover's 14 points and 12 rebounds. Point guard Scott Machado added lots of round numbers, recording eight points, six rebounds and eight assists.
Burke led UM with 20 points and Hardaway added 14. Zack Novak contributed 10 points, seven rebounds, seven assists and four steals.
#4 Memphis 73, #13 Miami (FL) 55
Memphis scored the game's first seven points, but the Hurricanes kept that margin stable until the final six minutes of the first half. From there, the Tigers closed the half on an 11-3 run. Miami never got closer than 11 the rest of the game.
Will Barton and Tarik Black both carded double-doubles for Memphis. Joe Jackson added a game-high 17 points, three steals and two blocks.
Miami shot an ugly 35 percent from the floor, including a mere 4-of-19 from long range. Kenny Kadji led their scoring with 13 points.
#11 Belmont 81, #6 Gonzaga 75
Belmont reserve guard J.J. Mann scored all 12 of his points in the first half, pacing the Bruins to a 44-31 margin. Gonzaga fought back, actually tying the game at 62 with 5:05 left.
Over those last five minutes, however, Belmont converted seven of its final eight shots, and Mick Hedgepeth made two free throws off the one miss. Gonzaga couldn't keep up with such efficiency, and the game was put away when Kerron Johnson rebounded Kevin Pangos's missed three-pointer with 10 seconds left.
Ian Clark led five Bruins in double figures with a game-high 20 points, adding three steals. Johnson scored 14 and added six assists.
Gonzaga also had five players in double digits, but it was led by Elias Harris with 13. The Zags were not helped by 12-of-23 free throw shooting.
#3 Baylor 75, #14 South Florida 56
USF started hot, making its first four shots, but missing the next six allowed Baylor to take a lead that they would maintain for the game's final 34 minutes. Pierre Jackson and Quincy Miller scored eight each as the Bears took a 37-29 lead to the locker room.
The Bulls tenaciously trimmed the lead to four on a pair of occasions, but their perimeter defense let them down each time. A pair of threes from Miller, and later one from Jackson, kept Baylor's lead to three-possession margins. A six-minute drought, however, doomed the Bulls. Baylor's lead ballooned from seven to 20 before Anthony Collins knocked down a pair of free throws with 3:27 left.
Miller led Baylor with 20 points, draining all three of his three-point shots. Jackson produced 16 points, seven rebounds, five steals and four assists.
Ron Anderson Jr. led USF with 11 points, and Hugh Robertson added 10. Collins recorded 11 assists and four steals to go with his six points.
#7 UNLV 73, #10 Harvard 49
UNLV reminded Harvard very quickly that they were a long way from the Ivy League, racing to a 16-5 lead after six minutes of play. The lead rose to 16 at halftime and expanded to 30 at its peak, when the Crimson finally stopped a 17-5 Rebel run to start the second half.
UNLV shot only 42 percent from the floor, but Harvard could do no better at 37 percent, including 4-of-15 from long range. Mike Moser's 18 points and 15 rebounds were both game highs.
Oliver McNally led Harvard with 11 points, and Keith Wright added 10 with five rebounds. Brandyn Curry missed all eight of his field goal attempts en route to a three-point game.
#15 Colorado State 74, #2 Duke 65
In this instance of simulation imitating real life, Duke opened and closed the game with serious shooting woes. CSU's 14-point halftime lead was aided by Duke's 1-for-7 struggles from behind the arc. Will Bell scored the last six points of the half to give the Rams that margin.
The Devils found the range midway through the second half and tightened the defense to such an extreme that a 19-0 run put them up 60-57 with 6:21 to go. From there, three turnovers and three missed long jumpers allowed CSU to respond with a 13-0 run of its own. Seth Curry's three made the score 70-63 with 2:15 left, but from there, the Rams converted their free throws and ran out the clock on the number two seed.
Wes Eikmeier led all scorers with 19 points, including seven in the final six minutes. Dorian Green added 15 and five assists, making both of his three-pointers in the Rams' final surge.
Curry and Austin Rivers each scored 15 for Duke, with Curry making 3-of-6 from long range. Overall, the Blue Devils shot 6-of-21 on threes.
Round 2:
#1 Kentucky 84, #9 Long Beach State 70
The Wildcats held an 11-point lead at the half, but nearly got caught coasting through the second. Long Beach was hurt by Larry Anderson committing two fouls in the first three minutes. Without Anderson on the court, UK stampeded to a 19-6 run.
The lead expanded to 19 before Anderson and Casper Ware went to work for the 49ers. Long Beach launched a 25-8 run with Anderson scoring eight and Ware knocking in seven. During the streak, Anderson committed his fourth foul, but never came out of the game. From that 60-58 margin, Kentucky woke up and went on a 14-1 run of its own, stoked by three LBSU turnovers and five straight missed shots. After Darius Miller nailed a three with 6:05 left to put UK up by 11, the lead was never trimmed any closer.
Terrence Jones led all scorers with 22 points, adding eight rebounds, three assists and three steals. Michael Kidd-Gilchrist added 11 points and 13 rebounds, and Darius Miller scored 13 off the bench.
For Long Beach, Ware led with 19 points. Anderson was the only other 49er in double digits, with 11. T.J. Robinson added eight points and 11 boards.
#4 Memphis 84, #12 Iona 67
Iona fought tooth and nail through the first half until the Tigers ended the frame on a 10-2 run, extending to a 15-point lead at the break. In the second half, the Gaels never got closer than eight. A 12-4 Memphis run made the lead 71-55 with 5:59 remaining.
The Tigers shot nearly 60 percent from the floor (33-of-56) and held Iona to 5-of-19 from three-point range. Scott Machado made three of those treys, pacing the Gaels with 13 points and eight assists.
Joe Jackson and Wesley Witherspoon each scored 16 for Memphis. Will Barton added 15 points (11 in the second half), eight rebounds and four assists.
#11 Belmont 72, #3 Baylor 71
In a battle of teams with alliterative ursine names, the Bruins battled back from a 13-point second-half deficit, finishing the game on a 9-0 run capped by an Ian Clark three-pointer from the left corner.
Baylor appeared to have the game in hand when Pierre Jackson nailed a three-pointer with 1:50 left to give the Bears a 71-63 lead. Blake Jenkins converted a three-point play, then Jackson immediately broke Belmont's pressure and missed an ill-advised quick pullup from the foul line. Kerron Johnson found Clark for a right wing three to close the gap to two points.
Rather than foul, Belmont played 30 seconds of solid defense and forced Perry Jones to miss a fadeaway from the wing. Jenkins rebounded and led the fast break, finding Clark in the corner for what would prove the game-winner. Brady Heslip had a chance at a winning basket, but his runner in the lane missed short and Clark pulled the rebound to finish the upset.
Outrebounded by 12 and outshot 47 percent to 42, Belmont was able to stay in the game by virtue of 10 steals and 29 free throw attempts. By contrast, Baylor was only awarded 16 shots from the line.
Clark made only four shots in the entire game, all three-pointers and all inside the final 14 minutes. The first two helped pull Belmont within three points, and the last two were saved for the final minute.
Jones led all scorers with 15. Quincy Acy stuffed the stat sheet for Baylor with 12 points, eight rebounds, six blocks and four assists. Clark led Belmont with 13 points, Johnson added 12, and Mick Hedgepeth contributed 11 points and nine rebounds.
#7 UNLV 78, #15 Colorado State 63
This Mountain West battle was nip-and-tuck into the second half until a 16-5 Rebel spurt opened up an 11-point advantage with six minutes left. Colorado State was never able to get closer than eight, and UNLV moved on to a Sweet 16 encounter with Belmont.
Mike Moser scored 12 of his 19 points in the second half, and his three-pointer gave UNLV the lead for good with 12:10 left. The winning run, however, was capped by reserves Reggie Smith and Justin Hawkins, who combined for six points in the span of one minute.
Key contributors Jesse Carr, Pierce Hornung and Will Bell combined for 29 points, but all had to miss significant time with foul trouble. Hornung's absence was particularly felt, as he committed his fourth foul with seven minutes left and UNLV was able to keep the Rams at arm's length during his four-minute absence.
Chace Stanback added 15 points for UNLV, and Anthony Marshall contributed 12 points and seven rebounds. Dorian Green led the Rams with 15 points and Bell added 12.
The BIT's East Region Semifinalists: #1 Kentucky, #4 Memphis, #11 Belmont, and #7 UNLV