The college hoop coaching carousel never seems to stop. One school just made a move last week after its coach bolted for the NBA.
College football and basketball coach are both jobs whose security levels rank somewhere between "Osama's security chief" and "Spinal Tap drummer." For every firing and resignation, however, the bell of opportunity rings for someone else.
In all, 48 someone elses have gotten new jobs this summer, and after the jump, we'll get into every...single...one. Which ones are best and worst? Read on.
48. Murray Garvin, South Carolina State
--Garvin has been given the full-time job after steering the Bulldogs through their last nine games of last season. Before SC State, his highest-profile job was at Charleston Southern.
47. Robert Jones, Norfolk State (interim)
--NSU had time to do a full search, since Anthony Evans left for FIU in April. Evans and the players all
wanted the six-year assistant elevated
, but he only got the interim gig. Weak sauce for the Spartans.
46. Clarence Finley, Central Arkansas (interim)
--The former UALR assistant is being handed the head job on an interim basis. Finley gets a bonus point for the late timing of his elevation. Corliss Williamson just left for the Sacramento Kings
last weekend
.
45. Wayne Brent, Jackson State
--Brent's only college experience came at the turn of the millennium with Ole Miss. He has, however, been to an NCAA tournament without buying a ticket, which is more than most of the other schlubs down here can say. Since leaving Oxford, he's won eight division and four state titles at two different Mississippi high schools.
44. Tim Craft, Gardner-Webb
--It says little for your program when your head coach bails for an assistant position, but that's what happened to G-W. Craft was a Sleepin' Bulldogs (seriously, bulldogs don't run) assistant from 2004-07, but he's spent his last six years caddying for Jeff Lebo at Auburn and East Carolina.
43. Chris Casey, Niagara
--Casey comes from LIU-Post, where he replaced current Iona coach Tim Cluess. Casey would have inherited a nice crew of Purple Eagles...except for the bummer of nearly 28 points per game (guards Juan'ya Green and Ameen Tanksley) following Joe Mihalich to Hofstra.
42. Kevin McGeehan, Campbell
--McGeehan spent eight years at Richmond and helped the Spiders reach five postseason tournaments in the last six seasons. Two of his former Richmond players are now assistants. Perhaps we call this the "young-boy network"? (Insert tasteless Penn State joke here.)
41. Dedrique Taylor, Cal State Fullerton
This beard will eat your soul.
--Taylor's Fullerton bio page has a blurb and pic from a pre-BEARD (yes, it rates all caps, it rates Comic Sans, hell, it rates emojis if it says so) James Harden. Taylor helped recruit and mentor Harden during seven years and 120 wins as an Arizona State assistant. He also coached Nick Fazekas at Nevada, so he's no stranger to talent. At Fullerton, though, he and talent may lose touch with each other for a while.
40. Dave Wojcik, San Jose State
--Wojcik's been an assistant at eight different Division I universities. He's finally a head coach at a program that was WAC roadkill and is now headed for the Mountain West. The 2008 CBI bling he won with Tulsa probably won't get any company any time soon.
39. Greg Herenda, Fairleigh Dickinson
--Herenda won 95 games in five years at UMass-Lowell, steering the program to the point of elevation to Division I. At least he's not
living in his in-laws' basement
, as he did in his first head gig at a community college in Chicago. Herenda's biggest gig was at Seton Hall in the mid-'90s, where he helped recruit stud guard Shaheen Holloway.
38. Dan Hipsher, Texas-Pan American
--Remember the Trans-America Athletic Conference? I didn't, but apparently that's where Stetson played when Hipsher coached there. Makes sense when one considers it's now the Atlantic Sun. That's good re-branding, since the prefix "Trans" sends the religious zealots into reflexive palpitations. (Wait,
Pat Robertson said what
? #mustbegoodmeds) Back to Hipsher, he's 23 games under .500 as a head coach with no NCAA trips.
37. Niko Medved, Furman
--Furman's had only 10 winning seasons in the past 30, and four of those came when Medved was an assistant in Greenville from 1999-2006. A year at his alma mater Minnesota preceded a run at Colorado State under both Tim Miles and Larry Eustachy. Medved got a lot of the credit for bringing in the players that put CSU back in the NCAA tournament, but what kind of players will he be able to bring to the SoCon?
36. Pat Duquette, UMass-Lowell
Respect the polo.
--Duquette spent 13 years at Boston College, working with All-America talents like Troy Bell, Craig Smith and Jared Dudley. His old boss Al Skinner was one of the finalists for the Lowell job. No matter how many games Duquette wins, he will never be as suave as Skinner on the sideline.
35. Nick McDevitt, UNC-Asheville
--McDevitt played for Eddie Biedenbach at Asheville, coached under him for 12 years and now replaces him. Biedenbach left for UNC-Wilmington...as an assistant. If anyone needs Eddie, he'll be
at his beach house
. McDevitt was, for his part, on staff for all three of the Bulldogs' NCAA appearances, including the one where Asheville scared the bejesus out of Syracuse.
34. Anthony Latina, Sacred Heart
--Latina takes over after eight years under 500-game winner Dave Bike, who retired after 35 years. Bike hung on just long enough for 2,000-point scorer Shane Gibson to run out of eligibility. Selfish bastard.
33. Jayson Gee, Longwood
--Gee comes to Farmville (no, not
that one
) from Cleveland State, where he helped the Vikings make five postseason tournaments in seven years. In a previous stop at Ohio, he helped develop NBA draft pick Gary Trent and he also helped recruit the Miami Heat's Norris Cole to CSU. At Longwood, though, will his future crops be that fertile? (Ahem.)
32. Mark Byington, Georgia Southern
--Georgia Southern pulled a blast from the past, hiring former College of Charleston assistant Byington, who was part of 194 wins under Bobby Cremins. Several of those were presumably over GSU. Byington also coached the last 11 games of the 2011-12 season when Cremins took a leave of absence that would eventually turn permanent.
31. Casey Alexander, Lipscomb
--Alexander is a longtime Belmont assistant and former player who spent the last two years as head coach at Stetson. He brings some serious intimate knowledge of the Bisons' Battle of the Boulevard rival. Belmont coach
Rick Byrd said
, " I'm thrilled for him and I am confident he will be a great addition to the Lipscomb program." Left unsaid: "...and I'll greatly enjoy kicking his ass twice a year."
Seriously, though, isn't this like leaving your model girlfriend for the buck-toothed neighbor across the hall who keeps leaving flaming sacks of crap on her doorstep?
30. Corey Williams, Stetson
Wait, that's his wife? Uh...never mind.
--The only man on this list to ever be selected in the NFL and NBA drafts, Williams came from six years at Florida State. The last assistant FSU lost was Andy Enfield, and he stayed in-state as well. So, history teaches us that Williams should make the 2015 Sweet 16, right?
29. Phil Cunningham, Troy
--Cunningham got players like Jarvis Varnado, Jamont Gordon and Arnett Moultrie to Mississippi State when he worked under Rick Stansbury there. However, he disavows any and all responsibility for Renardo Sidney. He spent last season at Western Kentucky, working under Ray Harper, whose evil wizardry is responsible for two straight NCAA tournament bids for teams a total of one game over .500.
28. Jeff Bower, Marist
--Bower was an assistant coach, head coach and general manager in the NBA. In a previous life, he was an assistant at Marist, where he helped groom Rik Smits into a No. 2 overall draft pick. No 7'4" Dutchmen on the current Red Fox roster, though. (Not to be confused with the Redd Foxx roster, where such a player would merely be called a big dummy.)
27. Ray Giacoletti, Drake
--Giacoletti both inherited from and bequeathed to others during his previous tenure at Utah. He took Rick Majerus' players to the Sweet 16, then watched his players win the Mountain West under Jim Boylen. He later claimed Utah simply didn't understand his vision. Lou Reed once said
the same thing
. In question now: what has Giacoletti learned from his years under Mark Few?
26. James Whitford, Ball State
--
Ball State hasn't been to any postseason tournament in 11 years.
Coming from working with Sean Miller at Xavier and Arizona, he'll soon find out what losing lots of games feels like. As a recruiter, though, he's had a hand in pulling some elite classes to Arizona, and Ball State had some good teams in the Rick Majerus, Dick Hunsaker and Ray McCallum eras. Indiana's got enough talent for the Cardinals to find the occasional gem, even if Whitford won't be fishing off the McDonald's All-American pier any time soon.
25. Brad Underwood, Stephen F. Austin
Cranky? Sure. Homicidal? Not quite.
--Underwood spent seven years on Frank Martin's staff at both Kansas State and South Carolina, and KSU won at least 21 games every year. SFA has had 10 winning seasons in the last 11, so don't get it twisted, there are some expectations in Nacogdoches. The question is: has Underwood learned the Darth Martin Death Glare?
24. Ron Verlin, Pacific
--Verlin has been Bob Thomason's right-hand man for 19 years, having a hand in a combined 12 Big West regular season and tournament championships. The Tigers move to the West Coast Conference this season, where their hyper-deliberate offense (283rd in tempo last season, per Pomeroy) will attempt to bore Gonzaga, St. Mary's and BYU to sleep.
23. Mike Brennan, American
--Brennan got a job at Georgetown after working at American under Jeff Jones in the Eagles' two greatest seasons ever. AU made its first (and only) two NCAA tournaments after sweeping the Patriot League's regular season and tournament titles in 2008 and '09. In his four years at Georgetown, the Hoyas won 93 games, but his final moment on the Hilltop was watching Florida Gulf Coast run his team off the court.
22. Dan Majerle, Grand Canyon
--Thunder Dan was passed over for the head coaching job with his longtime organization, the Phoenix Suns, so he decided to take a walk and re-evaluate. This'll show em, eh? Snark aside for a moment, Majerle promises that his teams will resemble the running crews he played with under Cotton Fitzsimmons and Paul Westphal. Odds are, though, that he's
still the best dunker
on his team.
21. Steve Alford, UCLA
Pictured: All UCLA alums puking in their mouths a little.
--Alford's get-out-of-Dodge style that's helped him bail from Iowa and New Mexico is certainly not lost on UCLA athletic director Dan Guerrero, a man who's
not exactly the sharpest ball on the rack
to begin with. The Alford contract, which is perhaps destined to live in infamy, contains a
$10.4 MILLION buyout
.
For a guy who's: a)
been to bat
for a sexual predator; 2) hired a prominent
AAU team director's son
at New Mexico and failed to see any recruiting benefit; and iii)
is now upset
about having to spend July watching and wooing the kind of players that UCLA's fans will demand (did we mention that he's
already making noise
about starting his kid at point guard?), the buyout is a canny way to keep himself from getting his ass canned after two years. Good luck, Westwood.
20. Matthew Graves, South Alabama
--South Alabama breathed a collective sigh of relief when Graves decided to honor his commitment rather than bailing after a few weeks when his ex-boss Brad Stevens left Butler. USA's only had one losing season since 2005, so this isn't a weak-sauce job. Graves has already signed
one Indiana recruit
, so he might be able to set up a pipeline for out-of-state talent who don't care much for snow.
19. Tubby Smith, Texas Tech
--Texas Tech needs a coach who's a hustler, burning the recruiting candle at both ends. That's not Tubby. Tubby has a national championship ring, 511 wins and 17 NCAA tournament bids under his belt, but he needs a salesman to make the Red Raider program more attractive to Texas talent than UT, Houston, SMU, Baylor,
et al
.
Speaking of SMU, most of the objections here are similar to the ones that I had to Larry Brown taking over in Dallas, but that turned out okay. New assistant Alvin "Pooh" Williamson, one of Smith's former Tulsa players, has coached at TCU and SMU, so he knows from working hard to attract Texan players.
18. Eddie Jordan, Rutgers
This man will whack you with his balls.
--If little else, Jordan stirs some
nostalgia in the alumni
and classes up a joint that turned into something out of Full Metal Jacket under Mike Rice (right) and assistant Jimmy Martelli. Jordan does have NBA connections, which may or may not impress the recruits he'll be chasing as RU prepares to join the Big Ten.
Those connections will, however, likely impress
his labor studies classmates
.
17. Jeff Jones, Old Dominion
--Four 20-win seasons in the last six at American are an impressive feat, considering that the school had a whopping five in its history before Jones arrived. Jones is also the only coach to ever get the Eagles to the NCAA tournament.
ODU went from 22 wins to five in one season, with longtime coach Blaine Taylor taking the fall. Odds are,
Taylor barely noticed
at the time.
16. Brandon Miller, Butler
--Butler's usual modus operandi is to promote from within, which made Miller a likely candidate from day one. Hiring Miller's former backcourt mate LaVall Jordan from Michigan would have been splashier, but when has Butler given a damn about such PR spin?
Miller and Jordan will continue their pitched battle for the signature of Indianapolis guard Trevon Bluiett. Both Butler and Michigan are in the player's final seven, but what effect would Jordan defecting have had on the process?
15. Reggie Theus, Cal State Northridge
Theus, however, no longer rocks this look. Bummer.
--Theus only has two years as a college head coach, but in those two seasons, he took New Mexico State from six wins to 25 and a tournament bid, succeeding on a level that college coaching legend Lou Henson could not.
What Theus lacks in experience, he makes up in connections, as the CSUN athletic department
chronicled in May
. There's no real dominant program in the Big West, unless you consider Long Beach State a consistent powerhouse. Northridge could get a bump from working with a guy who has Theus'
NBA and college contacts
.
14. Kareem Richardson, Missouri-Kansas City
--UMKC has only one 20-win season in its short (entering the 25th season now) Division I history, so landing an assistant from the defending national champions is a bit of a coup. It helps that Richardson was an assistant with the Roos for a year after leaving his alma mater, Evansville.
A veteran Midwestern recruiter, Richardson's likely not long for this gig, but if he can land a couple of surprise recruits, he can set a foundation for success in the WAC, which is essentially college basketball's Island of Misfit Toys. Likewise, Kansas City needs a reason to get excited about basketball that isn't Kansas or Missouri.
13. Anthony Evans, FIU
--Evans masterminded a surprising NCAA tournament upset in leading Norfolk State over Missouri in 2012. In 2013, he followed it up with a 16-0 record in the MEAC, but NSU lacked the dominant presence that Kyle O'Quinn provided the year before.
I've always held the belief that Miami should be an easy place to lure talented recruits, and Evans will have to capitalize on what little momentum Richard Pitino was able to start up last season. FIU still has top scorer Tymell Murphy and former FAU point guard Raymond Taylor, and the closest thing the new-look Conference USA has to a power program may well be FIU's fellow Sun Belt defector Middle Tennessee or longtime stalwart Southern Miss. Winning is doable at FIU, but is Evans the guy to do it?
12. Bobby Hurley, Buffalo
--Another guy with hardware, Bobby Hurley is prepared to build from the ground up, similar to the way he and brother Danny did at Wagner. Will a 25-win season happen in year two? Not bloody likely unless Hurley scores a superb replacement for All-MAC forward Javon McCrea. Still, Hurley's name will resonate with players and their parents. Specifically, his first-hand knowledge of the point guard position should help the Bulls punch above their weight class at that spot.
Hurley's only got three seasons as an assistant under his brother, but consider a guy like Fred Hoiberg at Iowa State, who didn't even have that much college coaching mileage on his tires.
11. G.G. Smith, Loyola (Md.)
--Smith has been a Loyola assistant for six years, turning down overtures for assistant roles at bigger programs like VCU. He stayed in his prominent role under Jimmy Patsos, and now he's been offered the big office. Loyola is coming off its first two 20-win seasons since 1947 and only its second NCAA tournament appearance. Those last two years have borne 47 wins combined, or one fewer victory than Dino Gaudio and Scott Hicks managed from 1997-2004.
Right now, the only thing that Loyola fans are concerned about is whether Smith (son of Tubby) pulls a Richard Pitino and answers the call from a major-conference program after one hot season.
10. Joe Mihalich, Hofstra
--In 15 years at Niagara, Mihalich logged 265 wins and five postseason bids, two of those to the Main Event. At Hofstra, he currently has only seven experienced players who combined for 20.7 points last season. He's brought a couple of good ones over from Niagara with the aforementioned Tanksley and Green, but they're not eligible until next season. He also
pulled freshman forward
Jamall Robinson with him after Niagara agreed to his release.
Mihalich's next priority is to work the same consistent magic that helped him amass 12 winning seasons of his 15 in Buffalo. The Pride will need to win a few to excise the memories of leading last season's CAA in steals...
of iPods and laptops
.
9. Joe Dooley, Florida Gulf Coast
--Work at Kansas for 10 years and you make connections. Add those connections to a program that dazzled the nation with a highlight-laden run to the Sweet 16 in only its second season of Division I postseason eligibility, and the possibilities are highly intriguing.
Joe Dooley's
not likely
to take his foot off the gas much, if at all. Kansas hasn't exactly been a walk-it-up outfit during Dooley's time there, so Dunk City's not getting neutered any time soon. Getting the stream of talent kick-started will be the next step. Right now, FGCU's the
only school connected
with four-star Tampa center Dan Manzi.
8. Richard Pitino, Minnesota
--Already, Little Ricky's moving mountains at Minnesota. His pressing style will require everyone to be in their best possible condition, and 310-pound mountain Maurice Walker was
a good place to start
. Pitino drew a couple of his FIU players who will be immediately eligible, pending Rakeem Buckles' academic standing, and Malik Smith will form a fine backcourt trio with the Hollins boys.
The Minnesota athletic department will need to meet him halfway, though. Ground isn't likely to be broken with elite recruits until ground gets broken on the kinds of practice facilities that the big-time programs have erected for their teams. Pitino's youth, name and style will help the Gophers
stay in the conversation
with state talent like 2014's Big Three, but closing the deal won't happen until there's something on the campus that can make a kid's eyes pop.
7. Andy Enfield, USC
Not pictured: dunks. Pictured: sexy.
--Dunks are sexy. Maxim models are sexy. Winning is sexy. Los Angeles likes sexy. Andy Enfield promises to bring two of the three, and if he can make USC a consistent winner, he and L.A. will get along famously.
The Dunk City style that made Enfield an overnight sensation worked wonders in keeping the Trojans' recruiting class largely intact, an atypical situation for a program undertaking a coaching change. Enfield only has two seasons of head coaching experience, but he's been an NBA assistant, a stud recruiter for Florida State and a March Madness matinee idol, all of which will attract players. He's added a staff with extensive SoCal knowledge, planning to mine the local talent. That approach has been alien to both Los Angeles schools in the past.
UTEP's Tim Floyd
is pissed at USC
because five-star shooting guard Isaac Hamilton wants to leave and come back to Cali. UCLA's Steve Alford is undoubtedly pissed because he'll actually have to do work to keep the Bruins supreme in L.A. And let's be honest, when USC is honking off Westwood, it's doing something right.
6. Will Wade, Chattanooga
--Chattanooga made four of five NCAA tournaments from 1993-97, and has made only two since. Why not take a chance on an assistant who helped lead VCU on one of the most improbable Final Four runs in history? Wade served under Tommy Amaker at Harvard before joining Shaka Smart's first VCU staff, and is widely credited with helping implement the infamous "Havoc" defense.
With the Mocs, Wade will refer to his defense as "Chaos," and he's already made the most important hire a coach with that kind of athletically demanding system can make:
his own strength coach
. Greg Goldin worked under VCU's strength coach to get players in shape for "Havoc," so when Wade gets a couple of recruiting classes full of his kind of players, UTC will not be an opponent anyone's happy to see on the schedule.
5. Danny Kaspar, Texas State
Pictured: neither stable nor well-adjusted.
--Kaspar has made Stephen F. Austin one of the dominant programs in the Southland, which is often like being the most stable, well-adjusted Real Housewife of (Insert City Here). In this case, though, Kaspar's a perfect fit.
For one thing, he whipped Texas State 18 times in 21 meetings at SFA. For another, TSU is now joining the Sun Belt just in time for several of its best programs to walk out the door to Conference USA. Middle Tennessee, North Texas and FIU are already gone and Western Kentucky leaves next year.
Kaspar's racked five 20-win seasons in the last six, with four regular-season Southland titles and one NCAA tournament bid in the same span. He leaves SFA with an intact streak of
64 straight games
allowing opponents less than 70 points. Oh, and Gregg Popovich gave him a pretty good reference. Fans would be well-advised to get caffeinated before the game, because Kaspar's offense is anything but exciting. A man who's built his career on getting the most out of the lesser-heralded recruits in Texas isn't very far from his comfort zone as he travels to San Marcos.
4. Jimmy Patsos, Siena
--Patsos pulled Loyola up from a one-win team to a winning record in only his second season. Five years later, the Greyhounds were in the NCAA tournament, then received an invitation to join the Patriot League. Siena puts more emphasis on basketball than some power-conference schools (
you give basketball a bad name, Penn State
), packs a budget that dwarfs any of its MAAC rivals and now has a coach who's a charismatic, proven program-builder.
Unlike Loyola, Siena may very well be plucking Patsos with every intention of bolting a conference, rather than such a move being a happy accident. The Atlantic 10 was
said to be
mildly-to-solidly interested in adding Siena. A basketball coach who has proven himself as a winner at the mid-major level could make the Saints all the more attractive for the next time some "major" conference (hi, The American) wants to pluck from the A-10.
3. Jim Crews, Saint Louis
--The only real issue with SLU keeping Crews lies in his ability to recruit at an Atlantic 10 level. He was able to recruit reasonably well at a Midwestern Collegiate Conference level during his 17 years at Evansville, but that's a fair distance from today's "We're the next major conference...or at least we were before the damn Big East imploded" A-10.
For the short term, though, there was no other choice. Letting Crews lead the Billikens through the emotional hurricane of predecessor Rick Majerus' death, sweeping the A-10 regular-season and tournament titles in the process, then plucking some outsider to lead the guys who remained would have been a supremely callous move on SLU's part.
2. Chris Collins, Northwestern
--Another Duke point guard who learned from both Coach K and a famous coaching father, Collins enters the purple haze that is Northwestern basketball as the latest
sucker
candidate to end
the now-iconic Drought
. A Chicago product himself, Collins will make the Windy City a recruiting priority, but it'll take a few wins to pull the Wildcats ahead of other teams who also claim they'll double their efforts there...like every other school in the state.
The commitment of four-star forward Vic Law is a positive sign, especially after the
comments that Law's father made to Sports Illustrated
regarding previous coach Bill Carmody:
"When we went up there to visit [sophomore year]," Law Sr. said, "Carmody came across as arrogant -- like that the university would sell itself, and either you want to come here or you don't. And I'm saying to myself, 'You haven't won anything!' You had a sour taste in your mouth when you left, and to be honest with you, had Carmody still been there, we never would have considered Northwestern. Not ever. That's how bad it was for us."
Making that sale would have made even Alec Baldwin
offer Collins a coffee
.
1. Craig Neal, New Mexico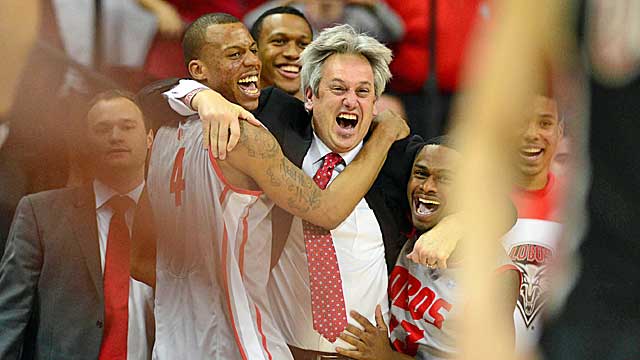 You think Alford would ever let his hair look like that?
--
A similar hire to Jim Crews, minus the emotion of anyone dying. Neal is a much more approachable face for the Lobo program than Alford was, lacking the "why yes, I was one of the greatest players ever for one of the greatest coaches ever, why do you ask?" pretension. Neal's still a fairly young guy at 49. He has a young staff, none of whom are older than 37.
The players obviously love the guy, as seen at right. Several, including center Alex Kirk, openly pondered leaving when Alford went to UCLA, waiting for Neal to be hired before making their own decisions. In fact, the Lobos didn't have any appreciable losses following the Neal hire. It may even have been a net positive once Neal's son Cullen, a top-150 recruit, decided to come join Dad rather than play for St. Mary's.
-----------------------------
Hiring a new coach can lead to all sorts of chaos at a school, and some of these guys don't know what they're walking into. Every few years, though, a hire gets made that changes a university's entire basketball fortune. Are we witnessing one of those this season, or is it just one long procession of stiffs?
You tell me.