It's a weird season in college basketball, to be sure.
We all know there's no superteam out there, but did you know that a couple of weeks ago, 16 of the AP's Top 25 teams took a loss?
This past week was similarly rough, as 12 of the 25 went down at some point during the week, and one (Pitt) likely forfeited any chance of returning to the rankings by missing out on its last potential signature wins.
The bubble is shaky, and the lower reaches of the Poll Dancing Top 25 aren't exactly stable either. For Exhibit A, check out...
Faceplants: No. 22 Pitt, No. 24 SMU, No. 25 George Washington
--Of Pitt's last five games, only Florida State is projected as a tournament team according to TBI's Bracketometry. A strong ACC tournament run may be the only thing that saves the Panthers from the dreaded 8-9 seed line.
--SMU was riding high with four straight double-digit wins, including decisions over Memphis and Cincinnati. Then it lost to Temple Sunday. And this ain't a John Chaney Temple team, to be sure, still ranking among the 10 worst major-conference teams in America.
--Meanwhile, I gave GW a pass for losing to a solid Dayton team while dealing with a ton of backcourt injuries. The Colonials couldn't survive the VCU-UMass double, however, and may have put themselves back in the bubble conversation.
Bubbling Under: North Carolina, Gonzaga, New Mexico, SMU
--The Heels are on a tear, but their six-game win streak was largely against the ACC's cream-filled center until they beat Pitt. Gonzaga is becoming the old standby, good to slot into the last couple of spots if no one else looks worthy, but incapable of adding any more signature moments of its own. New Mexico can make a return to the ballot if it takes down UNLV and San Diego State this week. And SMU gets shoved back to the waiting room after apparently swallowing too much of its own hype. Seriously? Temple?
The actual Poll Dancing Top 25 after the jump.
25. Memphis (19-6, LW 21)
Guys, save the Janet Jackson anniversary tribute for halftime.
--A second loss to UConn hurts, but it's not totally damning. The Tigers hang in because they're still 3-2 against teams ranked by Poll Dancing at game time. They can't get caught looking ahead to March (Louisville/at Cincy/SMU are their last three games) and slip up against the puffs (at Rutgers/Temple/at Houston) the way SMU did. Oh yeah, did you hear SMU lost to Temple?
24. UCLA (20-5, LW NR)
--Yes, this is UCLA's first appearance on Poll Dancing ALL SEASON. What's held the Bruins back is a propensity for head-scratching losses. They dropped games to Utah and Oregon State that are currently tent-poles on those teams' postseason resumes. Both are currently projected as NIT teams by Bracketometry.
23. Ohio State (20-6, LW 19)
--Shannon Scott's been a big deal since he went back to the bench,
as I wrote about here
. What may prove more important down the stretch, however, is how Thad Matta uses his bench. He's always very sparing with minutes for the reserves, but the Marc Loving-Trey McDonald-Amedeo Della Valle troika was the only highlight in a dreary 48-39 win over Illinois.
22. Michigan (18-7, LW 20)
--
I also wrote about
how Derrick Walton will be important going forward, and that importance showed Sunday. After he took over the second half against Ohio State, Walton was a non-factor against Wisconsin. The typical freshman inconsistency will make Walton and the Wolverines a tough bet in the tournament.
Accept Jahiisus as your personal savior today.
21. Arizona State (19-6, LW NR)
--ASU's conquest of arch-rival Arizona is not only the Sun Devils' sixth win in their last seven games, but it's also the fourth win over a potential tournament team in that span. The Devils lost to UCLA, which makes this ranking ahead of the Bruins a violation of one of my cardinal rules. BUT! Unlike UCLA, ASU's other recent losses have been worthy ones, at Arizona and at Stanford.
20. UConn (20-5, LW NR)
--Remember when we thought that the Huskies losing to SMU was cause for grave concern? Since then, UConn has lost only twice in 11 games (to Louisville and Cincinnati) and swept Memphis. On those nights that somebody shows up to support Shabazz Napier, the Huskies are a hella tough out.
19. Texas (20-5, LW 23)
--Remember when Rick Barnes was coaching for his job? Yeah, me neither. Now, he's got to be on every National Coach of the Year shortlist out there. A road double at Iowa State and Kansas this week could put the Longhorns into a top-four tournament seed. Bracketometry currently has them as a high-end No. 7.
18. Louisville (21-4, LW 17)
--The Cards beat Temple and Rutgers by a combined 72 points...and drop? You betcha, and here are two reasons why: 1) It's Temple and Rutgers; and b) Kentucky had to land somewhere, and it damn sure wasn't going to be behind Louisville. Shoulda shown up in December, Cardinals.
17. Kentucky (19-6, LW 13)
--So much clustering in the teens this week that UK drew the short end (although UL fans would disagree). A 10-point loss at home to Florida hurts, but it's not exactly shameful. Here's the problem for the Wildkittens: There's not another tournament team on the schedule until the trip to Gainesville on March 8.
16. Iowa State (19-5, LW 10)
--That loss to West Virginia was ugly in a lot of ways, but ponder this: Iowa State now sits sixth in the Big 12 in both offensive and defensive efficiency. The lack of size and depth is starting to catch up against studly Big 12 opposition (and West Virginia...ha, I keed).
Larry's beside himself because I'm harping on this so much.
15. Cincinnati (23-3, LW 14)
--Before Bearcat fans line up to rail on me for this one (please do, it would let me know someone's reading), consider that the objective Back Iron Index currently ranks UC No. 19. The American's bottom half is so damn bad that even wins over Houston, UCF, USF, et al. can damage the resume. Although not as bad as a loss. Just ask SMU, who (BREAKING NEWS) lost to Temple.
14. Saint Louis (23-2, LW 18)
--The Billikens needed that win over VCU badly. Because SLU has yet to play UMass or George Washington, it hadn't beaten a likely tournament team until knocking off the Rams. Both of those other contenders (plus the VCU rematch) await St. Loo in its final five games.
13. Virginia (21-5, LW 16)
--Raise your hand if you pegged Virginia v. Syracuse on March 1 as an ACC title fight before the season started. Okay, now everyone else turn to the people with their hands raised and yell "LIAR!" right in their faces at the top of your lungs. Still, Virginia's finally playing the game we thought they'd play at the start of the season, with the defense choking opponents out and the offense doing just enough to win. Only difference is that Malcolm Brogdon's providing the scoring that we expected to see from Joe Harris.
Sorry, Fran, just stating facts.
12. Iowa (19-6, LW 11)
--Iowa comes up short against their nearest company, sporting head-to-head losses against both Michigan State and Wisconsin. A win at Penn State is nothing to sneeze at, but it's also not going to prop up the CV. The Hawkeyes should still be in the race for a top-four seed.
11. Michigan State (21-5, LW 9)
--It's going overboard to start fitting Nebraska into the NCAA bubble conversation, but the Huskers are a lot better than you think they are. Them beating Michigan State is a sign of that quality just as much as it is an alarming picture of a vulnerable Sparty team. An unsung downside of lots of injuries is that there are multiple awkward re-integration periods when the injured players come back. Adreian Payne did pretty well in his return, but Keith Appling against the Huskers? Not so much.
10. Wisconsin (21-5, LW 15)
--The Badgers are back on a roll after that ugly 1-5 stretch early in Big Ten play, sandwiching a win over Minnesota in between victories over both Michigan-based teams. We haven't seen the usual impregnable Badger defense recently, but they're getting superb shooting to make up for it. Also, welcome back, Frank Kaminsky.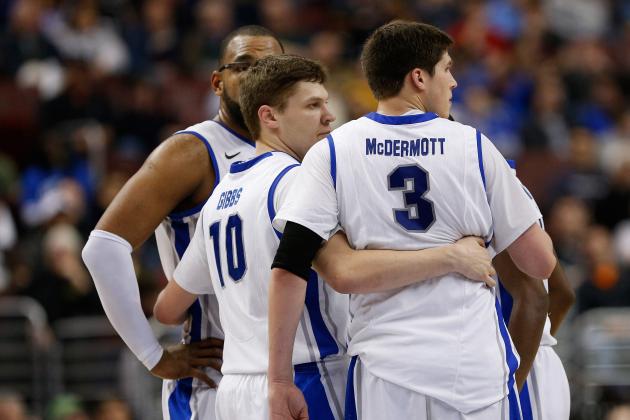 "Dude, I missed you so much. I love you, man." #getaroom
9. Creighton (21-4, LW 12)
--In case you thought that first win over Villanova was a fluke, the Bluejays went out and fed the Cats 101 points' worth of Kitty Chow. Doug McDermott's averaging 30.5 PPG since getting ace wingman Grant Gibbs back from injury.
8. Kansas (19-6, LW 7)
--News of a back injury to any Top 25 team's big man, especially one as talented as Joel Embiid, is about as welcome as fire ants in one's underwear drawer. And for big men, those injuries are just as hard to recover from. The Jayhawks didn't need him against TCU, but don't tell Texas Tech they're supposed to roll over and die tomorrow night, Embiid or no Embiid.
7. San Diego State (22-2, LW 6)
--Solid shooting games against Boise State and Nevada were not the new normal, Aztec fans. At this point, Steve Fisher's team is what it is: a vicious defensive outfit that will usually struggle to pull away because it can't shoot. Those aforementioned wins were the Aztecs' first since New Year's Day with an eFG% above 50.
6. Villanova (22-3, LW 5)
--We can't nail the Cats too hard, because they're 22-0 against teams not named Syracuse or Creighton. Nova has had only five games below a 50.0 eFG% since winning the Battle 4 Atlantis in November. Their scattershot three-point shooting has tightened up tremendously in Big East play (40.3%, second only to Creighton), and when the jumpers are falling, the Wildcats are hard to muzzle.
5. Duke (20-5, LW 8)
--In the BII, Duke stands sixth in the nation, creeping up on that elusive No. 1 seed level. A two-point win over Maryland, especially one where the Devils shot terribly (speaking of jumpers), isn't usually grounds for a three-spot jump, but Nova and SDSU were kind enough to step aside.
"Dude, WTF is that?" "Nothing, you're hallucinating from playing 97 minutes tonight."
4. Arizona (23-2, LW 2)
--The Wildcats' lack of depth is starting to get alarming. Coach Sean Miller only played his bench a total of 22 minutes in A DOUBLE-OVERTIME GAME. That's only an 8.8 bench minutes percentage. The Cats are unlikely to get away with that in a tournament setting, whether Pac-12 or NCAA. The fact that neither Aaron Gordon or Rondae Hollis-Jefferson can be relied on outside of five feet doesn't help, especially when Miller's forced to play them together. The loss of Brandon Ashley injury will rank right up there with Colorado losing Spencer Dinwiddie as the highest-impact injury in college hoop this season.
3. Wichita State (27-0, LW 4)
--Hard to move WSU up, since it's hard to respect the rest of the Missouri Valley. As the wins mount up, however, the pressure does the same. The rest of the season will be a circus for the Shockers, even if the opposition isn't intimidating.
2. Florida (23-2, LW 3)
--Well, that answers that question. If we were still even slightly doubtful over who was the best team in the weak-sauce SEC, we got the answer Saturday. Scottie Wilbekin proved that he can't be ignored as a scorer when either Casey Prather or Michael Frazier aren't on. UF is still having trouble putting it all together offensively, but the tools are there for at least a fourth straight Elite Eight.
1. Syracuse (25-0, LW 1)
--Let's be blunt: Syracuse has gotten bare-ass lucky in each of its past two games. If not for the basketball gods taking what's got to be the last of Tyler Ennis' happy karma and dumping it on Pitt--not to mention NC State failing to grasp the simple task of holding the ball and getting fouled--the Cuse would now be 23-2 and probably dangling at the tail end of the top five. Still, a team-of-destiny vibe is sometimes good to carry into the postseason. Don't expect the Orange to carry a donut in the loss column when brackets are announced, however. Four of the last six are away from Home Sweet Dome, and they're against Duke, Maryland, Virginia and Florida State. No slouches in that bunch.
Whoa. And we thought the Creighton bromance was awkward.
MAJOR GAMES TO WATCH:
Texas at Iowa State, Tuesday
Kansas at Texas Tech, Tuesday
UCLA at Cal, Wednesday
Creighton at Marquette, Wednesday
Arizona State at Colorado, Wednesday
Creighton at Marquette, Wednesday
Duke at North Carolina, Thursday
Syracuse at Duke, Saturday
Louisville at Cincinnati, Saturday
UCLA at Stanford, Saturday
Wisconsin at Iowa, Saturday
San Diego State at New Mexico, Saturday
Texas at Kansas, Saturday
George Washington at Saint Louis, Saturday
Minnesota at Ohio State, Saturday
St. John's at Villanova, Saturday
Michigan State at Michigan, Sunday
SMU at UConn, Sunday