Finals week is always a tough one for college athletes, although it does constitute a bit of a breather for college sportswriters. Only 96 games were played between Dec. 8 and 13, compared to the 202 that are coming between yesterday and this Friday.
That academia-induced inertia struck a few of TBI's top 25 teams, and it's very rare that taking a whole week off will aid a school's ballot ranking. So, if your favorite team dropped a couple of spots (SPOILER ALERT: UConn/UMass) or stayed stagnant (SPOILER ALERT II: Baylor), blame the coaches for taking a whole week off.
It's refreshing to see programs taking a pause to make their players take exams, but by week's end, we're a little bored out here. At least schedule a SWAC team, wouldja?
Faceplants: No. 21 VCU, No. 22 Michigan, No. 24 New Mexico
--The first two teams to knock off VCU are at least still in the Back Iron Index Fantasy Bracket, meaning Georgetown and Florida State are among the 68 best teams in America. Northern Iowa? Not so much.
The Wolverines were hanging on like that kitten over there, needing to pull out a win over Arizona to stay on the ballot. And they damn near got it. However, it's time to consult the Index again, and the fact is that right now, Michigan projects as a low-seeded NIT team, largely due to brutal RPI numbers. There's some rehab that needs to be done here.
New Mexico could have stayed in with a tight loss to Kansas, but getting blown off the court while Alex Kirk was made to look mortal? Eh, no. Try back later.
Bubbling Under:
San Diego State
--Would have cracked the rankings if they'd played someone this week.
UCLA
--Meeting with Duke Thursday offers a golden opportunity.
George Washington
--May stay here for a couple of weeks until Kansas State and Georgia games around New Year's.
Pittsburgh
--Penn State win keeps looking better. Just beat down Cincinnati tomorrow and you're in, Panthers.
The best of the best after the jump.
25. Missouri (10-0, LW NR)
--Is Western Michigan that sexy signature win that Mizzou needed? No. West Virginia, UCLA and even Hawaii were better scores. It's not even all about the four-headed backcourt, which currently stands among the best in the country. The major catalyst may be senior forward Tony Criswell. Since he first saw the court after a two-game benching, there's only been one game in which he, freshman Johnathan Williams or sophomore Ryan Rosburg has failed to score at least eight points. Mizzou needs interior production to support those guards, and if it keeps coming, they're a strong sleeper pick in the SEC.
24. Gonzaga (10-1, LW NR)
23. St. Mary's (8-0, LW NR)
--These two arch-rivals each have deceptively solid schedules. GU has beaten Back Iron Index No. 100 Bryant, No. 30 Arkansas, No. 82 New Mexico State and No. 76 West Virginia. SMC's scalps include No. 73 Louisiana Tech, No. 89 Akron, No. 59 North Dakota State, No. 75 Drake and now No. 53 Boise State. St. Mary's gets the nod for still being undefeated, plus the Gaels have pulled into the BII top 15 themselves.
22. Iowa (10-2, LW 20)
--The Hawkeyes waged an epic battle with their in-state rivals from Ames, closing the book on their substantial non-conference games. (Sorry, Arkansas-Pine Bluff...but you can give Iowa a massive black eye if you can pull the upset Sunday.) Their three top-100 wins are okay, but that Iowa State game would have been massive.
21. Colorado (10-1, LW 23)
--The best defensive rebounding team in America and one of the top 10 teams at drawing fouls. The Buffs have a Saturday game in Vegas against Oklahoma State that will serve as a true test for both teams. Look for CU to force-feed Josh Scott, because if he gets Mike Cobbins in foul trouble, the Pokes' post game becomes all Kamari Murphy and Le'Bryan Nash.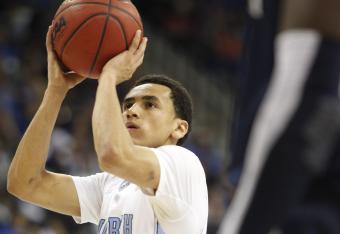 If he shoots too often, it'll freeze like that, yannow.
20. North Carolina (7-2, LW 25)
--UNC draws plenty of hyped recruits themselves, but the difference between them and Kentucky is that the Heels' studs stay for a minute. Someone aside from Marcus Paige needs to step up on the perimeter, because one man providing more than 80% of a team's three-point baskets is no way to go through life, son.
19. Baylor (8-1, LW 19)
--Take the week off, sit in neutral on the ballot. The Bears won't have another big non-conference game, unless you're a huge fan of Oral Roberts. They're one of America's sloppiest teams with the ball (329th in TO% per Pomeroy) and their defense doesn't go get it back (339th). Gary Parrish has the Bears pumped up into the top seven or eight in America, and they are playing well, but there are some bald spots on this luxurious rug.
18. Memphis (7-1, LW 18)
--Josh Pastner is doing a very good job of dividing minutes between bigs Shaq Goodwin and Austin Nichols. Goodwin in particular has been one of America's most effective post players, scoring in double figures six times out of Memphis' eight games.
17. UMass (9-0, LW 16)
--The tough thing about slowing the Minutemen is that they boast four players taking at least 20% of the shots, plus Maxie Esho cards 19.8% himself. Chaz Williams keeps everybody involved, and there's always someone to pick up the slack. Still, Northern Illinois isn't a win to hang the hat on this week.
16. Kentucky (8-3, LW 7)
--If you had 11 in the "number of games before John Calipari complains about his McDonald's All-Americans playing for themselves and not the team" pool, go collect your winnings. We knew coming in that chemistry was the most dangerous thing for these Wildcats, and it's coming to pass already. There's a lot that's going right, but Louisville may be well-equipped to maximize what's going wrong next week. The Cards make their two-point shots and rebound the ones they don't, which is exactly how Baylor took UK down.
Like these guys, but tall and athletic.
15. Kansas (7-3, LW 11)
--Three losses to top-25 teams by a total of 11 points. Kansas was on the ropes, but came roaring out to pummel New Mexico by 17. In the process, the Jayhawks made All-America dark horse Alex Kirk look like Random Scrubby White Boy #2543545. There appears to be a certain standard of talent that it takes to beat KU. Do Georgetown, Toledo or San Diego State meet that standard?
14. Florida (7-2, LW 17)
--UF vs. Kansas was huge for both teams, as both needed to prove that they could beat Sweet 16-caliber opposition. With Kasey Hill back to join Scottie Wilbekin, the Gators had two defensive sharks to turn loose on Frank Mason and Naadir Tharpe, and the 23 turnovers doomed Kansas. The one piece still missing is Chris Walker, and Billy Donovan is
still waiting for the NCAA
to clear him for action. With Damontre Harris apparently booted from the team, the Gators need another big body in uniform.
PICTURED: Only slightly less fun than waiting on the NCAA.
13. Iowa State (8-0, LW 15)
--The Big Ten don't wanna come back to Ames any time soon, now that the Cyclones have knocked off both Michigan and Iowa. Still, there's an issue with ISU's lack of size. Iowa blew State off the boards, but then handed the game over in Pucker Time by missing five of six from the line in the final three minutes.
12. Oregon (9-0, LW 14)
--Nothing against the Ducks' win over Illinois, but Iowa State's win over Iowa was just a little bit better. Just wait, though. Right now, Arizona and Colorado appear to be the only Pac-12 teams with defenses stout enough to slow down the Quack attack. The games against Utah Valley and Illinois are the only ones in which Oregon has recorded an offensive efficiency below 120.
11. Louisville (9-1, LW 12)
10. Wichita State (10-0, LW 13)
--When it's a step up in competition that you've played two of the top contenders in the Sun Belt, you've played a really terrible schedule. Wichita State at least put its boot on the collective throats of the Tennessee Vols (a preseason top-25 selection, if you'll remember). This would once again be a great game if the Cards and Shockers met up in March. Don't bet the house against it being in the Final Four again, either.
9. Duke (7-2, LW 8)
--The Blue Devils have some warts, to be sure. However, the ACC might not be full of teams that can take advantage of them. For example: Duke's a team that struggles with offensive rebounding. Only seven of the 15 conference teams are better than 71% on the defensive glass, even against primarily weak non-league schedules. Those seven include expected also-rans like Miami, Virginia Tech, Georgia Tech and Wake Forest. Raise your hand if you expect those teams to contain the explosive Duke offense.
There's one in every crowd.
8. Michigan State (8-1, LW 6)
--We're headed for a second straight year of Gary Harris being hobbled through the entire campaign. If he's not scoring, everything falls on Keith Appling's shoulders. Sparty's struggling against Oakland isn't a terrible surprise, considering the rampant injury bug biting Tom Izzo's crew. Still, it is disconcerting for those who hype MSU as a Final Four favorite (yeah, I picked 'em). Appling's dealing with a wrist problem, Adreian Payne's got plantar fasciitis, and Matt Costello will be out with what's reportedly mononucleosis.
7. UConn (9-0, LW 5)
--Take a week off, take two steps back.
6. Villanova (10-0, LW 9)
--Delaware, Kansas and Iowa are the only teams that have come within 15 points of the Wildcats. Now, the latter two along with USC are the only BII top-100 teams Nova has played. Are we getting ahead of ourselves pumping them up to No. 6? Probably. Still, there's no artificial drama with Nova. They're not beating Oakland by four or Vermont by one. The teams they're supposed to crush, they crush. And there's something to be said for that.
5. Wisconsin (12-0, LW 10)
--The Badgers have seven BII top-100 wins already. And like Villanova, they're winning well. Only Green Bay has finished within six points. That dreary 48-38 smothering of Virginia is the only game in which UW has finished with offensive efficiency below 94. A bigger team who can still prevent the three from falling will have a very good chance of ending Wisconsin's unbeaten streak. (See: Iowa, January 5.)
Cheap blog pun alert.
4. Oklahoma State (9-1, LW 4)
--A 77.1 defensive efficiency effort over a top-75 BII team, that being Louisiana Tech, is enough to keep the Pokes stable (heh) for another week. The officials will have a big hand in deciding the OSU-Colorado game on Saturday, as State is among the top 50 in offensive FTR, but the Buffs are among the top 40 in defensive FTR. Whoever's getting the calls should get the win.
3. Syracuse (10-0, LW 3)
--A scare against St. John's is much more forgivable than one against St. Francis. If the Johnnies had drilled more than 1-15 from long range, the Orange wouldn't be undefeated anymore. Syracuse can prey on turnovers, and that'll be a primary focus when it takes on Villanova a week from Saturday.
2. Ohio State (10-0, LW 2)
--North Dakota State came in with an eFG% better than 54. OSU held the Bison to 47%. Doesn't sound like a huge discrepancy, but it's a measure of how strongly that Buckeye defense is shutting opponents down. As for the offense, OSU is over 56% eFG in each of its last five games, which coincides with LaQuinton Ross getting his head out of his backside offensively. Even more important than Ross, however, is the improvement of Amir Williams. His eFG% and TS% are both in the top 20 nationally according to KenPom, and a guy who scored in double figures only once last year already has six games of 10-plus, including two double-doubles.
1. Arizona (11-0, LW 1)
--If we had doubts after the wins over San Diego State, Drexel and Duke, they should have been assuaged by a total crushing of New Mexico State and a clutch rally against Michigan. Say what we want about whether Arizona should have fallen that far behind, but Michigan earned that lead. They are the first team to put up a 50+ eFG% against UA this season. Glenn Robinson III finally showed us the Big Puppy that we expected to see all season, scoring 16 in the first half. Pay no mind to the four in the second.
In the end, UA had too much size and skill up front, especially in a game where Brandon Ashley showed up to play. He's averaging 15 and 6 in his last five games. If you're a Kansas fan who's excited about the improvement Perry Ellis has made this season, just keep in mind that his current season is one of KenPom's top five comparisons to Brandon Ashley.
Wilbekin: "Heckling Napier didn't work, but what about Joe Jackson?"
Major Games to Watch:
Florida vs. Memphis, Tuesday (Madison Square Garden)
Cincinnati vs. Pitt, Tuesday (Madison Square Garden)
Stanford at UConn, Wednesday
Duke vs. UCLA, Thursday (MSG)
UMass vs. Florida State, Saturday (Sunrise, FL)
Oklahoma State vs. Colorado, Saturday (Las Vegas)
Michigan State at Texas, Saturday
Illinois vs. Missouri, Saturday (St. Louis)
BYU at Oregon, Saturday