I hate Christmas music, but the sentiment behind this song is valid for today. College basketball's opening day beats the living hell out of Christmas for me because 2 things:
1) There's a metric ton of hoops to watch;
2) No stressful shopping experiences.
As we prepare to tip the season off in some style (
Texas Southern v. Eastern Washington = two potential conference champions opening the campaign
), sit back and observe TBI's up-to-the-minute preseason top 25 and All-American picks after the jump.
25. Michigan State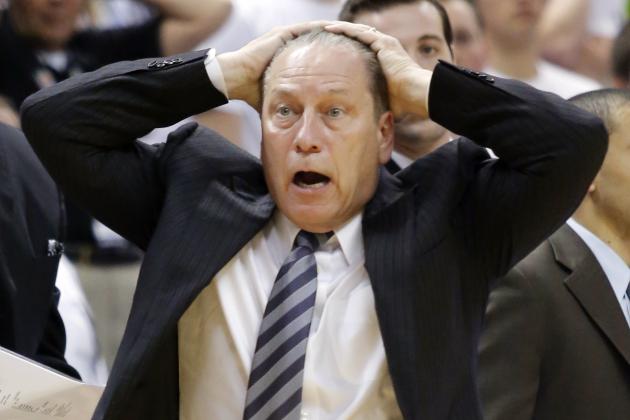 *Not without some of this, though.
--Dude, it's
Tom Izzo
. He'll figure things out.* The Spartans' roster doesn't look as hot as it normally does, but there's still a solid core in place with
Branden Dawson
,
Travis Trice
and one of my personal favorites for a breakout year in the B1G,
Denzel Valentine
. Aside from Delon Wright of Utah (more on him later), there's not a man in college hoop I consider more likely to drop a trip-dub on somebody this season. I'm also expecting some sweet shooting from
Bryn Forbes
, but he did struggle in the few games Cleveland State had against tourney-caliber opposition last season. It's very possible that Izzo's rolling with
Tum Tum Nairn
and Trice as his starting backcourt by season's end.
24. Illinois
--I wrote
the team preview
over at BT Powerhouse, and Illinois has my vote for 4th in the Big Ten this season.
Ahmad Starks
and
Aaron Cosby
will add much-needed shooting, and once Jaylon Tate takes over at the point (
you listening, Coach Groce?
), the Illini bench mob of Starks, Cosby and
Malcolm Hill
will be one of the sweetest-shooting second units in the nation.
Rayvonte Rice
can still ball, and he doesn't have to be the whole offense this season.
Nnanna Egwu
got some massive love from Jay Bilas for his defensive skillz, too:
The Bilastrator's All-Defensive 1st Team: K. Sykes, GB; R. Hollis-Jefferson, UA; T. Cotton, WSU; B. Weber, VCU; N. Egwu, Illinois.
— Jay Bilas (@JayBilas) October 26, 2014
23. Arkansas
--The Hogs have enough athleticism to run with anyone, but so do several SEC teams. The problem in the SEC is that while we can't swing a dead cat around without hitting dudes who can run like the wind and jump out of the building, the only actual skilled players seem to flock to Lexington and Gainesville. I
wrote here
about the league's pervasive shooting woes, an issue that Arkansas didn't help much.
All that said, I've got
Bobby Portis
doing big boy things this season (
perhaps All-American things? Stay tuned
),
Moses Kingsley
growing up a bit as a sophomore,
Ky Madden
and
Michael Qualls
putting in All-SEC caliber work. Problem is that neither
Jabril Durham
or
Anton Beard
appears to have done enough to free Madden from primary ballhandler status. I expect someone to step up this season, or this ranking will look silly.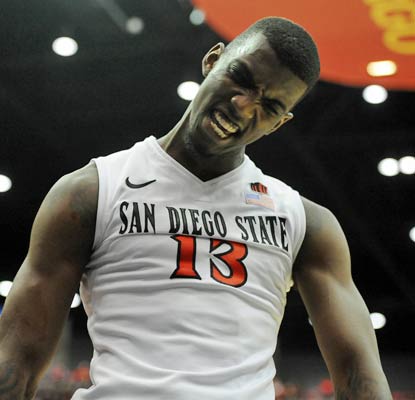 Keep yer head on straight, Winston.
22. San Diego State
--Defense, defense, defense. Those are the Aztecs' top three strengths yet again. Notice that offense is kind of a rumor around here. It was the same last year, despite the presence of do-it-all PG Xavier Thames. Without him, it's back to the drawing board in what could be
Steve Fisher
's final season. Freshmen
Trey Kell
and
Kevin Zabo
are keys to the backcourt operating at peak efficiency, and if they can't get it done, a lot will fall on the shoulders of junior wing
Winston Shepard
. Shepard was a guy who completely
took college for granted
two years ago, and if he can handle the extra workload, SDSU will be okay. Not great, perhaps, but okay.
21. Utah
--
I listed the Utes as
a potential "surprise" team
over at B/R, and was immediately hit with "duh, so what? Everyone expects Utah to do well this year." Yes, that's true, and it made me realize that I didn't articulate the "surprise" very well. How about Final Four potential? Would that surprise you?
Delon Wright
is simply the most versatile player in the game this season, and he's got great perimeter support from
Brandon Taylor
and
Jordan Loveridge
. The post was a weak spot last season, but there's plenty of depth now with senior
Dallin Bachynski
, junior
Jeremy Olsen
, JUCO banger
Chris Reyes
, redshirt frosh
Kyle Kuzma
and true freshmen
Brekkott Chapman
and
Jakob Poeltl
. A team that lost seven Pac-12 games by four points or less should be able to manufacture some better luck this season.
20. UConn
NEWS FLASH: He gone now.
--I shouldn't even be this nice, considering the massive doses of shit I kept getting handed from UConn fans all offseason for not bowing down to the "champs," a team that was:
a) a No. 7 seed;
2) one bad bounce from getting bounced by St. Joe's; and
iii) led by several key contributors, most of whom are now gone.
YOU HAVE A DIFFERENT TEAM NOW, TROLLS. GET OVER YOURSELVES.
(
Ahem, moving on
.) UConn still has plenty of talent and depth, just not a ton of experience.
Ryan Boatright
scares me, and not in a good way. Will he have too many games of "time to get mine and show these scouts I can dominate," or will he involve his teammates? Can
Rodney Purvis
shoot efficiently and make people fear him at the foul line? Will
Amida Brimah
and
Kentan Facey
become more solid offensive players? Is
Daniel Hamilton
the do-it-all dynamo he currently resembles? Can
Sam Cassell Jr.
run a team as effectively as his dad did for so many years? Lots of questions, and it should be totally obvy that I think some of the answers will be positive. Otherwise, UConn would be nowhere near this ballot. Now, get off my ass.
19. VCU
--VCU isn't anywhere close to that Gonzaga level of missed opportunities, but there's still plenty of disappointment going around. A loss to Stephen F. Austin wasn't entirely unexpected, and that's an ominous sign for the Rams. A-10 POY favorite
Treveon Graham
is still around, as is defensive boogeyman
Briante Weber
, who should break the NCAA career steals record sometime around Valentine's Day. Freshman
Terry Larrier
is the first truly touted recruit that
Shaka Smart
has landed, and he'll have to prove himself quickly. The Havoc defense demands quality depth, but there's not a lot of proven talent on the Rams' bench.
Melvin Johnson
can be an explosive perimeter shooter, but can he be as consistently dangerous as Troy Daniels or Rob Brandenberg? And will he have any help?
18. Michigan
--Centers?
John Beilein
don't need no stinkin' centers.
Thankfully, Donnal recovered from being "en fuego" here.
That's a bit of a misnomer, since Beilein has redshirt freshman
Mark Donnal
, who's perfectly capable of playing inside and out. If he eventually grows into the kind of force that Beilein was able to develop Kevin Pittsnogle into at West Virginia, he'll take Michigan to another Final Four soon. The backcourt, as ever, is strong at UM, with
Derrick Walton
,
Caris LeVert
and
Zak Irvin
all capable of earning All-B1G honors. Irvin has the same mandate that Nik Stauskas had after his freshman season: Prove that you can beat people off the dribble and not just spot up in the corner all night.
Kam Chatman
will battle for an All-Rookie nod as well. He went 9-6-4 against Wayne State, and if he's that kind of versatile against real basketball teams, he'll be more valuable than Glenn Robinson III ever was.
17. Colorado
--The Pac-12 as a whole is being undersold a bit nationally, as the top half is just about as good as anyone's. The bottom half is an albatross, but we're here to talk about good teams. Good teams like Colorado.
Buffaloes big man
Josh Scott
is one of the best in America that not many are talking about. It would not be a stretch to see him average 18 and 10 this year. Forwards
Xavier Johnson
and
Wesley Gordon
complete a front line that isn't nearly as hyped as that at, say, Texas, but it might be every bit as efficient as a group. Guards
Askia Booker
and
Xavier Talton
will allow rookie PG
Dominique Collier
to come along slowly. Coach
Tad Boyle
has depth, size and talent, and there's Sweet 16 potential if the Buffs find enough shooting.
More of this, less violating team rules, Chris.
16. Florida
--This is another coach pick.
Billy Donovan
is too good and has too much talent on his hands to see the Gators fall too terribly far. PG
Kasey Hill
, wing
Dorian Finney-Smith
and unconscious gunner
Michael Frazier
will carry the offense while rookies
Devin Robinson
and
Chris Chiozza
get their games up to college level and ex-Rutgers star
Eli Carter
gets his health all the way right. Robinson in particular struggled during exhibition play. I'm still a bit concerned about
Chris Walker
's ability to keep his head together all season, but veteran
Jon Horford
will play a calming role until Duke transfer
Alex Murphy
gets eligible. The loss of four-star SG
Brandone Francis
for academic reasons really hurts.
15. Ohio State
--The Buckeyes' games were as visually offensive last year as Kathy Bates' nude scene in
About Schmidt
. (
Thankfully, I'll spare you photographic proof. You're welcome.
) The Aaron Craft-led outfit didn't let anyone get buckets, but they themselves would have had trouble scoring in a whorehouse on Dollar Day. That should be rectified this season if some touted freshmen are ready to play big-boy Big Ten ball.
D'Angelo Russell
is my pick for Big Ten Freshman of the Year, and he had a great debut against Walsh, dropping 17-8-6. If his support system--classmate
Keita Bates-Diop
and redshirt
Kam Williams
, who both struggled mightily in the exhibition--gets it together, there's still more than enough defense to make beating OSU a miserable task.
14. Villanova
--The Cats are expected to cruise in the Big East, with nearly everyone back. Their biggest question swirls around their biggest player, but center
Daniel Ochefu
is at least playing like a man possessed in the preseason. He ripped 20 boards to go with 11 points in an exhibition win over Nyack. Guards
Darrun Hilliard
and
Ryan Arcidiacono
, along with power forward
JayVaughn Pinkston
, are rock solid and they'll get plenty of support from junior
Dylan Ennis
and freshmen
Phil Booth
and
Mikal Bridges
. If there's a quibble, it's that there's not much depth in the post behind Pinkston and Ochefu, but the rest of the BE--outside of Top 25 sleeper Providence--isn't exactly swarming with Goliaths either.
Shoots about as straight as the Longhorns.
13. Texas
--As alluded to earlier, the Texas front line is hyped, and justifiably so. Reserves
Prince Ibeh
and
Connor Lammert
could probably start for 300 or so teams around Division I, but they're still sitting behind
Cameron Ridley
,
Jonathan Holmes
and now freshman
Myles Turner
. There's top-10 talent up front, but a team that couldn't shoot straight last year didn't do much to rectify the problem. In fact, the Horns' most consistent perimeter threat, Martez Walker, done got himself suspended and left school after a domestic violence complaint. If the shooters can hit, there's Final Four potential here. If not, the Horns will once again have to crush the offensive glass. Luckily for them, that shouldn't be hard with this many heads of gigantic cattle.
12. Oklahoma
--This is a provisional ranking, as the NCAA is still struggling to extract its head from its own ass and is allowing Houston transfer
TaShawn Thomas
' immediate-eligibility waiver decision to drag into the regular season. If Thomas can suit up, the Sooners will have one of the nation's (yes, NATION'S) most complete starting lineups. Guards
Buddy Hield
,
Jordan Woodard
and
Isaiah Cousins
are all potential All-Big 12 performers, and forward
Ryan Spangler
is capable of a double-double every night. The bench is mostly young, but the top seven (add senior SWAT Team member
D.J. Bennett
and sophomore gunner
Frank Booker
to the above five) are as good as just about anyone's.
11. Iowa State
Vin Diesel's stunt double on the right? Just shave the head.
--
Georges Niang
's weight loss is the major story out of Ames this offseason, but of equal importance should be ISU's growing reach with actual high school talent. Rather than relying almost exclusively on transfers to keep the roster stocked (
UNLV's Bryce DeJean-Jones may be the only significant D-I import this year
), coach
Fred Hoiberg
got a couple of interesting freshmen into ISU this season. Point guard
Clayton Custer
might see important minutes alongside sophomore
Monte Morris
, while 7-foot Greek
Giorgios Tsalmpouris
will provide some rim protection until JUCO refugee
Jameel McKay
is eligible in time for Big 12 play. Of course, forward duo Niang and
Dustin Hogue
will pace the attack, with Morris and junior
Naz Long
relied on to make shots. There's still plenty on hand for The Mayor.
10. Louisville
--The Cards have All-American (
SPOILER ALERT
)
Montrezl Harrell
and a potentially superb--albeit undersized--backcourt in
Chris Jones
and
Terry Rozier
. Based on his occasionally dominant play in exhibition season, senior
Wayne Blackshear
is ready to prove he belongs on a top-10/potential Final Four team. The major concern is integrating a pile of talented freshmen who all have their individual warts.
Shaqquan Aaron
may not be cleared to play any time soon, considering how glacially slow the NCAA moves to let guys compete (
they're Johnny on the spot when it comes to slamming the door on dudes, though
). PG
Quentin Snider
will have to adapt to the unique pressure of playing a key bench role for his hometown team. Big man
Chinanu Onuaku
has impressed, and will be off the bench early in relief of Harrell or sophomore
Mangok Mathiang
. 7-foot Egyptian
Anas Mahmoud
has tremendous skills, he just needs the bulk to bang inside. If the Cards can get oriented to the ACC quickly, it'll be a great season. Three conferences in three seasons, however, is a lot of scouting.
9. Wichita State
But he should be the face of something. Boy-band lookin' SOB.
--The Shockers have a spectacular backcourt, led by potential All-Americans
Fred VanVleet
and
Ron Baker
(
news flash: Baker's the better player, just not the face of the team
), but the frontcourt has to snap into shape quickly before a tough pair of early games against New Mexico State and Memphis. Freshman
Rashard Kelly
may be the best complement to senior
Darius Carter
in the post, while 6'10" Estonian
Rauno Nurger
will test defenses with his shooting range. Expect VanVleet to maximize his impact by getting him the ball in all the right spots. If the Shockers can replace Cleanthony Early's rebounding--scoring shouldn't be a problem with Baker and
Tekele Cotton
getting more looks--there's every possibility WSU contends for another high ranking and strong tournament seed.
8. Gonzaga
--The Zags have got to put it together and make a tournament run sometime, and if this team can't do it, doubt has to creep in over whether
Mark Few
can produce such a season. Aside from iconic guards
Kevin Pangos
and
Gary Bell
, Gonzaga has sensational perimeter options in USC transfer
Byron Wesley
, ex-Kentucky stretch-4
Kyle Wiltjer
, returning reserve
Kyle Dranginis
and freshman
Josh Perkins
. All these guys will need to produce while interior help is found for Polish behemoth
Przemek Karnowski
. Freshman
Domantas Sabonis
is a skilled post operator who should find several double-figure scoring games if referees don't allow him to be shoved around like a 210-pound rag doll. There's too much talent here to squander it in the round of 32.
7. Virginia
--Replacing Akil Mitchell's rebounding and defense won't be easy, and issues there could lead to UVa dropping into the 11-20 range at times during ACC play. The Cavs won't fall far, though, thanks to an efficient offense that may not miss Joe Harris as much as expected.
Malcolm Brogdon
and
London Perrantes
are probably the best elite backcourt that doesn't get hyped as an elite backcourt. Veterans like
Anthony Gill
,
Mike Tobey
and
Justin Anderson
must assert themselves on both ends, and if freshmen
Isaiah Wilkins
(
the stopper
),
B.J. Stith
(
the sniper
) and
Jack Salt
(
the bruiser
) all play their roles effectively off the bench, Virginia will threaten to defend its dual ACC titles.
6. Kansas "Get away from the basket, or the ball gets it and we all go home."
--We're used to Kansas having point guard questions. Seems like that's been the case since the Adonis Jordan or Jacque Vaughn days. Still, whether it's
Frank Mason
or
Devonte Graham
running the show (
I'm #TeamGraham, in case you're wondering
), there are more than enough weapons--including a few supplemental ballhandlers--for the Jayhawks to cruise to consecutive Big 12 title No. 11. The key will be the defensive end, an area where KU was exposed late last season when Joel Embiid went down. Reserves
Jamari Traylor
and
Hunter Mickelson
will help with rim protection, but hyped rookie
Cliff Alexander
has to prove he can rebound and play defense without landing himself in foul trouble. He's not always going to be the strongest, burliest bull in the pen like he was in high school. Expect wings
Wayne Selden
and
Kelly Oubre
, along with power forward
Perry Ellis
, to contend for a spot on the Big 12 scoring leaderboard.
5. Wisconsin
Pictured: a large fuzzy Badger. And the mascot.
--When you have two All-Americans on your roster, you're generally going to be projected highly. That goes double when you have a coach whose system hums along regardless of the parts and return nearly all the talent from a Final Four team. Center
Frank Kaminsky
and wing
Sam Dekker
may be the two best players in the Big Ten this year, guards
Traevon Jackson
and
Josh Gasser
usually don't beat their own team and sophomores
Nigel Hayes
and
Bronson Koenig
both showed flashes against dominant competition, Koenig doing so in the Final Four. If there's a real knock on the Badgers, it could be (
COULD BE
) backcourt depth. Forwards
Duje Dukan
,
Vitto Brown
and
Ethan Happ
could all be contributors up front, the guard situation is much murkier. Redshirt frosh
Riley Dearring
should help as a shooter and sophomore
Zak Showalter
will be an energy guy. Another Final Four is very, very possible.
4. North Carolina
--Provided UNC doesn't get imploded or wiped out by the wrath of a vengeful God--as Duke fans would undoubtedly love to see--in the wake of the scathing Wainstein Report, there's still plenty of talent on the court for Ol' Roy.
Marcus Paige
is certainly in the running for TBI's National Player of the Year honor, and it's possible that his distributing will be as much a story this year as his scoring. I'm expecting a great season from junior
Brice Johnson
as long as he's able to keep himself out of foul trouble. This is a dude who put up 21.2-12.4 per 40 over his first two years, for cryin' out loud. Center
Kennedy Meeks
is looking like a real athlete and not the Stay-Puft Marshmallow Man this year.
J.P. Tokoto
is that guy who'll make your team's best scorer look like a YMCA scrub. Freshmen
Justin Jackson
and
Theo Pinson
will make the offense hum in transition, Pinson with the slashes to the hole and Jackson draining the trailer 3. If either
Joel James
or
Desmond Hubert
can provide capable relief for Meeks (
improved cardio or not, he sure as hell can't play 40
), the Heels have a recipe to get back to the Final Four. And then pray that no one here took any classes in African-American Studies.
3. Arizona
--Full disclosure/quasi-SPOILER ALERT: You'll notice Duke just ahead of Arizona in these rankings. However, I'm tabbing the Wildcats, not the Blue Devils, to reach the Final Four. Why? UA's defense will win out early in the year, but I'm mildly intrigued about
Sean Miller
's potential decision to redshirt JUCO Player of the Year
Kadeem Allen
. Perhaps it's to avoid any overlap with
Rondae Hollis-Jefferson
as the team's resident slashing wing, or maybe it's a major dose of good faith in junior sniper
Gabe York
. After all, the Cats have everything aside from shooting, and that's York's major. Miller compared Allen to ex-Maryland star Juan Dixon, who likewise redshirted during his career. Either way, if York and sophomore
Elliott Pitts
can supplement PG
T.J. McConnell
's shooting, the Cats will be tough to keep away from Indy this April.
2. Duke
"Biggest pair you've ever seen, dingleberry."
--Duke has a loaded lineup, matching Kentucky with nine former McDonald's All-Americans. Freshman
Tyus Jones
appears to have cemented the starting point guard role alongside center/classmate/good buddy/National POY favorite
Jahlil Okafor
, and if Jones is all he's cracked up to be, there's a good chance he makes every teammate that much more dangerous. Sophomore
Matt Jones
surprisingly cracked the starting five in the exhibitions, showing the shot that stayed behind in high school while still playing his usual rugged defense. Backup guards
Quinn Cook
and
Rasheed Sulaimon
were last season's starters, and could likewise start for all but about 10-15 teams in the country. Overshadowed freshman
Grayson Allen
will have his moments, too. If Duke gets good backup minutes from
Marshall Plumlee
at center and
Amile Jefferson
finishes establishing himself as the ACC's best pure rebounder, Duke will finally have some steak to go with its usual sizzle, and
Mike Krzyzewski
can get back to the Final Four again. Oh, and wing
Justise Winslow
is simply a versatile all-around beast. Did I miss anyone?
1. Kentucky
--Yada yada yada nine Burger Boys yada yada yada great skilled big men yada yada yada
Tyler Ulis
is lightning in a bottle yada yada yada
Willie Cauley-Stein
would swat his mama from the last turkey leg at Thanksgiving yada yada yada undefeated yada yada....
So let's all save the T-shirt printing costs, k?
Whoa, hold up. Okay, Kentucky has more talent than any team in the nation (
and that probably includes the Philadelphia 76ers right now
), but they're not going unbeaten. For that, God bless
John Calipari
. His non-conference schedule is a thing of beauty, with a great balance between cupcakes and potential NCAA tournament (
and I mean DEEP NCAA tournament
) opposition like North Carolina, Texas, Kansas and Louisville. There are a lot of games in short time early (
the first six in 10 days
), then some time to survey what worked before the real meaty games. Cal has a beautiful quandary on his hands trying to mix and match all these moving parts, and it will take time for him to get the recipe right.
Now, if you're asking me "Will UK go undefeated in the SEC?" I'll tell you absolutely. Barring a jacked crowd at the O-Dome or Bud Walton, no SEC team will have anything close to enough horses to run with this bunch. Complacency and selfishness will be the main enemies for UK, and this time (unlike two years ago) Cal has more than enough depth to staple any offender to the bench and keep him there until he learns respect.
Not going to the Final Four = failure. For that matter, no national title = failure. There's too much here for anyone not to vote this team on top, unless they're simply trying to be contrary and troll Big Blue Nation. While I'm always up for a good game of Troll the Trolls, any other conclusion to these rankings would be simply ludicrous. Do I expect UK to roll to the title? Not really, but right now, no one has any better case for No. 1.