Welcome back to the third post of the series that may represent the most prolific this blog gets in three months, thanks to a lot of other stuff demanding some time. We've already talked about my
Top 25 picks
and my
All-American selections
, so now it's time to jump to the real important news that will come out in March: the bracket.
If you read my conference previews (
Part 1 here
and
Part 2 here
), you'll remember that I projected the teams that I expected to make the NCAA tournament from each league. This is where we put them all together into a tournament format and determine who exactly I'm tabbing as my Final Four picks. Because unlike all those other chicken-droppings bracketologists, Bracketometry will go the extra mile and project some winners. And not just going according to seed, either (I see you out there, Athlon). There will be upsets.
Trust me, you'll all disagree with several picks. I absolutely know it. But before we get to who'll be standing on the final weekend, let's look at the other 64 who'll join them at the party after the jump.
First, let's welcome the star of the show--the bracket itself.
Click here
for a bigger version, or just read on. Preferably both.
Bear in mind that these seedings have absolutely nothing to do with my Top 25 rankings, and are more based on gut feelings about schedule and overall performance than anything scientific. The Back Iron Index-powered brackets won't start coming out until New Year's.
Now, into the games.
MIDWEST REGION:
#1 Kentucky vs. #16 Alcorn State/Hartford
--Do I really need to explain?
WINNER: Kentucky
#8 Minnesota vs. #9 Florida State
--A Leonard Hamilton team is always about stifling defense. The Gophers rely heavily on their backcourt of Andre Hollins and Dre Mathieu (aka The Two-Dre Minimum), and both can be rattled into very inefficient shooting nights.
WINNER: Florida State
#5 Utah vs. #12 Northern Iowa
--The Utes are a real dark horse in my world. If UNI gets here, it'll be because they have a fantastic season, but Utah's added size and experience from a team that only needed those two things last year.
WINNER: Utah
#4 VCU vs. #13 UC Irvine
--VCU would find itself in another absolute dogfight if this matchup came to fruition. Forget trying to drive on UCI monster Mamadou Ndiaye unless you were fully convinced you could get him into foul trouble. Irvine has a pair of solid handlers in the backcourt, who may not be totally rattled by Havoc. Our first upset.
WINNER: UC Irvine
#6 SMU vs. #11 Providence
--Another fantastic first-round matchup, this one is decided by SMU's defense and the assumption that Markus Kennedy will be back for the Mustangs. But it's tight until the final buzzer because outside of Xavier import Justin Martin, SMU has little experience on this kind of stage.
WINNER: SMU
#3 Ohio State vs. #14 New Mexico State
--The Buckeyes will have some growing up to do during the season, but by March, they should be well equipped to take on the experienced Aggies.
WINNER: Ohio State
#7 Kansas State vs. #10 Georgia State
--Tough matchup for a would-be Cinderella in GSU. K-State was one of the nation's best perimeter defenses last season, while the Panthers still need to prove there's help for R.J. Hunter.
WINNER: Kansas State
#2 Louisville vs. #15 Oral Roberts
--The Cards' supporting cast was a bit shaky in the opener against Minnesota, but Montrezl Harrell showed that his three-point shooting wasn't just playing around at a meaningless scrimmage. Rick Pitino will have it all straightened out enough to dismantle ORU.
WINNER: Louisville
"AND...JAZZ HANDS!"
#1 Kentucky vs. #9 Florida State
--The Noles are one of the few teams in America that can come close to UK's size, but their 7-foot trio is nowhere near the skill level of Kentucky's bigs.
WINNER: Kentucky
#5 Utah vs. #13 UC Irvine
--Utah's got the perimeter game to stretch Irvine out. The Utes may be able to minimize the impact of shot-blockers Ndiaye and Will Davis II.
WINNER: Utah
#6 SMU vs. #3 Ohio State
--The Buckeyes may be done in by a lack of post depth. Kennedy, Yanick Moreira and Cannen Cunningham can overwhelm Amir Williams, who still struggles with fouls and disappears on offense. D'Angelo Russell's scoring could keep it close, but...
WINNER: SMU
#7 Kansas State vs. #2 Louisville
--Harrell stays in beast mode to crush the likes of Stephen Hurt and Thomas Gipson. Chris Jones and Terry Rozier make life miserable on either end for Marcus Foster.
WINNER: Louisville
#1 Kentucky vs. #5 Utah
--A rematch of the 1998 national title game. The Utes have big men who can spread the floor, just like Kentucky. Delon Wright and Jordan Loveridge are capable of making life tough for the Harrison twins, but the 5'10" Brandon Taylor would be completely swallowed.
WINNER: Kentucky
#6 SMU vs. #2 Louisville
--SMU couldn't hang when these two teams were AAC rivals last year. More of the same this season, despite no Russ Smith or Luke Hancock. Another Commonwealth war, just like in the 2012 Final Four.
WINNER: Louisville
#1 Kentucky vs. #2 Louisville
--Big Blue Nation becomes even more insufferable than usual as UK has an easier time dispatching "Little Brother" than it did against Utah.
WINNER: Kentucky
EAST REGION:
#1 Kansas vs. #16 St. Francis Brooklyn
--Yawn.
WINNER: Kansas
#8 Dayton vs. #9 Colorado State
--Somewhat interesting, but CSU pulls away late behind great rebounding from players like J.J. Avila and Stanton Kidd.
WINNER: Colorado State
#5 Florida vs. #12 NC State
--Very intriguing backcourt matchup, with UF's Kasey Hill, Michael Frazier and Eli Carter taking on State's Cat Barber and Trevor Lacey. In the end, Frazier gets hot and Chris Walker skies for several blocks on BeeJay Anya.
WINNER: Florida
#4 Michigan vs. #13 Memphis/BYU
--Gimme Memphis in the play-in, since the Coogs have no answer for Shaq Goodwin or Austin Nichols. Michigan, however, doesn't give a damn how good your bigs are. They'll prey on the Tigers' inexperienced backcourt.
WINNER: Michigan
#6 Illinois vs. #11 UNLV
--The Rebels' rim protection will have to improve from a rough opener against Morehead State. With Nnanna Egwu holding it down inside, the Illini have no such concerns. Rashad Vaughn vs. Rayvonte Rice would be a superb matchup.
WINNER: Illinois
#3 Wichita State vs. #14 Murray State
--Wichita State breathes a sigh of relief after barely escaping a Racer team that has its own talented three-headed monster in the backcourt.
WINNER: Wichita State
#7 Colorado vs. #10 Tulsa
--Tulsa's got some athletic frontcourt players, but there's no answer for Josh Scott.
WINNER: Colorado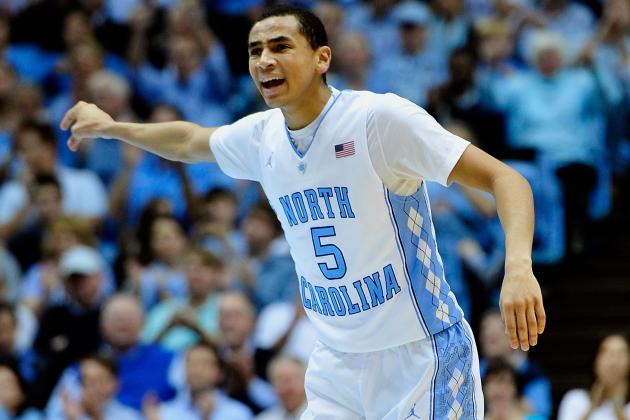 The man who closed #DunkCity.
#2 North Carolina vs. #15 Florida Gulf Coast
--Gulf Coast back in as a 15-seed...could they...nah, not this time. TBI POY Marcus Paige will allow no such thing.
WINNER: North Carolina
#1 Kansas vs. #9 Colorado State
--Where Kidd and Avila played well against Dayton, they struggle against KU's stable of big men. Not just Cliff Alexander and Perry Ellis, but Jamari Traylor and Hunter Mickelson also get into the action.
WINNER: Kansas
#5 Florida vs. #4 Michigan
--Chris Walker has a major coming-out party, and Jon Horford is motivated to show out against his former team.
WINNER: Florida
#6 Illinois vs. #3 Wichita State
--The Shockers struggle to keep Egwu and Leron Black off the glass, while Rice torments Ron Baker into a rare off night.
WINNER: Illinois
#7 Colorado vs. #2 North Carolina
--UNC gets yeoman work from Brice Johnson and Kennedy Meeks to offset Scott. The Heels also get great games from freshman wings Justin Jackson and Theo Pinson, knocking the Buffs out with a superior number of athletes.
WINNER: North Carolina
#1 Kansas vs. #5 Florida
--Michael Frazier comes close to Jeff Fryer's single-game three-point record, and gets plenty of support from freshman Devin Robinson and senior Eli Carter, both of whom frustrate Wayne Selden to no end.
WINNER: Florida
#6 Illinois vs. #2 North Carolina
--Finally, someone produces against Egwu, as Meeks and Johnson land him in foul trouble and then eat backups Maverick Morgan and Austin Colbert alive.
WINNER: North Carolina
#5 Florida vs. #2 North Carolina
--The Heels get great defensive efforts from J.P. Tokoto and Theo Pinson to keep Frazier contained. Meanwhile, Paige schools Hill, but dammit, at least the Gators kept that Elite Eight string alive.
WINNER: North Carolina
WEST REGION:
#1 Duke vs. #16 Delaware State/Coastal Carolina
--A 50-point margin is highly possible.
WINNER: Duke
#8 Stanford vs. #9 Iowa
--Both teams have decent post groups, but Stanford's bunch is just that much more talented. Plus, the Hawkeyes have no answer for Chasson Randle.
WINNER: Stanford
#5 UConn vs. #12 George Washington
--The Huskies' backcourt depth and Amida Brimah protecting the rim get the title defense off to a fine start over a good GW team.
WINNER: UConn
#4 Gonzaga vs. #13 Toledo
--The Rockets have a bunch of talent, and point guard Juice Brown has a solid game against Kevin Pangos, but Nathan Boothe spends the evening getting pummeled by Przemek Karnowski.
WINNER: Gonzaga
#6 Michigan State vs. #11 Ole Miss
--This pairing doesn't look so hot after Michigan State struggled with Navy on opening night and Ole Miss lost to Charleston Southern. Write Ole Miss' loss up to chemistry issues and expect that they'll get straight. Maybe. Meanwhile, Denzel Valentine torments Jarvis Summers in this game.
WINNER: Michigan State
#3 Villanova vs. #14 Stephen F. Austin
--Can the Jacks do it again? Eh, maybe not, but it'll be tight until the late going.
WINNER: Villanova
#7 Miami vs. #10 Louisiana Tech
--Angel Rodriguez commits an uncharacteristic number of turnovers against Speedy Smith while The U's big men have frequent issues against Tech rim protector Michale Kyser.
WINNER: Louisiana Tech
"Gotta win this many more, right?"
#2 Iowa State vs. #15 American
--The Eagles have a good perimeter trio, but if the shots aren't falling, they don't have anyone who can outduel Dustin Hogue and Georges Niang on the glass.
WINNER: Iowa State
#1 Duke vs. #8 Stanford
--Veteran Stefan Nastic vs. freshman Jahlil Okafor. Who ya got? Meanwhile, Anthony Brown can't guard everyone.
WINNER: Duke
#5 UConn vs. #4 Gonzaga
--The Huskies' perimeter defenders have a rough time with Byron Wesley and Kyle Wiltjer. Meanwhile, Ryan Boatright finally implodes, trying too hard to go full Kemba.
WINNER: Gonzaga
#6 Michigan State vs. #3 Villanova
--The Spartans figure out a way to sneak through, as Branden Dawson lands Nova big man Daniel Ochefu in some early foul trouble. Travis Trice hits from deep a lot, and Ryan Arcidiacono struggles to keep Tum Tum Nairn contained.
WINNER: Michigan State
#10 Louisiana Tech vs. #2 Iowa State
--Monte Morris rarely turned the ball over last season, and he's not starting now. Meanwhile, Niang and Hogue do a fine job pulling Kyser out of the post and clearing chances for Jameel McKay and Bryce Dejean-Jones.
WINNER: Iowa State
#1 Duke vs. #4 Gonzaga
--The biggest upset of the event thus far, Okafor has a few issues with the burly Karnowski and the quicker Domantas Sabonis. Gary Bell plays the best defensive game of his career on Tyus Jones, and Wiltjer keeps Amile Jefferson too far from the glass to control the game with his rebounding skills.
WINNER: Gonzaga
#6 Michigan State vs. #2 Iowa State
--Niang outduels Dawson, Hogue and McKay crush Matt Costello's will to live, and Morris manages to harass both Trice and Nairn into off nights. The Mayor sits one step away from the Final Four.
WINNER: Iowa State
#4 Gonzaga vs. #2 Iowa State
--And then Fred Hoiberg gets to take that final step. Niang and Hogue prove capable of stifling Wiltjer while Dejean-Jones plays fellow USC export Wesley to a standstill. Niang's array of post moves put the bulky Karnowski into foul trouble early, neutralizing what size advantage Gonzaga brings.
WINNER: Iowa State
SOUTH REGION:
"Damn, everything IS bigger in Texas, isn't it?"
#1 Wisconsin vs. #16 Wofford
--Wisconsin puts something like seven guys into double figures.
WINNER: Wisconsin
#8 Arkansas vs. #9 Georgetown
--If Arkansas hasn't figured out the point guard position by now, D'Vauntes Smith-Rivera goes off.
WINNER: Georgetown
#5 San Diego State vs. #12 Syracuse/UCLA
--Give me Syracuse in the play-in, if only because Bryce Alford will look at that 2-3 zone like it's Chinese calculus. From there, SDSU will win a game whose final score will look like a football game.
WINNER: San Diego State
#4 Texas vs. #13 Iona
--The Horns' burly front line owns the glass, and Texas' perimeter players play some stifling defense on A.J. English and Isaiah Williams.
WINNER: Texas
#6 Oklahoma vs. #11 Green Bay
--Sad to see Kiefer Sykes go, but OU's backcourt won't be denied.
WINNER: Oklahoma
#3 Virginia vs. #14 Northeastern
--Northeastern's Scott Eatherton has a strong game, but there's just not enough perimeter shooting to rattle the UVa pack-line defense.
WINNER: Virginia
#7 Harvard vs. #10 Rhode Island
--Finally the favorite, Harvard...can't close the deal. The Crimson's lack of perimeter depth is exploited by URI's E.C. Matthews, Jared Terrell, Biggie Minnis, et al.
WINNER: Rhode Island
#2 Arizona vs. #15 Eastern Washington
--EWU can bomb from deep and make this game extremely interesting. Where Arizona can excel is in getting Rondae Hollis-Jefferson, Brandon Ashley and Stanley Johnson to the rim and punishing the Eagles on the glass.
WINNER: Arizona
#1 Wisconsin vs. #9 Georgetown
--Here, Smith-Rivera is neutralized by Josh Gasser and Traevon Jackson. Georgetown's solid freshman class keeps it interesting, but Wisconsin makes all the plays down the stretch.
WINNER: Wisconsin
#5 San Diego State vs. #4 Texas
--Too much beef on the Longhorns for Skylar Spencer and Angelo Chol to combat alone. Myles Turner explodes all over the Aztecs.
WINNER: Texas
#6 Oklahoma vs. #3 Virginia
--Now Oklahoma has enough shooters to disrupt the pack-line. Buddy Hield, Jordan Woodard and Isaiah Cousins are able to get plenty of baskets in transition while Ryan Spangler picks up a big double-double.
WINNER: Oklahoma
#10 Rhode Island vs. #2 Arizona
--Where Harvard didn't have enough bodies on the perimeter to take down URI, Arizona has enough paint threats to bludgeon the Rams into submission.
WINNER: Arizona
#1 Wisconsin vs. #4 Texas
--Much like Kentucky in the Final Four last April, Kaminsky gets swallowed up by waves of bulky, athletic big men. Sam Dekker keeps it tight, but a late-game switch of Demarcus Holland onto him results in him disappearing much like Andrew Wiggins did last season in their meeting.
WINNER: Texas
#6 Oklahoma vs. #2 Arizona
--Hield has himself a very good game, but the Sooner frontcourt isn't able to produce as well as it normally does. Tarczewski and Hollis-Jefferson control the glass and Johnson gets to the tin at will.
WINNER: Arizona
#4 Texas vs. #2 Arizona
--Finally, Sean Miller reaches the Final Four. UT's lack of shooters comes back to bite it against a team whose front line is more athletic, if not quite as big.
WINNER: Arizona
FINAL FOUR
#1 Kentucky vs. #2 North Carolina
--The Wildcats come up just short of history in a regular-season rematch. UNC shuts down UK's already-unreliable perimeter game behind Tokoto, Pinson, Marcus Paige and freshman Joel Berry. Brice Johnson and Isaiah Hicks manage to keep Trey Lyles and Karl Towns from owning the perimeter, while Paige attacks the rim and spends half the game at the foul line.
WINNER: North Carolina
Hey, Stan, how about some college hardware?
#2 Iowa State vs. #2 Arizona
--There's every possibility that this game becomes an Instant Classic, as the two teams duel into the final minutes. Stanley Johnson has a superb game against the veteran Niang, while Hollis-Jefferson completely cuts Hogue out of the game. Dejean-Jones valiantly makes up the slack, but Arizona makes just enough stops to advance to the final.
WINNER: Arizona
#2 North Carolina vs. #2 Arizona
--Stanley Johnson emerges as the difference, taking Tokoto and Pinson to the basket at will. On the other end, he takes Brice Johnson out of the game. T.J. McConnell can't slow down Paige, but the TBI POY has no visible support.
NATIONAL CHAMPION: Arizona
So there it is. TBI's official Final Four picks are
Kentucky, North Carolina, Iowa State and Arizona
. Since the tournament is so much about matchups and most analysts pull their picks completely out of their ass, consider this a rare rationalization of impossible predictions. You won't see this from any other basketball reporter on the Internet. As much as you may disagree with the picks, you can't argue that it takes a large pair of Wilsons to put it all out there for observation.
That's just how TBI rolls. Come back soon.