The Conference Calling 31 in 31 preview series will examine each of the NCAA Division I auto-bid conferences (so no Great West or independents), one per day, leading up to college basketball's opening day on November 9.
=========
UNC Asheville (pictured here in varying states of freakedness) scared the bejesus out of top-seeded Syracuse in the 2012 NCAA tournament, and came close to putting the Big South on the map for perpetuity. The league has a mere three tournament wins in its history, and the last one came in 2007, when Winthrop slugged its way up to a No. 11 seed. Siring the first triumphant No. 16, though, would have been major.
It's highly doubtful anyone in this conference will rate the kind of spot Winthrop got, and it's even questionable if anyone's got the kind of roster to catch lightning the way UNCA nearly did. There's no clear favorites for league champion, Player of the Year, all-conference or anything, but one team does have a large advantage that will materialize in March.
More on that and TBI's No. 28 conference after the jump.
PROJECTED ORDER OF FINISH:
North Division:
1. Campbell
--There's a decent amount of backcourt talent in the Big South, and two of the best are Camels. Senior Darren White was among the league's top five scorers and was also one of the most efficient. His .579 eFG% and .597 TS% ranked among the top 10 in the league. He's a solid three-point shooter who doesn't go overboard with long shots, and can often play bigger than his size. His 5.5 RPG and 1.1 BPG are stats not associated with many 6'4" guards.
White's backcourt mate Trey Freeman was the conference's Rookie of the Year after averaging nearly 14 points and four assists per game. Freeman can get to the basket and draw contact, then make the foul shots afterward, which sometimes seems like a vanishing skill these days. Freeman's 1.6 A/T ratio was among the league's top 10 as well.
Behind those two, the backcourt depth consists of sophomore Andrew Ryan and a whole bunch of new guys. Juco transfer Darian Hooker was a strong scorer at Mineral Area CC in Park Hills, Mo. Also look for 6'4" freshman Jordan Faciane to see time in relief of White.
The Camels' frontcourt has a lack of experienced size, but tenacious junior Marvelle Harris will put in serious work. Harris, while not a prolific scorer, is tough on the defensive glass and is already ninth on Campbell's all-time blocks list.
The center position has a trio of 6'9" applicants: sophomore Antonio Kalpic, Kent State transfer Darius Leonard and redshirt freshman Trae Bremer. Kalpic should see first crack at the starting role after showing scoring efficiency and some skill on the offensive glass in his limited time last season. The 250-pound Bremer will provide a more potent physical presence.
On the wing, former Iowa State redshirt Antwon Oliver and freshman D.J. Mason should see large minutes. Oliver was a 15-and-7 player at Southwest Tennessee CC in Memphis, while the 6'6", 215-pound Mason carded 19-and-12 averages for his high school. Mason outweighs Oliver by a good 30 pounds, so the two may see time together with Mason playing toward the post.
2. Liberty
--The Flames had five double-figure scorers last season, and three of those are back. There are multiple keys to improvement, however.
The first is to find a replacement for star point guard Jesse Sanders, whose ridiculous .436 A% ranked fifth in America. Juco transfer Davon Marshall is likely to get the first chance after averaging 16 points and nearly six assists last season for Monroe College in New Rochelle, NY. Freshman Larry Taylor is a flamboyant scorer, but may need some work on sharing the ball before he finds a starting spot.
Coach Dale Layer's three-guard lineup will also include 6'4" senior Tavares Speaks, a decent mid-range scorer with a ballhawking mentality on defense, and Jesse Sanders' younger brother John Caleb, a prolific outside gunner.
Second order of business: keeping the rebounding solid. This is a piece of Jesse Sanders' game that none of the guards will be able to replace, since he ranked fifth in the Big South at 7.8 RPG. Yes, he stood 6'3", not 6'8". Senior forward Antwan Burrus is a six-RPG man who may get more opportunities without the swarming Sanders everywhere. Burrus will also be the primary inside scoring threat after averaging 11.2 PPG on nearly 53-percent shooting last season.
Big men Joel Vander Pol and J.R. Coronado should also help in this regard. Vander Pol shot 56 percent in his limited time, extrapolating to about 12 points and nine rebounds per 40 minutes. Coronado was a double-double man as a freshman, then found a scoring slump at a different school his sophomore year. Coronado was still good for eight boards and almost two blocks last season.
Third order of business is tightening up the defense, and a sturdy post presence will help immensely. Including Vander Pol and Coronado, the Flames have four candidates 6'8" or taller, an uncommon luxury at this level. Vander Pol's block percentage averaged out at 4.5, fourth in the Big South. He should end up close to two swats per night if he plays starter's minutes.
Polish sophomore Tomasz Gielo and classmate Andrew Smith provide a little bit of post depth, but neither played large roles last season. Gielo could be a sneaky low-post scoring option, but struggled on the glass.
3. VMI
--The Keydets play one of the most frenetic paces in America (fourth in tempo per Ken Pomeroy), so it's expected that they score a lot and allow a lot. They'll need to find some new sources for the former after losing three guys who combined for 35 PPG.
Forward Stan Okoye will need to keep up his 17-and-7 form from last year, if not improve it. If he does, his preseason Player of the Year buzz could come to fruition. Okoye's been a steady scoring and rebounding presence since his arrival in Lexington three years ago, and he's even begun making plays on defense, doubling his steals from his freshman year to his junior season.
Junior D.J. Covington (6'9", 235) should provide a solid post presence next to Okoye. His playing time dropped by 10 MPG last season as he struggled with a back injury, but as a freshman, Covington was legit. Injury or not, Covington still managed a .601 TS% last year and kept his rebounding percentages near his freshman levels. His shot-blocking suffered, but if his health improves, so will that of the VMI defense.
Forward Jordan Weethee is a 40-percent three-point gunner who will very likely end the season as a 10-PPG man in this system. Sophomore Jarid Watson is a relentless rebounder who could average at least six boards a night if he played steady minutes. He did just that in a three-game February stretch over which he played 56 minutes. Swingman Quinton Upshur posted the BSC's top steal percentage, and he's another player who could stand to make a scoring improvement this year.
The backcourt has a lot more questions than the stout frontcourt. Point guard Rodney Glasgow will miss not only backcourt mate Keith Gabriel, but point forward Ron Burks, who led the team in assists. Glasgow's productivity declined a bit as a sophomore, but his efficiency levels didn't drop much. If he gets back to 26 minutes per game or more, his numbers should rebound.
Backcourt help for Glasgow will have to come from freshmen and returning benchwarmers. Junior Drew Absher can shoot, but may get beaten out for minutes by freshmen Gavin Stephenson and Tim Marshall. Depth is always a concern for any team that plays as fast as VMI, and it could be the team's Achilles' heel.
4. High Point
--The Panthers lost sensational guards Nick Barbour and Shay Shine, who combined for 36 PPG. The emphasis for coach Scott Cherry's club will need to swing up front.
Senior forward Corey Law is one of the Big South's toughest rebounders, especially on the offensive end, where he led the league. Putbacks were a substantial part of his .577 FG% from last season. He draws contact at an insane rate, but only converts one of every two free throws. That will have to improve if he's going to reach his all-conference potential.
Law may get some help in the post in the form of ex-Florida Gator and Virginia Tech Hokie Allan Chaney. Chaney hasn't seen on-court action since 2009 after being sidelined these past two seasons with a heart ailment. Several publications are touting Chaney as league Newcomer of the Year because he's the only name they know, which is simply lazy. Was Chaney a talented player three years ago? Far as we could tell in his 10 minutes per game, but what is he now? I'll wait until he's played a few to start nominating Chaney for awards. If he's back, he and Law are the most potent front line in the league. If.
Croatian sharpshooter Branimir Mikulic, 37 percent from deep last season, will provide the outside stroke. Senior Jairus Simms should get first look at the point after dishing nearly three assists per game in only 16 minutes. His .311 assist percentage ranked second in the conference. Sophomore Devante Wallace should be a solid offensive contributor if he can tighten up his sub-40% shooting.
HPU's biggest hurdle may be depth. Guard Justin Cheek contributes a 35-percent shooting stroke from deep. Redshirt freshman John Brown is a rangy athlete who might help on the boards and as a shot-blocker, while true freshman Lorenzo Cugini (who shares an alma mater with LeBron James, BTW) is a true catch-and-shoot guy.
5. Longwood
--Five of the Lancers' top seven scorers are gone, but considering that this was
America's worst defensive team
last season, perhaps a little rebuilding will be constructive as the program joins its first Division I conference.
The two top scorers who do return are fairly efficient sorts, as both Tristan Carey and David Robinson (no, not that one) recorded eFG% figures above .500. Carey ranked no lower than eighth in the Big South in any of the five major statistical categories, a feat that is unlikely to have been repeated anywhere else in the nation. Robinson is a solid shooter, but isn't likely to come close to Carey's across-the-board contributions.
Among the returning talent...well, there's not a ton of returning talent. Junior Jeff Havenstein (6'8", 225) is the only experienced size on the roster. He can be a decent rebounder and block the occasional shot, but may be an offensive black hole. Junior swingman Mark Parker can shoot when given time, and sophomore Anthony Taylor should provide backup point guard help.
So, new faces will get chances in a lot of places for the Lancers. Three to watch will be juco transfer Frank Holloway and freshmen Nik Brown and Karl Ziegler.
Brown should take over the point guard position after getting to practice with the team for half a season already. An 18 PPG/8 APG/3 SPG man in high school, Brown could be the league's top new face if he and Carey develop quick chemistry in the backcourt. The solid LancersBlog has
already expressed concern
, however, so this could be a situation to watch.
Ziegler and Holloway will provide frontcourt bodies. Holloway (6'6", 250) could be a strong inside scoring presence, a piece the Lancers appear to be sorely lacking as the season begins. The 6'6" Ziegler could be a highly versatile piece by the time his career is through. ESPN described him in his
Insider scouting report
as having "an all-around game offensively and [being] capable of playing anywhere on the floor."
Even if Longwood doesn't pull a Savannah State and win the conference in its first year, this could be a team that gets better late in the season. With only one senior on the roster, next season could be fun in Farmville (no, not that one).
6. Radford
--The Highlanders' 2011-12 season can be summed up in one word: thud. Or, more accurately, clank. Radford was the worst-shooting team in the BSC across the board last season. Leading scorers R.J. Price and Javonte Green are back, but considering they were responsible for more than a quarter of the bricks laid last year, is that a good thing?
The 6'4" Green did his part last season, shooting a solid 46 percent and contributing on the glass. Green was one of the BSC's top offensive rebounders last season, perhaps the only perk of Radford's wayward shooting. Price led the team in assists, but also took 65 more shots than anyone else on the roster. He made only 31 percent of his shots inside the arc. With the loss of reliable support scorers Johnathan Edwards and Jareal Smith, will Price's stranglehold on the offense get tighter?
Support will come from the roster's only senior, 6'4" guard Blake Smith. Smith averaged about nine points and five rebounds per game in a six-game stretch in February, so he's capable of contributing on a nightly basis. Sophomore Kyle Noreen should also get opportunities.
Most of the size on the roster lacks experience. Sophomore Jalen Carethers leads the 6'7"-and-over set in career minutes...with 99. Freshmen Kion Brown and Lucas Dyer, both 6'8", will have to hit the ground running. Another intriguing prospect is 6'6", 300-pound freshman Matt Murphy. Any 300-pounder's conditioning is automatically a concern, but if Murphy can keep his wind, he'll be hard for most Big South forwards to shove off the block.
South Division:
1. Charleston Southern
--The Buccaneers 'bout boast the Big South's best backcourt, belie'dat. (Alliteration is fun.) Saah Nimley and Arlon Harper play their roles well, but the team needs more size and defensive intensity to get where it wants to go.
Nimley is the creator, fifth in the BSC in assists last season, but he needs to step back and defer to Harper more often. Nimley's shot came and went to the tune of a .438 eFG% and .490 TS%. By comparison, Harper, who at 6'1" is five inches taller than his backcourt mate, shot .520 and .555, both in the league's top 20.
Senior guard Jeremy Sexton is a former starter and double-figure scorer whose playing time took a hit last season. He can still score, though, and he'll get massive minutes either alongside or behind Nimley and Harper. Junior Sheldon Strickland isn't a top scorer, but can create for others.
The frontcourt carries a few concerns with the loss of double-double machine Kelvin Martin. Sophomore Paul Gombwer was one of the conference's most effective offensive rebounders, but not a terribly reliable scorer. Senior Mathiang Muo looks likely to replace Martin's scoring punch, with shooting efficiency averages that both ranked in the BSC's top 12. That efficiency will likely take a hit as Muo becomes a primary focus, but he could still become a 14-and-6 guy if given enough chances.
Muo's juco teammate, Englishman Allie Fullah, has the frame (6'8", 230) and athletic ability to start immediately and make a contribution for the Bucs. Sophomore Cedrick Bowen can finish inside and crash the glass, but is a liability when he draws fouls (22-of-44 from the line as a frosh).
2. Coastal Carolina
--The Chanticleers have a bright, shiny new on-campus arena, and as a result get to host the next three Big South tournaments. Coach Cliff Ellis is already the biggest name on BSC sidelines, he's got one of the league's three or four best players, and now home court for Championship Week? Rod Stewart was right.
The Chants have another of the league's better backcourts with POY candidate Anthony Raffa and playmaker Kierre Greenwood. Unlike guys like Saah Nimley and R.J. Price, Greenwood has his priorities straight, creating five assists a game last season while taking only about eight shots per night. When he does shoot, he makes them count, carding a .506 eFG% last season.
Greenwood's unselfish nature lets Raffa do his thing as well as anyone in the league. Raffa took nearly 400 shots last season, but he made 48 percent, so Ellis isn't about to start complaining. No one should be surprised if Raffa leads the league in scoring this season.
The biggest issue for CCU is that the roster's gone vegan, meaning that all the beef is gone. Center Jon Pack exhausted his eligibility, then power forward Sam McLaurin decided to use his post-graduate year at Illinois. The only guys on the roster bigger than 6'7" and 215 are freshman El Hadji Ndieguene and freshman Uros Ljeskovic. Both are raw like sashimi.
Senior Bisi Addey put up good efficiency numbers, but only played eight minutes per game. Freshmen Michel Enanga, Tristian Curtis and Alioune Diagne may need to play substantial time from day one.
3. UNC Asheville
--Three of Asheville's big five are gone, and the losses of J.P. Primm, Matt Dickey and Chris Stephenson are huge. Luckily for coach Eddie Biedenbach, the two returnees are among the Big South's most efficient scorers.
Guard Jaron Lane attacks the basket better than anyone in the league. His .666 TS% was ninth in the country, and he shot nearly two free throws for every three field-goal tries. Forward Jeremy Atkinson is nearly as efficient with his shot and also creates chances for teammates, both in the halfcourt and in launching the fast break. Atkinson led the team in rebounding, impressive for his 6'4" frame.
Beyond those two, though, the options are less proven. Guard Keith Hornsby is the next-most prolific scorer at four points per game. He should add shooting off the bench.
Junior center D.J. Cunningham (6'10", 240) is back from a knee injury that cost him last season. In his first two seasons, he was one of the BSC's most reliable rebounders and shot-blockers. The hard part will be not gambling for blocks and getting into foul trouble if his mobility is affected.
Seven-footer Jaleel Roberts played only about 84 minutes last season, but in that time, he shot 74 percent, pulled 21 rebounds and blocked nine shots. On a per-40 basis, that's 10 RPG and just over four blocks. Freshman forwards Will Weeks and Sam Hughes should also help up front.
4. Gardner-Webb
--GWU would have been in great shape if Texas A&M transfer Naji Hibbert could have come up with some ailing relative in the area who absolutely needed to see him play this year. As it is, the Runnin' Bulldogs return five players who averaged at least 5.2 PPG last season, so experience is plentiful.
(If I may digress here: Runnin' Bulldogs? I've never met a bulldog who wanted to do much more than lay on the couch, and certainly have never seen one run. I'd find Runnin' Banana Slugs a less absurd name. Sorry, back to the preview.)
Guard Tashan Newsome is another one of those minor-conference guards who stands about 6'3" and still can dominate the glass, ripping seven boards a game last year. His shot can be a little scattered, which makes it fortunate that he's got teammates with some scoring ability.
Backcourt mate Max Landis loves to let it fly, taking more than five threes per game. His eFG% was about six points higher than Newsome's, but primarily because so many of his baskets earned an extra point. Inasmuch as there's a point guard on this roster, sophomore Tyler Strange would appear to be him. Strange dished about three assists per game in only 20 minutes of time. Freshman Isaiah Ivey should provide another scorer off the bench, and could be Newsome's heir apparent next year.
Up front, center Mike Byron (6'11", 250) is one of the league's biggest men, and if he gets full-time minutes, he can play like it. He averaged almost 10 boards per 40 minutes and his block percentage was second in the league.
Forward Kevin Hartley can be another reliable rebounder and defender, but shouldn't be relied on for much scoring. Outside of Hartley and Byron, there's little post muscle on this team.
5. Presbyterian
--The Blue Hose have holes to patch, but do return a backcourt capable of going on runs. Those are all the hosiery puns I've got, promise.
Guards Khalid Mutakabbir and Eric Washington will guide the offense. Mutakabbir was dominant as a sophomore, hitting half of his threes, but slid a bit last season with accuracy falling below 30 percent. If he can get his shot back on track, he should be an All-Big South performer even if the team struggles.
Washington played only 23 minutes per game, but still led the team in assists. His own shot isn't extremely reliable, but he should be able to create well for Mutakabbir. If he's not up to full-time work, he may get pushed quickly by Shea Jones, a freshman from Florida rated as one of America's top 50 point guards by ESPN.
A lot of PC's inside muscle left when Al'Lonzo Coleman graduated and Jay Reynolds transferred. There are a few candidates, but first up may be another freshman, seven-footer Jake Campbell. Senior Ryan Hargrave is one of the only experienced forwards back, and his playing time fell to eight minutes a game last season. Freshmen Jarvis Thibodeaux and Matthew Citron may need to contribute quickly.
6. Winthrop
--The Eagles have been what passes for a marquee program in the Big South over the past decade or so, making eight of 10 NCAA tournaments from 1999 through 2008. Three losing seasons in the last four, however, had the school showing coach Randy Peele the door and inviting Skip Prosser protege Pat Kelsey to restore the program's luster. Losing four seniors from last year's squad likely won't help.
The one returning starter is forward Joab Jerome, a decent point-forward type who's unfortunately not that good at scoring points. Jerome shot a sickly 39 percent from the floor last season. Backup point guard Andre Smith will assume the starter's role this season after taking great care of the ball (2.1-1 A/T ratio) in his limited time last season. The downside is that he's not a scorer, either.
So, who is going to score for this team?
Guard Christian Farmer was a double-figure scorer and 40-percent three-point shooter at Tallahassee CC and sophomore Derrick Henry can also hit from outside. Senior swingman Gideon Gamble played about 11 minutes a game, but shot 34 percent.
Inside muscle comes from sophomore James Bourne (6'8", 240) and juco transfer Steve Johnson (6'8", 225). Johnson was a 14-and-11 man at Brunswick CC (Supply, NC), which also produced former South Carolina/future Florida big man Damontre Harris. Bourne pulled 2.6 RPG in less than 17 MPG last season.
There are a lot of guesses to the question above, but no real concrete answers. It could be a long season in Rock Hill.
MARQUEE MATCHUPS
In this section: each team's top non-conference game, weighted for visibility and possibility of a win.
Campbell:
Dec. 4 vs. Robert Morris
--Both these teams have legit NCAA tournament hopes, and Campbell should be elated to have homecourt.
Charleston Southern:
Nov. 28 vs. Charleston
--Intra-city rivalry is always interesting, especially when both schools are contenders in their respective conferences. The city would love to see both get back to the tournament, as they were in 1997.
Coastal Carolina:
Dec. 19 vs. Clemson
--Coach Ellis's old employer will be firmly in the middle of the "cakewalk" portion of the schedule after opponents like Gonzaga, Purdue, South Carolina and Arizona. CCU is the only one that lures the Tigers away from home. Oh, and the Chanticleers stunned Clemson in the 'John last season. (That sentence just sounds dirty.)
Gardner-Webb:
Nov. 15 at DePaul
--The closest anyone in this league may come to a winnable game against a Big East opponent. If this was CSU or CCU, an upset would be much easier to call.
High Point:
Nov. 9 vs. UNC Greensboro
--UNCG is a prime challenger to Davidson's reign over the Southern Conference, and this could be a great opening test to handicap HPU for the conference slate.
Liberty:
Nov. 9 vs. Richmond
--Liberty struggles on defense and Richmond can score, so it could be a blowout. But at least Flames fans only have a two-hour trip.
Longwood:
Nov. 23-24 (Las Vegas Invitational)
--Florida A&M, then either Cornell or Presbyterian...could Longwood have wandered into a bracket it could win? None of these opponents are highly regarded in their conferences, though beating Cornell would be a legit upset.
Presbyterian:
Dec. 29 at South Carolina
--The Gamecocks show up on a lot of our Marquees in these lower conferences. Such is the peril of being a power-conference doormat. They should still have plenty to beat the Blue Hose, but Cincinnati thought that last year, too.
Radford:
Dec. 22 at West Virginia
--The rest of Radford's schedule sort of sucks, so have a blowout. Next best are at Wake Forest or Delaware, but as I write this, the WVU game is shown by Radford's official site as scheduled for 4AM. Is there a Christmas-week hoops marathon, too?
UNC Asheville:
Nov. 15 vs. Tennessee (Puerto Rico Tip-Off)
--Could be a blowout, but the Bulldogs did okay against the last orange-clad team they faced.
VMI:
Nov. 15 at Virginia Tech
--Tech's coach and the tattered remains of his roster will still be getting acquainted. After a game against Rhode Island, VMI may not register on the radar.
Winthrop:
Nov. 17 vs. VCU
--With the changes in the VCU program this offseason, it's an interesting time to catch them on your home court. This game may see the Rams mentally packing for the loaded Battle 4 Atlantis tournament in the Bahamas.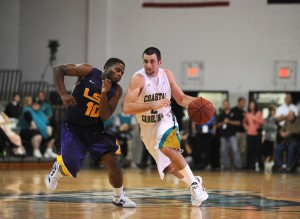 Raffa operating against LSU.
ALL-BIG SOUTH FIRST TEAM
G Kierre Greenwood, Coastal Carolina
(6'2", 175, Sr.)
--He and Raffa will be making each other look like stars all season.
G Arlon Harper, Charleston Southern
(6'1", 170, Soph.)
--Could make CSU a tournament team if Nimley allows him to be the focus.
F Stan Okoye, VMI
(6'5", 205, Sr.)
--Easily the league's best inside scorer.
G Anthony Raffa, Coastal Carolina
(6'1", 170, Sr.)
--Went for 20 and 10 against LSU, then 21 points, seven boards and four steals against Clemson...and CCU won both games. You think he's sweating Presbyterian and Winthrop? Conference POY until someone proves otherwise.
G/F Darren White, Campbell
(6'4", 210, Sr.)
--25 points on 9-of-11 shooting against NC State, an eventual Sweet 16 team. Like Raffa, he's got major-conference swag.
ALL-BIG SOUTH SECOND TEAM
F Jeremy Atkinson, UNC Asheville
(6'4", 210, Sr.)
--Efficient shooter, doesn't foul a lot and doesn't commit turnovers. Asheville's not likely to beat themselves.
G Tristan Carey, Longwood
(6'4", 185, Jr.)
--Stat-sheet stuffer
par excellence
, but will need to see help from freshman sidekicks to make conference-title noise.
G Trey Freeman, Campbell
(6'2", 175, Soph.)
--White lit it up against NC State, but Freeman did his part, too: 15 points, seven dimes and three steals against All-ACC floor general Lorenzo Brown.
G Jaron Lane, UNC Asheville
(6'4", 170, Sr.)
--A .666 TS% will make a lot of opponents damn you to hell. If Lane's anywhere close to that this season, Asheville could make another run at heaven in March.
F Corey Law, High Point
(6'6", 210, Sr.)
--Can he be The Man, or was he merely Chris Bosh to Barbour and Shine's LeBron and Wade?
PLAYER OF THE YEAR:
G Anthony Raffa, Coastal Carolina
COACH OF THE YEAR:
Barclay Radebaugh, Charleston Southern
--Losing a guy like Kelvin Martin shouldn't translate to a division title the following year, but CSU can definitely do that.
NEWCOMER OF THE YEAR:
G Nik Brown, Longwood
--He didn't get the Jarnell Stokes treatment, able to come in and play right away, but working with his team in practice should help Brown hit the ground running. Lancers fans hope he and Carey get a second year together.