The Conference Calling 31 in 31 preview series will examine each of the NCAA Division I auto-bid conferences (so no Great West or independents), one per day, leading up to college basketball's opening day on November 9.

=======
The Summit League is TBI's No. 23 conference for the 2012-13 season, and despite the loss of perennial contender Oral Roberts, the race to the top (the summit of the Summit, as it were) is still one of the more interesting minor-conference battles in America.
South Dakota State will ride do-everything guard Nate Wolters and a host of three-point bombers.
North Dakota State has a sturdy starting five, mostly drawn to the school in the wake of the Ben Woodside-led tournament appearance of 2009.
Oakland loses the national scoring leader, but retains a good sophomore big man and its own army of shooters.
Elsewhere, we get to talk about Kansas City, Fort Wayne and Omaha instead of Missouri-Kansas City, Indiana-Purdue-Fort Wayne and Nebraska-Omaha. IUPUI is still IUPUI, though, since no one wants to wade through saying its full name.
The line between the haves and have-nots in the Summit is pretty clearly drawn. If your biggest offseason story was one of nomenclature, it's a safe bet you're not considered a contender.
Read on after the jump to see who's expected to emerge victorious.
PROJECTED ORDER OF FINISH:
1. South Dakota State
--CBS Sports blogger and occasional
4 Quarters Radio
guest Matt Norlander
sounds like
he wants to bear Nate Wolters' children. Surely there are a lot of basketball fans in South Dakota, male and female, who would gladly make the same offer.
Wolters was second in the Summit in steals, top-20 nationally in assists, top-10 nationally in scoring and racked an obscene 2.7 A/T ratio, one of the 20 best in America. No other player in America averaged 20 points, five rebounds and five assists per game. If his three-point stroke can return from last season's ugly 24 percent to the 36-40% range of his first two years, Wolters is a serious threat to replace former league rival Reggie Hamilton as the nation's scoring leader.
Unless something very strange happens, Wolters will earn the Summit POY award. His supporting cast returns largely intact, missing only 10-PPG man Griffan Callahan.
Junior forward Jordan Dykstra could join Wolters on the All-Summit first team. He finished second on the team in rebounding, as one would expect from a 6'8" 240-pounder. Offensively, he can drag opposing big men out to the perimeter, making nearly half of his 110 three-point attempts. More consistent scoring output from Dykstra would be a major boon to the club's hopes of an NCAA return. He had five 20-point games in the team's final 15, but also notched seven single-digit games, shooting around 35% in those unlucky seven.
Guards Brayden Carlson, Chad White and Taevaunn Prince are all well-built players capable of scoring 15 to 20 on any night. Prince had the worst eFG% of the three, and his stood at a very strong .567. Prince is not the three-point gunner that Carlson and White are, but he attacks the basket relentlessly and is strong enough to finish after contact. Prince took 100 free throws against only 133 field goals (a .751 FT Rate), and managed to draw all those fouls in only 536 minutes (7.5 FTA/40). By contrast, Wolters took 7.9 FTA/40 while having the ball on nearly every possession.
Interior size is mainly provided by 6'7" senior Tony Fiegen and 6'9" junior Marcus Heemstra. Fiegen is the team's only senior other than Wolters. Early in conference play, he had a nice run of eight double-figure scoring games out of 10, but he mainly battles on defense and the glass. Heemstra, a high school teammate of Dykstra's, was the team's most efficient rebounder and shot-blocker, and a surprisingly adept passer. He needs more than nine minutes a game to have a serious impact on the team's fortunes, though.
Freshman Connor Devine, the pride of Wasilla, Alaska (have they disowned Sarah Palin yet?), is a 6'10", 205-pound coat rack who blocked eight shots a game as a high school senior. Alaska's not known for its unstoppable inside scorers, but still, it's a strong number.
2. North Dakota State
--It shouldn't be a surprise if NDSU has as many, or more, All-Summit players as SDSU. Forwards Taylor Braun and Mitchell Bjorklund and point guard Lawrence Alexander all have that kind of quality. All told, NDSU has a great starting five, but how's the depth behind them?
The Bison were a better field-goal shooting team than anyone else in the Summit, and their .488 percentage actually placed seventh in America. Bjorklund led that charge by making more than 67% of his shots, one of the most efficient figures in the country. A good rebounder at both ends, Bjorklund's also not a terrible liability at the line (66%) and plays worthy defense.
Braun has the shooting range of a two-guard, the nose for contact of a good slashing wing and the rebounding skills of a power forward. Next to Wolters, he may be the Summit's most versatile player. Braun went toe-to-toe with Wolters, outscoring him 28-27 in their teams' January meeting before fouling out of the Bison's three-point OT loss. When the teams met at SDSU's Frost Arena, though, Wolters crushed Braun 30-11 and the Jackrabbits won by 27.
Alexander finished fourth in the league in assists, adding 13 points and four rebounds per game. Not a dominant three-point shooter, his 32% was just enough to keep defenses honest and allow him to beat defenders to the basket. Alexander's FT Rate was .471 last season, showing that he was quick enough to get his man in foul trouble whenever he wanted.
Forward TrayVonn Wright and shooting guard Mike Felt should round out the starting lineup. Wright is one of the Summit's top shot blockers (36 last season) and a reliable rebounder. He ended the season with 29 points in his final two games, so the scoring potential is there. Felt had only four games in which he failed to make a three-pointer, scoring a grand total of four points in those games. Nearly 80% of his points came from beyond the arc, where he drilled 43% of his shots.
Behind those five, the bench may be a bit slim. Forward Jordan Aaberg is a mini-Bjorklund (although, at 6'9", he's an inch taller), with similar inside scoring and rebounding ability. Aaberg's TS% finished at a whopping .729 last year and his block percentage was better than Wright's. He's a solid backup to have when Wright and Bjorklund need a rest.
Guard Joel Lindberg backs up Alexander, doing a fine job of not killing his team with turnovers (2.1 A/T ratio). He can, however, kill his team with fouls. He committed more than five fouls per 40 minutes and somehow managed to get disqualified from three games in which he played a total of 44 minutes. Defensive aggression is great, but Lindberg can be a butcher at times.
Freshman wing Brett VandenBergh may be the most prominent new face. He's an AAU teammate of North Carolina's J.P. Tokoto and Wisconsin's Sam Dekker, and he comes in with a D-I-ready 6'6", 210-pound body.
3. Oakland
--No team finds it easy to replace the nation's scoring leader, but Oakland does still have the pieces to be competitive in the post-Reggie Hamilton era.
Junior Travis Bader led the nation in three-point attempts and came second in makes. There's no reason to anticipate that he won't hoist 300 more threes this season, but his .395 percentage may suffer without Hamilton to draw entire defenses.
Swingman Drew Valentine is a scorer who needs to be respected everywhere. Both he and Bader had better shooting efficiency numbers than Hamilton last season. Valentine also finds time to play lockdown defense and rip seven rebounds a game. Why the "experts" aren't listing Valentine on their All-Summit first teams is beyond me.
Sophomore center Corey Petros is coming off a first season where he finished second in the league in rebounds, coming in just ahead of teammate Valentine. He shot 55% from the floor and may need to become a double-digit scorer to support Bader and Valentine.
Point guard Ryan Bass upped his scoring load as a sophomore, reacting to Hamilton's playmaking capabilities. The pressure is on Bass to continue his own improvement as a distributor. His performance may be the most crucial to Bader's continued shooting success.
There's not much else in the way of returning experience aside from swingman Dante Williams, who started 18 games but only averaged 10 MPG. Newcomers will need to make major contributions to keep Oakland competitive this season.
Point guard Duke Mondy is eligible after transferring from Providence. Several publications list him as their Newcomer of the Year favorite, but he will need to show major offensive improvement. He was not a major playmaker or scorer at PC, but he did lead the Big East with 2.1 steals per game as a sophomore. He could platoon with either Bass or Bader in an offense-defense arrangement.
Juco forward Raphael Carter (6'9", 205) may start at power forward or back up Petros in the middle. He was a very strong rebounder and shot-blocker who was recruited by schools like Cal, Nevada and Oregon State. That shot-blocking ability will come in extremely handy for a team that lacked that skill last year.
Freshman Lloyd Neely is another newcomer who can contribute inside. Standing only 6'5", Neely does weigh 235 pounds and is known as a fierce rebounder. The Grizzlies will need all the rebounders they can find to corral any misses from Bader, Mondy and Bass.
4. Western Illinois
--Leathernecks coach Jim Molinari got the best news any Summit coach could have received when the NCAA granted guard Ceola Clark a sixth year of eligibility.
Clark has been one of the Summit's best all-around players since he first set foot in Macomb. He ranked top-12 in scoring, assists and steals last season, winning his second Defensive Player of the Year honor. His 2.7 A/T ratio last season led the conference and ranked 18th in America. This was the second full season in which Clark carded a 2-to-1 ratio. Continuing that type of production will get Clark a few votes for POY, but he'd have to be one of America's most dominant guards to wrest the award away from Wolters this year.
Clark forms the league's best inside-outside duo with forward Terell Parks. Parks led the Summit in rebounding by almost two full boards per game and also paced the league with 46 blocks. For all of this, he was named only honorable mention All-Summit. That oversight will undoubtedly be rectified this season.
The only other returnees to see substantial minutes last season are forward Jack Houpt and guard Remy Roberts-Brunett. Houpt is a deadly shooter from outside the arc (40% last year) who struggled inside it (27% on two-point shots). Brunett played 18 MPG and scored 4.5 points a night, including a 16-point night against South Dakota State. Somehow, Brunett made it through a whole season taking only four three-pointers and five free throws.
Depth will have to come from newcomers and seldom-used veterans. Senior Don McAvoy dropped 19 points in Western's CBI game against Oregon State. Juco forwards Adam Link and Michael Ochereobia will likely be pressed into immediate service. Link averaged 12.8 PPG, 8.5 RPG and 1.8 SPG for Otero JC. Ochereobia, a 6'8", 260-pound Englishman, is a tremendous low-post defensive presence.
Freshman forward John Schneider and guards Jordan Foster and Jason Hawthorne should get immediate minutes as well. Molinari ran a short rotation last season, and he may have to do the same this year by necessity. He'll need a couple of guys to step up just to fill out the lineup.
5. Fort Wayne
--All-conference forward Frank Gaines accounted for 30 percent of his team's scoring last season, and the load may stay just as heavy this year. The other four starters are gone, and preseason practice will be a fact-finding mission for coach Tony Jasick.
Gaines finished top-10 in the league in scoring, rebounding and steals. He attacked the basket so relentlessly that he ended the season as one of America's 20 most prolific foul shooters. Over the season's final six games, Gaines poured in 28.3 PPG. It's doubtful he'll do that for the entire season, but a 25-PPG average may not be out of the question.
Point guard will be an enormous question for the Mastodons. Fort Wayne native Justin Jordan was expected to start before a spring knee injury, but may now miss half the season. Sophomore Isaiah McCray, who played 13.5 MPG last season, and juco transfer Pierre Bland will battle for the position to start the year. Bland was a 12-point, five-assist man last season for Florida State College in Jacksonville.
Sophomore Joe Edwards and freshman Will Dunn are the likely competitors at shooting guard. Edwards has drawn praise for his improved size and strength. A high school forward, he has worked hard on developing his guard skills.
Up front, senior Mario Hines and junior stretch-four Michael Kibiloski should get minutes alongside Gaines. Juco transfer Steve Forbes began his career at Stetson, where he was a 7-and-4 man. He's fighting a battle of the bulge right now, arriving in Fort Wayne at 329 pounds. If he gets his conditioning right, he could be a force for the Mastodons instead of being the size of one.
There may be talent on the roster, but Jasick needs to figure out where it is and who the reliable playmakers are. Outside of the absolutely diesel Frank Gaines, that is.
6. IUPUI
--IUPUI fielded a maddeningly inconsistent scoring team last season. Eleven times, the Jaguars failed to score 65 points, but in eight other games, they broke 80. And that was with 20-PPG man Alex Young and two other now-departed starters. How will they play without those 40 points available each night?
Junior guard Ian Chiles is expected to lead the team in scoring, even if he doesn't quite rise to the heights that Young did during his stellar career. Chiles was slightly more efficient with his shots than Young last season and was better at getting to the line.
Forward Lyonell Gaines and guard Sean Esposito should follow close behind in the race to claim the available possessions. Gaines is one of the Summit's top offensive rebounders, but the team needs him to own the defensive glass as well. Esposito should be a threat as the designated three-point gunner.
Sophomore swingman Marcellus Barksdale makes most of his plays on the defensive end, ranking 10th in the Summit in steal percentage. Freshman guard Cortell Busby is also a defensive threat, winning the defensive MVP award on a Fishburne Academy prep team that sent 13 players to D-I schools this year. Busby may end up the leading point guard candidate.
Freshman forward Elijah Ray was a 15-and-8 man, even though he shared the court with DePaul signee DeJuan Marrero and Robert Morris recruit Stephen Hawkins.
Coach Todd Howard will need to find rebounders and a point guard. It's hard to see the Jags finishing much higher than this, but it could be easy to see the bottom falling out.
7. South Dakota
--The Coyotes are finally eligible for the Summit League and NCAA tournaments this season, having completed their four-year reclassification to Division I. The former is well within reach, but the other will take a Western Kentucky-caliber miracle.
USD's biggest issue may be a lack of returning shooting. Nearly three-quarters of the Yotes' three-point baskets departed, along with 70% of the overall scoring. Center Trevor Gruis has nothing to do with the former, but his success will depend largely on coach Dave Boots finding some shooters to spread the floor.
Gruis is a potent inside scorer and rebounder, and he's the only proven offensive option after the departure of high-scoring guards Louie Krogman and Charlie Westbrook.
Junior point guard Steve Tecker is the top returning scorer and rebounder outside of Gruis. Coach's kid Jordan Boots could also get a shot at the point after posting superior assist percentage and A/T ratio to Tecker. Boots likes to take the three, but he struggled with it mightily last season.
Juco guards Karim Rowson and Tyler Larson combined to average 30 points and 10 rebounds per game for their respective teams last season. Rowson rocked Seminole State College for 40 points and 12 rebounds in the Region II tournament. Both guys are, alas, better scorers than shooters.
Freshman Casey Kasperbauer may see immediate time, as he can certainly make it rain. The four-time Iowa All-State selection drilled 299 threes in his high school career.
Aside from the shooting issues, Gruis also isn't getting much help in terms of other bigs on the roster. Freshman Eric Robertson was a double-double man at both Wayzata HS and IMG Academy, but he only carries 190 pounds on his 6'8" frame. Junior Jared Bartling is 6'8" and 235, but has only played 116 minutes in two seasons.
8. Kansas City
--A team that struggled to score last season loses a player who accounted for more than 25% of its points. The upside for the School Formerly Known as UMKC is that gunner Reggie Chamberlain is the only starter gone. Now, can the Kangaroos pull enough points out of their pouches to get competitive again?
Junior forward Trinity Hall (yes, it sounds more like a dorm than a player) had eight double-figure scoring games in non-conference play, including dropping 16 on Michigan State. Injuries slowed him during the conference slate, though, a major factor in KC losing 14 of 18 conference games. All four of those wins, in fact, came with Hall playing at least 34 minutes.
Swingman Thomas Staton averaged nearly 12 PPG during Hall's five-game injury absence in January and ended the season by putting 20 on Fort Wayne in the season finale. Finishing among the league leaders in steals, Staton is among the Summit's top defenders.
Point guard Estan Tyler and forward Kirk Korver like to shoot the long ball, but both have a long way to go until they're as effective as Kirk's brother, Chicago Bull Kyle Korver. Tyler is a solid point guard who doesn't damage his team much outside of scattered shooting. At 6'7" and 225, Korver could help the Kangaroos on the interior, but he prefers to throw up threes. Rumor has it that the Korver family crest is in the exact same shape as the three-point arc.
Juco transfer Nelson Kirksey may get to step into Chamberlain's spot. While he wasn't a dominant scorer at Jacksonville College (13 and 11 PPG in his two seasons), Kirksey did draw raves for his defense, including a Defensive POY award from his conference. Junior Nate Rogers can back up at both guard spots. Freshman John Burke played prep ball at Hargrave Military Academy alongside several high D-I prospects, including Louisville signee Montrezl Harrell and Minnesota's Charles Buggs.
Frontcourt size and depth will need to come from 6'9" junior Fred Chatmon, 6'11" senior Brad Hart and 6'9" juco transfer Caleb Johnson.
If good health smiles on the Kangaroos, shots fall more consistently for Korver and Tyler, and new faces like Kirksey play up to potential, TSFKAUMKC could earn itself a much better tournament seed. But that's a lot to ask for one season.
9. Omaha
--The Mavericks of Omaha (don't call them Nebraska-Omaha) are in the second year of reclassification, meaning they won't have a postseason to play for until 2015-16. There are decent players on the roster, and this team could probably still be dominant in Division II. In Division I, however, it'll take more to contend.
Center John Karhoff scored in double figures in five of eight games against the Mavs' future Summit competitors last season, struggling only against Western Illinois and Fort Wayne. Omaha will need Karhoff to pull down rebounds at a faster clip than last year's 4.5 per game.
Junior point guard Caleb Steffensmeier ranked third in the nation with a sparkling 3.4 A/T ratio, making him one of the most reliable floor generals in America. The downside is that he contributed little in the way of scoring himself, with four of his five double-figure games coming against non-D-I opposition.
Forward Alex Welhouse led the team with 6.7 RPG, adding just over 10 PPG for good measure. A career 38% shooter from long range, he may be the team's most serious All-Summit candidate.
Sophomore guard C.J. Carter was the anti-Steffensmeier in nearly every way. He dropped 18 points on Nevada, showing that he could score on good D-I teams. For the season, he doubled Steffensmeier's scoring average. Unfortunately, his A/T ratio was about one-third of Steffensmeier's, as well (1.2). Still, the Mavs know that Carter is their shooting guard and that he can score on Summit League competition.
Junior forward Matt Hagerbaumer (6'7", 225) ripped 4.5 RPG in only 16 minutes per game, the same rebounding average as John Karhoff in 10 fewer minutes. He also led the team with 21 blocks. Omaha prep product Koang Doluony (6'8", 195) comes home after riding Indiana State's bench for four years. His best season was as a redshirt freshman in '09-10 (3.8 points, 2.2 RPG).
Seniors Jacques Coleman and Tyler Egli will provide backcourt depth.
Omaha should be able to win more than one game against D-I opposition this season, but it's anyone's guess as to who the unlucky victims will be.
MARQUEE MATCHUPS
In this section: each team's most compelling non-conference matchup, weighted for visibility and chance of a victory.
Fort Wayne:
Dec. 5 at Valparaiso
--Taking on one of the Horizon League's favorites. Frank Gaines vs. Ryan Broekhoff could be a hellacious matchup once again. Gaines lit it up for 24 in a win last season.
IUPUI:
Dec. 5 at Butler
--The Jags don't have to go far to get a good look at new Bulldog point guard Rotnei Clarke.
Kansas City:
Dec. 19 vs. Iowa State
--Eh, it's a home game, right? It's either this or at Louisville.
North Dakota State:
Dec. 9 vs. North Dakota
--When in doubt, go with the in-state feud.
Oakland:
Nov. 26 at Tennessee
--It wasn't long ago that Oakland stunned UT at the Tommy Bowl. Even more recently, Oakland did it again at the O'Rena. Of course, now there's no Keith Benson, no Reggie Hamilton and a lot of Jarnell Stokes.
Omaha:
Nov. 18 at Nebraska (Joe Cipriani Nebraska Classic)
--No, no one of any importance is coming to Ralston Arena. This game's actually more promising than matchups against Wisconsin, Iowa State or Denver.
South Dakota:
Dec. 22 at Green Bay
--Trevor Gruis vs. Alec Brown may be a decent matchup, or Brown may dominate. Either way, it's a better game for the Coyotes than trips to Iowa or Gonzaga.
South Dakota State:
Nov. 13 vs. Tennessee State
--Two borderline NBA prospects in this one as Robert Covington comes to Nate Wolters' house.
Western Illinois:
Jan. 2 vs. Savannah State
--Two meetings with SSU this season. The power-conference teams must be really scared of Parks and Clark.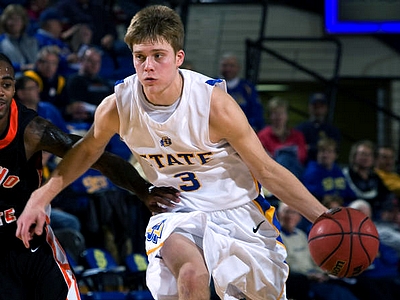 Wolters with lots of options on the drive.
ALL-SUMMIT FIRST TEAM:
F Taylor Braun, North Dakota State
(6'7", 205, Jr.)
--Puts up points from everywhere, helps his teammates get theirs and makes sure his man struggles to get his. That's an all-around baller.
G Ceola Clark III, Western Illinois
(6'3", 190, Sr.)
--See Braun, except Clark's had two dominant seasons. For once, the NCAA is generous in allowing him to have a third.
F Frank Gaines, Fort Wayne
(6'5", 195, Sr.)
--Four 30-point games last year. Expect more this time.
G Drew Valentine, Oakland
(6'5", 219, Sr.)
--First in line to take over for Hamilton. Capable of dropping 15 and 10 any night.
G Nate Wolters, South Dakota State
(6'4", 190, Sr.)
--Your Summit League POY. Period. There's no Hamilton to stand in his way this time.
ALL-SUMMIT SECOND TEAM:
G Lawrence Alexander, North Dakota State
(6'3", 175, Soph.)
--Fantastic as a freshman D-I point guard. If he improves further this season, his team will have a real chance of toppling SD State.
F Marshall Bjorklund, North Dakota State
(6'8", 240, Jr.)
--Unstoppable on the block, but could still be more dominant on the glass.
F Jordan Dykstra, South Dakota State
(6'8", 240, Jr.)
--Stats were almost eerily consistent his first two years. Improvement's needed this season if the Jackrabbits want to make it to a weekend game in the NCAA tournament.
F Trinity Hall, Kansas City
(6'7", 205, Jr.)
--The 'Roos won a lot more with Hall than without him...mainly because they didn't win at all without him.
F Terell Parks, Western Illinois
(6'7", 215, Sr.)
--If Parks were a more dominant scorer, he'd hit the first team. As it is, he has to be content with being the league's best rebounder and one of its most feared defenders.
PLAYER OF THE YEAR:
Nate Wolters, South Dakota State
COACH OF THE YEAR:
Greg Kampe, Oakland
--He keeps drawing good talent to Rochester, playing (and beating) good teams and keeping the O'Rena hot. Keeping the Griz near the top of the league after losing first Keith Benson and now Reggie Hamilton shows that Kampe is a maestro.
NEWCOMER OF THE YEAR:
Raphael Carter, Oakland
--He's no Keith Benson, but he should be able to clean the glass and block some shots. There has to be a reason Cal and Oregon State were chasing him, right?