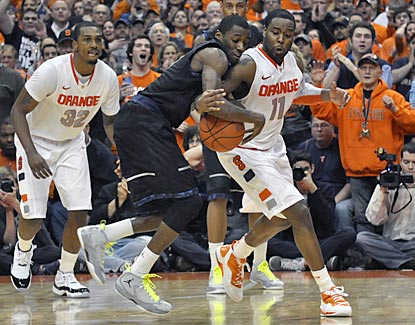 The fourth and final region in the first round of the BIT is upon us. Read the last several posts for details. And now to the games.
Play-In Game:
Oral Roberts 80, Akron 61
The Zips did a decent job of containing ORU scoring star Dominique Morrison, but Michael Craion's 24 points rendered the effort moot.
Craion drilled 10 of his 11 shots, also pulling down eight rebounds to headline a game in which the Golden Eagles never trailed. 14 of the 24 points came in the first half, helping Oral Roberts to a 38-27 lead at the break.
Akron was led by 14 points off the bench from Demetrius Treadwell. He was the only Zip in double figures. All-MAC selections Nikola Cvetinovic and Zeke Marshall combined for only 16 points and four rebounds, well off their season average of 20.3 and 10.8.
Damen Bell-Holter added 14 points and 11 rebounds for the Eagles, while Morrison kicked in 11 points.
First Round:
#1 Syracuse 70, #16 Oral Roberts 60
For 38 minutes and 53 seconds, Oral Roberts had an upset in its grasp. The Golden Eagles went scoreless over the final 1:07, however, allowing Syracuse to escape.
ORU led 60-59 with 1:25 to go after Steven Roundtree hit a jump hook over Rakeem Christmas. Kris Joseph responded by creating back-to-back scores for the Orange, assisting on a Scoop Jardine three-pointer and converting his own steal to put Syracuse ahead 64-60 with 46 seconds remaining.
Four missed threes and a turnover stymied the ORU offense, while Syracuse converted six of eight free throws to set the final margin.
The Orange never led by more than six, and ORU rallied to tie or lead every time that margin was set.
Dominique Morrison led ORU with 18 points, 10 of them coming in the second half. He also committed four turnovers, including the backbreaking steal by Joseph in the final minute. Warren Niles added 14 points and eight rebounds, making 4-of-7 from long range.
Syracuse was led by Joseph's 19 points and four steals. Playing in place of the suspended Fab Melo, Christmas added a double-double with 10 points and 10 rebounds.
#8 Iowa State 72, #9 Cincinnati 63
Royce White had a double-double in the second half alone as he led the Cyclones over a feisty Cincinnati team.
White carded 14 of his 24 points and 10 of his 13 rebounds after halftime, but his mere presence helped seal the game in the final two minutes. Cincinnati's defense sagged onto White on three straight possessions as he worked in the post, allowing him to pass to open shooters. When White found Scott Christopherson for the third of those assists, ISU led 69-60 with 1:30 left. In all, White either scored or assisted on Iowa State's final 14 points.
The game was tied with six minutes left, but Iowa State was able to keep the Bearcats at arm's length thanks to rugged offensive rebounding. Cincinnati made five of its nine shots in those final six minutes, but allowed the Cyclones to extend possessions with five offensive rebounds that led to eight second-chance points.
In addition to White's heroics, Christopherson contributed 13 points, five rebounds and four assists. Chris Allen added 11 points.
Cincinnati was led by Sean Kilpatrick with 19 points, and Yancy Gates added 10 points and seven rebounds.
#5 Florida State 73, #12 Xavier 66
Xavier whittled a 13-point halftime deficit to as little as two with eight minutes left. Florida State's deep veteran squad never let the Musketeers get any closer.
After Dezmine Wells's three-point shot cut the margin to 57-55 with 7:55 left, FSU guard Deividas Dulkys turned up the heat. Dulkys sparked a 7-0 run with a three-pointer and a pair of steals to put the Seminoles up nine. Xavier rallied again to within four, but Dulkys coolly drained a one-and-one with 22 seconds left, then rebounded Tu Holloway's missed three-pointer to seal the game.
Dulkys scored 10 of his team-leading 14 points in those final eight minutes, also adding four rebounds and four steals on the night. Bernard James contributed 12 points, nine rebounds and five blocks.
For Xavier, Mark Lyons scored 18 points. Tu Holloway bounced back from a scoreless first half to finish with 11 points, along with four assists and four steals. No other Xavier player reached double figures.
#4 Georgetown 78, #13 South Dakota State 68
Georgetown pulled away from South Dakota State midway through the first half and held off the pesky Jackrabbits for the remainder of the evening.
SDSU could never trim the Hoyas' lead to less than seven, thanks to shooting that fluctuated wildly from hot to cold. The Jackrabbits finished 24-of-56 from the floor (42.9 percent), but scored only four points in the first seven minutes of the second half. During that span, SD State missed six of eight shots and committed four turnovers.
Even when SDSU got hot, such as a streak of 10 points in 1:33 in the game's final five minutes, Georgetown's offense escalated to match, only allowing State to cut the lead from 11 to eight.
South Dakota State star guard Nate Wolters led all scorers with 19. Teammate Griffan Callahan damaged the 'Rabbits' hopes with a 3-for-13 shooting night, including 1-of-10 from long range.
Georgetown was led by center Henry Sims with 18 points and seven rebounds. Hollis Thompson added 16 and eight.
#6 Creighton 74, #11 Southern Miss 66
A see-saw game stayed within one or two possessions until the final six minutes. Unfortunately for Southern Miss, their team blinked first.
The Golden Eagles took a 63-62 lead with 5:49 left, but could not produce any more points until Darnell Dodson scored a three-pointer at the buzzer to set the final margin. During that span, USM coughed up four turnovers, missed three three-pointers and the front of a one-and-one.
Dodson scored 13 of his team-leading 14 points in the second half, including the final nine of the game. The Bluejays were able to pull away despite All-American Doug McDermott only contributing three points in the final 10 minutes.
Creighton's Gregory Echenique led all scorers with 18 and added seven rebounds. McDermott produced 17 and five, and Antoine Young carded 16 points, five assists and three steals.
LaShay Page, Maurice Bolden and Jonathan Mills supplemented Dodson with 10 points each for USM.
#3 Marquette 78, #14 Marshall 59
Marquette's players must have heard a tremendous motivational speech at halftime. A 20-3 run over the first five minutes of the second half ballooned the Golden Eagles' lead from four at the break to 21, and Marshall was never able to close much from there.
The Thundering Herd shot 7-for-30 (23.3 percent) from the floor before making their final three attempts in the last two minutes. Marshall also committed nine second-half turnovers while forcing only five.
Marquette got strong games from the trio of Jae Crowder, Darius Johnson-Odom and Vander Blue. Crowder led all scorers with 19 points, adding 13 rebounds and three steals. Johnson-Odom scored 15, and Blue contributed 16 points and four steals.
For Marshall, big man Dennis Tinnon led with 15 points and nine rebounds, and Jamir Hanner added 10 points and six rebounds in only 10 minutes off the bench. Guard DeAndre Kane tore down nine rebounds, dished six assists and swiped four steals, but could only shoot 3-of-9 from the floor for nine points.
#7 Temple 77, #10 Purdue 59
Temple strung together a 17-4 run spanning the last minute of the first half and the first five minutes of the second to blow the game open and end Robbie Hummel's storied Purdue career.
The Owls held Purdue to 39 percent shooting and fought their way to a 36-27 advantage on the boards. Micheal Eric ripped down 15 rebounds in only 24 minutes of action.
The Boilermakers tried to rally in the second half, but could get no closer than eight points. Their last, best opportunity came on a Hummel three-pointer with 5:18 left to trim the lead to 63-55. From there, Temple launched another run. The 12-1 spurt put Temple in front by 19 with two minutes left, and Purdue coach Matt Painter emptied his bench in response.
Five Owls scored in double figures, led by Ramone Moore and Khalif Wyatt with 15 each. Wyatt also produced seven assists and four steals. Eric added 12 points to his 15 rebounds.
For Purdue, Hummel led with 15 points and six rebounds. Lewis Jackson added 13 points, five rebounds and three steals, while D.J. Byrd chipped in 14 points by draining four threes.
#2 Kansas 86, #15 Oregon 73
Kansas capped off a region whose first round was total chalk, but it didn't come easy. The Oregon Ducks led at halftime, the game was tied with 10 minutes left, and Kansas only held a three-point lead with 6:41 remaining. Only after a 20-6 run could the Jayhawks breathe easily.
Oregon led by as much as 12 points in the first half, as Carlos Emory scored eight points in the first eight minutes and Kansas's Tyshawn Taylor was on the bench with two fouls in five minutes. When Taylor returned with six minutes left in the half, he led a 12-3 run to give the Jayhawks a brief lead.
In the second half, Kansas shot a blistering 21-of-32 (65.6 percent), but nine turnovers kept Oregon in the game. During the deciding spurt in the final six minutes, the Jayhawks committed only one turnover and drained seven of eight shots.
Taylor led all scorers with 21 points, 15 coming in the second half, and nine assists. Elijah Johnson scored 17, and Thomas Robinson kicked in 14 points and 15 rebounds.
Emory led the Ducks with 17 points, and E.J. Singler contributed 16 points and three steals.
Second Round:
#1 Syracuse 74, #8 Iowa State 51
Syracuse closed the first half with an 18-5 run, blowing open a game that had swayed back and forth in the early minutes. ISU trailed by 14 at the half and was unable to pull closer than nine the rest of the way.
The Cyclones missed 11 of 12 shots over the final seven minutes of the first half, also committing three turnovers to allow Syracuse to pull away. For the game, ISU shot only 32 percent, with Chris Allen's 0-for-9 effort being a particular lowlight.
Kris Joseph led all scorers with 24 points, and was surprisingly the only Syracuse player in double figures. He also recorded six rebounds and three steals. C.J. Fair scored seven points and ripped 13 rebounds off the bench, and Scoop Jardine ran the offense smoothly with nine points, nine assists and only one turnover.
Tyrus McGee led Iowa State with 13 points off the bench, and Melvin Ejim added 11. Royce White could not replicate his first-round heroics, recording only seven points and eight rebounds, shooting 3-of-10 from the floor.
#4 Georgetown 65, #5 Florida State 59
The Hoyas outdueled the vaunted Florida State defense, clamping down on Seminoles star Michael Snaer and avoiding foul trouble to put away a tight game in the closing minutes.
Georgetown committed only five second-half fouls while drawing 13 from FSU. The Hoyas kept Florida State in the game, however, by only making 11 of the 20 free throws that resulted from those violations. Georgetown did make five of six in the game's final 1:21, scoring the game's final seven points to erase Florida State's last lead.
FSU converted only two of three foul shots in the second half.
Snaer played a solid all-around game for the Seminoles, recording six rebounds, five assists and three steals. He could only score seven points, though, struggling to a 3-of-8 shooting night. Great defense from Markel Starks and freshman Otto Porter kept Snaer out of his offensive rhythm all night.
Luke Loucks led Florida State with 12 points. Deividas Dulkys added 10 with four steals.
For Georgetown, Jason Clark led all scorers with 16 and Henry Sims added 15.
#6 Creighton 75, #3 Marquette 65
Creighton jumped out to a 20-8 lead and never looked back, easily eliminating third-seeded Marquette and ending the careers of Golden Eagle senior stars Jae Crowder and Darius Johnson-Odom.
Doug McDermott led all scorers with 21 points, adding seven rebounds and generally living up to his All-America billing. The Bluejays knocked down nine of their first 12 shots, digging Marquette a hole it could never escape.
Crowder and Johnson-Odom held up their end of the bargain for Marquette, combining for 32 points on 12-of-25 shooting, but the rest of the team could only manage 33 on 12-for-31 shooting.
Creighton didn't give the opponents any hope when it went to the foul line, either, converting 16-of-17 from the stripe.
Gregory Echenique recorded a double-double, notching 12 points and 10 rebounds. Grant Gibbs played a solid all-around game with six points, six rebounds and seven assists.
#2 Kansas 90, #7 Temple 60
Temple battled fiercely for the game's first 15 minutes, but allowed Kansas to end the first half on a 12-2 run. Sizzling 56-percent field-goal shooting for Kansas ensured that the Jayhawks never had to look back as they easily dispatched the Owls.
Six Kansas players reached double figures in points, led by Thomas Robinson's 24 and Tyshawn Taylor's 20. Robinson added 18 rebounds and Taylor dished eight assists to further aid the cause.
Temple was led by Ramone Moore's 20 points and six assists. Khalif Wyatt added 13, despite being restricted to 25 minutes due to foul trouble. Wyatt played extensive minutes in the second half despite picking up his fourth foul only 14 seconds after halftime.
Kansas struggled to exploit this defensive weakness, shooting only 11-of-25 from the floor in the second half before Wyatt fouled out with 7:16 to go. After that, the Jayhawks converted their final 10 shots.
The BIT's Midwest Region Sweet 16 Participants: #1 Syracuse, #4 Georgetown, #6 Creighton, #2 Kansas