White ribbon=Best Licker, for dog with cleanest junk.
The Big Sky is closer than most college hoop conferences to getting its season right.
Even though there are 11 teams in the league, the BSC still orders everyone to work with a 20-game double round-robin, eliminating the issue of any team getting an advantage from the day the schedule comes out. It'll be screwed up next year when Idaho returns, but for now, it's a nice change of pace.
When the postseason hits, instead of the league tournament being a participation ribbon and juice box for every kid, even the asthmatic ones, only the top seven make it with the regular-season champion getting a first-round bye.
I'd advocate a system that leaves the regular-season champion out totally, pitting that team against the tournament champ in a winner-takes-all single game, but again, the Big Sky has it more correct than most.
As far as who'll be dueling for that bye, the usual suspects will be near the top, but a couple of experienced squads should mount a major challenge. Read on after the jump for more.
(
All statistics and rankings per StatSheet.com unless otherwise noted.
)
PROJECTED ORDER OF FINISH:
1. Weber State
--The Montana Grizzlies are the boogeyman for Weber State basketball fans. Over the past two seasons, WSU has lost only two games to conference foes other than the Griz, but even 2013 NBA Rookie of the Year Damian Lillard couldn't get the Wildcats to the NCAA tournament. Now, without Montana's talismanic point guard Will Cherry, it's time for Weber to get the job done.
The Wildcats were first in the nation in both FG% and 3P%, one of the highest-scoring and most efficient offenses in America. While they'll miss sniper Scott Bamforth, this season's senior class is well-equipped to push Montana aside for the title.
Shooting guard Davion Berry hit the ground fast last season, becoming one of the league's top performers (as
a certain handsome, intelligent blog
forecast). He finished among the league leaders in scoring, assists, FG% and steals. Berry finished the season in a nasty groove that would make Janet Jackson proud, averaging 19.3/6.7/6.3 over the Wildcats' final three games, which ended in the CIT championship game. He and Montana's Kareem Jamar will wage an epic battle for the Big Sky title.
Berry's backcourt mate Jordan Richardson returns for his senior season after his second straight season of 40-percent three-point shooting. Expect him to get more looks with Bamforth gone. 6'5" junior swingman Royce Williams is the only experienced backcourt backup, and coach Randy Rahe needs freshmen Richaud Gittens and Jeremy Senglin to show they can earn quality minutes right away.
Senior center Kyle Tresnak and sophomore forward Joel Bolomboy form easily the best post duo in the conference. Tresnak provides effective low-post scoring (15.6 PPG in the CIT), while Bolomboy led the league in both OR% and DR% en route to a 4th-ranked 7.1 RPG on the season. The burly pair will be backed up by 6'10" junior James Hajek, at least once his rehab from a dislocated knee is done. The school expects Hajek to return in time for conference play.
Provided everybody stays healthy, there's no better collection of talent this year in the Big Sky. Besides the obvious scoring capabilities, the Wildcats were one of the best defensive teams in the nation, ranking top-20 in opponents' eFG% and TS%. The title is well within reach for Rahe and his troops, which would end the school's six-year tournament drought. (And the Cats would hope they could play better than Montana did this past March. 81-34? Barf.)
And not that Barf, either. At least he was funny.
2. North Dakota
--Can you get to the tourney with a team with no name? Would they even love a First Four game? (Sing that to
this tune
and get back to me.) We still can't call North Dakota's team the Fighting Sioux, but we can call them Big Sky championship contenders.
Coach Brian Jones has four superb senior guards ready for one more shot at the title, led by 6'5" swingman Troy Huff. Huff finished fifth in the league in rebounding while also leading in scoring and steals. The 19-PPG man was held to single digits by only one opponent, that being--of course--Weber State. With all the other backcourt talent, Huff plays a stretch-4 role for Jones' team, and last season he was actually able to accomplish the "stretch" part. He had shot less than 20% from three as a sophomore, but improved to 35.6% last year.
Fellow seniors Aaron Anderson, Jamal Webb and Josh Schuler join Huff in the usual lineup. Anderson is the most offensively versatile, capable of both attacking the rim (.541 FTA/FGA with 45% two-point shooting) and raining from outside (41% from three). He also stood second on the team in assists and third in steals. Webb led the team in dimes and made 55% of his twos, despite struggling outside the arc. Schuler was a specialist, making 37% of his threes on the season.
A pair of transfers will figure heavily into the rotation: 6'8" senior forward Jaron Nash (Texas Tech) and 6'9" junior Chad Calcaterra, who played one season at Colorado State. Nash had one shining moment as a Red Raider, a 15/7 game against Wake Forest in which he added three steals and two blocks. That kind of versatility will make him a serious player in the Big Sky. Calcaterra took only 11 shots in his 53 minutes as a Ram, but he made eight. 14 of his 21 points came in one game, that an easy win over Nebraska-Omaha.
Junior Lenny Antwi was a 36% shooter from deep last season, and he'll see time if any of the guards get injured or in foul trouble. Three other returnees averaged double-figure minutes, led by senior Alonzo Traylor, who finished second on the team with 5.1 RPG while playing only 16 MPG.
UND will need to improve on last season's streaky shooting and slow down opponents from mid-range and in (47.6% two-point shooting allowed). There's still not a ton of bulk to accomplish the latter, with only four players weighing more than 210. A post scorer would also do the former job, too, opening up looks for the bomb squad.
3. Montana
--We already alluded to the fact that Montana loses its Cherry this season (sluts), but forward Mathias Ward will also be heavily missed. Ward actually led the Grizzlies in PPG last year, not conference POY Kareem Jamar, as one might expect. But, 6'5" senior Jamar still returns after leading the team in rebounding and assists, and he's one of only two seniors on the roster.
Jamar is a career 47% shooter, including 39% from three, capable of attacking the rim or hitting his long shots. Without Ward and Cherry, Jamar may be forced to handle more of the ballhandling and shooting responsibilities. It's not out of the question to think Jamar could lead the league in both scoring and assists.
Guards Jordan Gregory and Keron DeShields are Jamar's backcourt support, and Gregory could be the X-factor that determines the entire conference race. The 6'2" junior shot the lights out last season, racking a 58.4 eFG% and a 64.1 TS%, both absolutely insane for a perimeter gunner (61% of his shots were threes). If he's Jamar's second option, he could average 15 PPG with efficiency anywhere close to those figures. DeShields, another junior, is a solid ballhandler, passer and defender, but is wildly inconsistent as a shooter. He finished the season in a 1-19 slump over the final five games.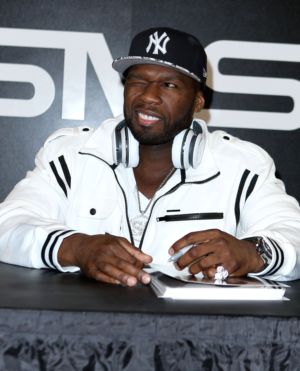 Don't stink-eye me, Fiddy. You know that would make bank.
Three true freshmen and a redshirt make up the backcourt depth. The redshirt, Utah State transfer Riley Bradshaw, will be eligible at the semester break. Point guard Mario Dunn could push DeShields for a chunk of minutes, and off-guard Brandon Gfeller (pronounced JEE-feller, like if 50 Cent and Jay-Z went halfsies on a new clothing line) carries a rep as a deadly shooter.
Frontcourt experience is likewise thin. Senior Eric Hutchison started 27 games, made about 55% of his limited shots and blocked 16 attempts from the opponents. At 6'9" and 245, he should be much more effective on the glass at this level. 7-foot sophomore Andy Martin tied for the team lead in blocks (21) despite playing only 8 MPG. If he grows up this year, he could be the BSC's best rim protector. Junior wing Michael Weisner scored 6 PPG last season, and could score a lot more considering last season's ridonkulous 67.6 TS%. Finally, there's 6'7", 238-pound post player Chris Kemp, who comes in from West Texas College after averaging 7.2/6.6 last season.
Jamar and Gregory could form the conference's most potent scoring duo by season's end, but there are questions surrounding them. Coach Wayne Tinkle doesn't often get caught short, though, so if one of these newcomers--smart money down on Dunn and Kemp--adapts quickly, Montana's still a team to beat in the Big Sky tourney. (And if they must get back to the Big Dance, can the committee please keep them away from Syracuse? Kthxbye.)
4. Northern Colorado
--The "other" UNC has its own potent 1-2 punch in guard Tate Unruh and forward Derrick Barden, who may be the league's second best inside-outside duo behind Berry and Tresnak. Unruh has shot better than 58% eFG and 62% TS in each of his three seasons in Greeley, and that's with nearly two-thirds of his shots being threes. In mid-January, Unruh had a run of four straight games with five made threes, making 20-34 (58.8%) in that span.
Barden dropped 19 points on Wichita State, then carded nine conference double-doubles. His 8.8 RPG placed second in the league.
Three of the Bears' next four scorers also return. Point guard Tevin Svihovec can get loose for a shot (48.5 eFG% last season), and should do so more often. His A/T ratio was nearly even last year. Forward Tim Huskisson and center Connor Osborne started every game, and Osborne did good yeoman work on the offensive glass (11.6 OR%).
Five freshmen join the team this season, including ESPN 3-star PG Jordan Wilson, who could push Svihovec off the ball for solid chunks of time. Wilson's a Speedy Gonzales type at 5'7", and he loves to charge the tin. Juco transfer Corey Spence will also contend for the point, and his defensive acumen (2.8 SPG) could give him an advantage. Spence's Casper College teammate, wing Dominique Lee, joins to provide more athleticism on the glass (13.8 points, 7.6 rebounds last year).
None of the other frosh have tripped the conference radar, although 6'10" Jeremy Verhagen will get a shot to contribute. Junior Brendan Keane will also help to back up Osborne in the post.
The Bears, led by Unruh's pyrotechnics, proved they could shoot last season, but their opponents did as well. UNC allowed 52% two-point shooting, and the offensive glass wasn't always to blame as it is for some teams (70.1 DR%). That leaky defense must tighten up if Northern Colorado wants to go dancing. Spence and Wilson can help by not turning the ball over and making opponents do it instead.
5. Eastern Washington
Boronia, Australia native Venky Jois was the Big Sky's breakout freshman last year, carding 12.3/9.0 with a league-leading 2.4 BPG. The 6'7" Jois should push for all-conference first team honors, and he'll be a POY candidate if EWU can push for the title. He missed three games with injury in February and only averaged 6.6 RPG in the seven games after his return. With an offseason to recuperate, Jois should get back to being the double-double machine he was all the way through January.
Three other 7+ PPG scorers return, led by junior inside-out duo Martin Seiferth and Parker Kelly. Seiferth, a 6'10" Berlin native who originally signed with Oregon, averaged 8.2/6.3 last season and converted 63% from the floor. He'll get more looks in the post if he can prove he can make free throws. Only 50% went down for him last year. Seiferth had the league's two best rebounding games, plus he and Jois combined for the five best shot-blocking games in the conference.
Kelly is one of the BSC's best shooters, recording a 56.1 eFG% last year. The Eagles went 3-1 when he made five or more threes. Sophomore guard Tyler Harvey is another shooting threat, putting up the team's best eFG% at 62.6. He played full-time minutes in the final six games of the season, scoring 17 or more points in five of them on 53% shooting.
Seiferth's countrymen Thomas Reuter (6'6", 230) and Fredrik Jorg (7'1", 290) will need to make improvements from underwhelming freshman seasons. Six newcomers provide more depth, and someone's going to have to play quickly. The most likely candidate is juco PG Drew Brandon (15.5/7.4/6.8 with 1.2 SPG), who should start from day one.
Hayford loves his team to shoot from range, as the Eagles ranked 16th in the nation with 775 three-point attempts. They sank only 34%, however, efficiency that needs to get better if Eastern wants to push Weber and Montana for the title. Failing that, the effort on the glass needs more consistency, as EWU's 47.1% total rebounding rate was the worst in the Big Sky.
6. Montana State
--Thanks to Weber and Montana running this league like bosses, Montana State's 10-10 conference record was good for a fourth-place tie. For a maddeningly inconsistent team that sprung one on Weber and lost to cellar rats Idaho State by 36, a .500 record seemed about right. A repeat also seems appropriate, considering what left and what's back.
Two double-figure scorers are gone, but seniors Flavien Davis and Antonio Biglow return. Biglow was one of the only Bobcats to make defensive plays, as he ranked third in the BSC in steals. A 47-percent effective shooter, he can also score if left alone. Davis is the top returning scorer and the most efficient shooter among returning regulars. He scored 30 in a loss to Montana last March.
Fellow starters Paul Egwuonwu, the 6'9" center, and sophomore guard Marcus Colbert are back. Egwuonwu is a solid 75% foul shooter, good defensive rebounder and can be counted on for a couple of good defensive plays per game (1.0 S/0.9 BPG). Colbert was second on the team in A% and third in S% last year, but may be better suited for a backup role behind Biglow. His 40% three-point shooting would make him a worthy spark off the bench.
5'9" junior Michael Dison and sophomore juco transfer Terrell Brown will add to the guard depth. Brown averaged nearly 15 PPG at Otero JC last season. Senior swingman Calen Coleman, a 37% shooter from deep, could sneak close to a double-figure average this year.
Four Bobcats, none of them seniors, stand between 6'7" and 6'9", but none found much playing time last season. The development of another post presence behind Egwuonwu will be key to rectifying a sickly defense that allowed 53.6% 2P shooting in 2012-13.
7. Northern Arizona
--NAU won eight conference games last year, a tremendous first act for coach Jack Murphy. He enters his second year missing two of the three heads on his solid backcourt, but the one that's back is his own recruit. Now, how will his first full class blend in its first Big Sky campaign?
Sophomore guard DeWayne Russell has the ability to make an all-conference impact, but he'll need to be more efficient as the primary offensive option. He was only a 45% effective shooter with four more assists than turnovers. When he was on, he was very good (six 20-point games), but he has to be on a lot more often with no Gabe Rogers to carry the load or Stallon Saldivar to set him up.
There's no other experience in the backcourt, so intriguing freshmen Kris Yanku (3* on ESPN.com), Travis Meeker and Christopher Miller will need to prove themselves quickly as scorers. Juco Aaseem Dixon may also contend for the point if Murphy wants to take Russell off the ball. Dixon was a 1.9 A/T man at Arizona Western College last year.
The Lumberjacks' most interesting new face may be ex-VMI Keydet Quinton Upshur. Upshur was a part-time starter in Lexington, averaging 5.3/2.6 with 1.4 SPG in only 18.1 minutes. His 4.1 S% ranked 31st in the nation in 2011-12. The 6'5" Upshur next to Russell may be Murphy's best backcourt pairing.
Up front, senior Max Jacobsen and junior Gaellan Bewernick combined for 15 and 10.5 last season. Sophomore Jordyn Martin is a solid backup, but watch for 6'7", 270-pound Ako Kaluna, who turned down football offers from USC and UCLA to come hoop for Jack Murphy. Likewise, 6'7" juco Zach Reynolds spurned NC State and Cincinnati to attend NAU.
With so many newcomers on the roster, NAU may be the Big Sky's biggest wild card. If Russell can somehow combine the responsibilities that Rogers and Saldivar handled last year, Jack's Jacks will be dangerous in March.
8. Portland State
--Coach Tyler Geving's Vikings could score last season, but many games turned into a two-hour layup drill for their opponents. PSU was seventh-worst in America in dFG% and ninth in the Big Sky against the three. The team's 111.0 defensive efficiency was likewise one of the country's 10 worst. Only four of Geving's eight double-figure minute earners return, so he's hoping to change the culture with a new recruiting class.
Forward Aaron Moore and guards Gary and Dre' Winston (no relation) are the veterans, and Moore can be an All-Big Sky performer. A 56% true shooter, Moore also came in third on the league rebounding chart. He'll need frontcourt support from 6'10" Brandon Cataldo and 6'8" Lamont Prosser. Juco Tiegbe Bamba was a consistent 11/7 man at two different schools. Freshman Kyle Benton was nearly a dub-dub man two straight seasons in high school.
Gary Winston excelled as a shooter, draining 47% from the arc. Dre' Winston, a former Washington State Cougar, led the team in steals, but occasionally got his points, too. In the season's second game, Winston scored 15 against Oregon.
Point guard Tim Douglas becomes eligible this season after spending two seasons across town at Portland U. He should line up next to the Winstons in a three-guard starting lineup.
If anyone's going to knock one of the Winstons out of the lineup, keep an eye on juco DaShaun Wiggins. Out of high school, he committed to Seton Hall, but spent the past two seasons at different junior colleges. As a freshman at College of Eastern Utah, he averaged nearly 18 PPG. Another juco, Sebastian Suarez, could fill Gary Winston's bench gunner role.
Of the 17 players listed on the roster, 10 are juniors and five others are seniors. Geving tends to raid the juco ranks trying to find experienced talent, but a freshman here and there will be needed for leadership if he wants to build an improving program. Two years from now, the Vikings will be unrecognizable.
9. Sacramento State
--So close. The Hornets finished 14-15 last season, just one win away from their first winning record in nearly 25 years. Now, three starters leave and coach Brian Katz has to rebuild behind a solid backcourt and not much else. After all, Hornet players not named Dylan Garrity and Mikh McKinney combined for a whopping FOUR double-digit scoring games last year.
The aforementioned guards were a live duo last season. Garrity is 2-for-2 on Big Sky assist titles in his career, and has placed top-five in foul shooting both years. He also improved to nearly 41% from the arc last season, up from 33 as a frosh. McKinney was streaky, but when he was on, he torched opponents, as Portland State can testify after giving up 30 to him in February. At only 6'1" and 165, he won't finish consistently in traffic, but can draw contact and convert 80% at the line.
The front line could easily consist of three newcomers. Freshman center Eric Stuteville, ex-UC Davis forward Alex Tiffin and juco wing Zach Mills all bring intriguing credentials to the Cali capital. Mills averaged 14.6/8.2 at Irvine Valley College, Tiffin (6'9", 235) started 18 games at Davis and Stuteville averaged 21.7/12.3 while making 84% from the line as a senior. Returnees Jordan Salley and Joey Quigley provide size and some shot-blocking ability.
Backcourt depth will come from new faces like former Boise State signee Case Rada and freshman Nick Hornsby. Hornsby was a California All-State selection after averaging 16.7/8.3/2.7 last season, while Rada led his juco conference with 24 PPG and 111 threes made. Both can be great complements to McKinney and Garrity in a three-guard lineup.
SSU could certainly use some of that backcourt scoring, but the frontcourt is where the team must become sturdier. The Hornets shot only 41.4% last season, but allowed nearly 50% effective shooting on defense. Stronger low-post performance would go a long way toward improving at both ends.
10. Idaho State
--The Bengals won only two of their final 14 games last season, and a look at the ledger explains a lot of reasons why. They pulled only 45% of available rebounds. Shot less than 41%. Allowed 37% three-point shooting. A 0.85 A/T ratio. Suffice to say, Idaho State had issues.
Coach Bill Evans sucked the air out of the ball, making ISU one of the slowest teams in the nation. Even tempo couldn't mitigate the Bengals' lack of talent. Evans returns three of his top four scorers, but they combined for 31 PPG on 41% shooting. The rest of the returnees--all two of them--combined for 4.3 PPG.
Guards Tomas Sanchez, Chris Hansen and Andre Hatchett are the aforementioned top returnees. Hansen averaged 2.3 threes made per game, while Sanchez finished top-5 in steals and assists with a 57.5 TS%. Hatchett finished the season on a 13.1/6.0 roll over his final 10 games.
Evans sought to rectify his team's size issues with his new recruiting class. Five of the seven new Bengals measure 6'5" or taller. They join seniors Ayibakuro Preh and Nnamdi Ezenwa, neither of whom were consistently productive last season. However, Preh's 9.3 B% ranked second in the conference. ISU will need multiple new faces to play like veterans, or else the team's biggest fight will be to avoid the basement.
11. Southern Utah
--A team that plays its games in a building called the Centrum will certainly need to take its vitamins to compete this season. The team's only two reliable scorers are gone, accounting for 48% of the Thunderbirds' points. That's bad mojo for a team that was already ninth in the Big Sky in scoring last year.
Sophomore guard A.J. Hess may inherit the mantle as top scoring option by default. He scored in double figures four times last season, but all four were in the season's final 10 games. In that span, he hit 21 of 50 three-pointers for 42%.
The only full-time starters returning are center Jayson Cheesman (6'11", 250) and forward Jaren Jeffrey (6'8", 210). Cheesman was one of the league's top 10 rebounders and finished third in blocks, but he was a terrible 40% shooter from the floor. At his size, he needs to forget about mid-range jumpers and shove opponents around down low.
Coach Nick Robinson has brought in seven freshmen, including ESPN 2* prospects McKay Anderson, John Marshall and Juwan Major. Another freshman guard, Race Parsons, will be motivated to perform by his family legacy. Both his father and sister lettered at SUU.
Expect all the freshmen to learn quickly that the Birds play a physical game. Only Morehead State committed more fouls per game last season. Robinson needs his players to show some offensive efficacy to make up for all the free throws they'll allow.
MARQUEE MATCHUPS:
"Hanging from the rafters" NEXT on When Sports Cliches Attack!
Eastern Washington:
Nov. 17 at Washington
--Great early test for the Eagles. Remember, the Huskies lost to Albany and Nevada at home last season, so there's precedent for Lorenzo Romar's teams falling asleep.
Idaho State:
Dec. 20 vs. Idaho in Boise
--ISU gets to be throttled by three Pac-12 teams, but the neutral-site state battle with the Vandals should take top billing.
Montana:
Nov. 12 at Minnesota
--Jamar and Gregory travel to MPLS to take on the Hollins boys. Not quite Midnight Express v. Road Warriors, but still a solid tag team match nonetheless.
Montana State:
Nov. 26 vs. Cal State Northridge
--The Bobcats look like they're auditioning for Big West membership, playing Northridge, Fullerton and Riverside. Northridge is the only one that comes to Bozeman, and it brings potential All-Big West stud Stephan Hicks. Otherwise, MSU's slate is a steaming pile.
North Dakota:
Dec. 21 vs. South Dakota State
--The in-state battle with NDSU will be a big one, with both schools capable of winning their leagues, but the Fighting ND's also get a chance to take the Jackrabbits' pulse in the post-Nate Wolters era.
Northern Arizona:
Nov. 15 at USC
--Eyes will be on USC early, trying to see how Andy Enfield adapts to power-conference competition. And the Trojans aren't exactly loaded just yet.
Northern Colorado:
Nov. 20 at New Mexico State
--Barden can score inside with nearly anybody. Anybody, that is, that he's not giving away A WHOLE F'ING FOOT to, like he will to Sim Bhullar.
Portland State:
Dec. 7 vs. Portland
--PSU has more home games than most at this level, and they're not all D-II scrubs. (Some, sure, but not all.) The city rivalry's always important, but Tim Douglas will be particularly motivated.
Sacramento State:
Dec. 7 at UTEP
--The only time the Hornets leave the state of California before conference play.
Southern Utah:
Dec. 14 vs. UNLV
--A home game against a brand-name program doesn't come around very often. Cheesman had better bring his big-boy shoes if he's going to score on Khem Birch.
Weber State:
Nov. 8 at BYU
--Berry, Tresnak and Bolomboy vs. Tyler Haws, Nate Austin and Eric Mika? Abso-friggin'-lutely.
"Dude, watch the roaming hands."
ALL-BIG SKY FIRST TEAM:
F Derrick Barden, Northern Colorado
G Davion Berry, Weber State
F/G Troy Huff, North Dakota
G Kareem Jamar, Montana
F Venky Jois, Eastern Washington
ALL-BIG SKY SECOND TEAM:
G Aaron Anderson, North Dakota
F Joel Bolomboy, Weber State
G Jordan Gregory, Montana
C Kyle Tresnak, Weber State
G Tate Unruh, Northern Colorado
PLAYER OF THE YEAR:
Davion Berry, Weber State
--Between Berry, Huff and Jamar, the man who leads his team to the title may very well win this award.
COACH OF THE YEAR:
Brian Jones, North Dakota
--They Who Apparently Prefer Not to Be Named won't finish a game below .500 this season.
NEWCOMER OF THE YEAR:
Quinton Upshur, Northern Arizona
--Chris Kemp, Jaron Nash and Drew Brandon are all potent candidates, but Upshur could end up as NAU's top option by season's end.