The potential exists for Ohio-based schools Wright State, Cleveland State and Youngstown State to sweep the podium positions in the Horizon this season, thanks to multiple all-conference losses by Detroit and Valparaiso.
The most dangerous threats to the looming Ohio hegemony may come from the north, as Green Bay and Oakland return the conference's most dangerous individual talents. But do UWGB's Alec Brown and Oakland's Travis Bader have enough support?
Read on and we'll discuss.
(All statistics and rankings per StatSheet.com unless otherwise noted.)
PROJECTED ORDER OF FINISH:
1. Green Bay
--The aforementioned Brown, all 7'1" and 235 of him, certainly has enough support to claim the conference title that eluded him last year. Point guard Keifer Sykes earned first-team All-Horizon honors last year after ranking third in the league at 15.9 PPG and fourth with 4.3 APG. Sykes isn't a three-point threat, preferring to take mid-range shots and get himself to the line.
Even at Brown's size, he's actually becoming dangerous from the arc. He knocked down 30 of 70 attempts from deep last season, good for 42.9%. He's impossible to swat when he spots up from that deep, but he should be equally hard to stop near the basket. Only 29% of his shot attempts came at the rim as he begins to wander more toward mid- and long-range shooting areas. His shot selection affected his game in other ways, contributing to a decline in his rebounding and shot-blocking percentages. If he saves the threes for special occasions and spends more time in the post, he can make himself a first-round NBA draft pick and HL Player of the Year.
Sophomore swingman Jordan Fouse and junior forward Greg Mays join Brown to form an enviably large front line by any league's standards, let alone the Horizon. The 6'7" Fouse actually led the conference in rebounding and ranked third in both steals and blocks. If he increases his offensive arsenal, he'll be an All-Horizon replacement for Brown next year. Mays is a strong finisher at the tin and can also devour rebounds when needed.
A pair of transfers will provide depth. Alfonzo McKinnie was a starter at Eastern Illinois, putting up 10 points and seven rebounds per night as a sophomore. Rutgers escapee Vincent Garrett didn't see much time in between profane Mike Rice tirades, but his 6'6" frame will be a tough matchup for any HL guard. The two played with Sykes at Chicago's Marshall High School, so chemistry should be easy to re-establish.
Guards Lamin Fulton and Tevin Findlay will be counted on to help a perimeter attack that struggled to 33.7% from the arc last season. Fulton averaged 8.9 PPG as a freshman at St. Peter's two years ago, while Malton, Ontario native Findlay was understandably overshadowed in AAU ball by teammates Tyler Ennis (Syracuse) and Andrew Wiggins (you know).
The Phoenix are still a strong defensive outfit, but they need some scoring support for Sykes and Brown--preferably from long range--to ensure an NCAA berth.
2. Wright State
--One of America's finest defensive teams returns all the important pieces and adds a couple of interesting new ones, so it's hard not to acknowledge Wright State as one of the HL's heavy favorites. Health will play a part in determining just how far the Raiders go this season.
Forwards Cole Darling and AJ Pacher, along with guard Matt Vest, are all coming off of surgeries. Darling had his season ended early by a shoulder injury, while Pacher (foot) and Vest (shoulder) had some offseason work done. All three need to return to form, especially Darling. His 11.3/4.6 line landed him a second-team all-conference nod, despite only playing 22 games. Vest led the balanced attack in A% and carded an A/T ratio near two, making him the de facto point guard. If the 6'10" Pacher stops trying to drag opponents away from the basket, he could be a put-back threat for a team that needs one. The Raiders pulled only 27% of offensive rebounds last season, last in the HL.
Forward Jerran Young averaged 12.1 PPG after Darling went down. A producer on both ends, Young led the Horizon in S% and ranked top-5 in eFG% and TS%. His efficiency helped make up for guards Miles Dixon and Reggie Arceneaux and their lack thereof. The two shot a combined 38% from the floor with a 1.0 A/T ratio. Butler transfer Chrishawn Hopkins, a career 37% shooter, will fit in well with that pair. Even as inefficient as his shot was, Hopkins still got 9.1 PPG for the Bulldogs.
"Ladies, the Yoho's Hoes auditions are right this way."
Sophomore forward JT Yoho was the designated bench gunner, draining a team-best 42% from long range. He so needs an all-girl fan club. Junior forward Tavares Sledge (6'9", 225) was the best offensive rebounder on a bad offensive rebounding team, and could see a scoring uptick just off of putbacks. 6'4" guard Kendall Griffin joins with the 6'5" Vest to form a suffocating defensive backcourt.
That's 10 deep, a roster that allows coach Billy Donlon to get as hardcore as he wants with defensive pressure. The Raiders ranked 12th in America in forcing turnovers, doing so on nearly 25% of opponents' possessions. If Darling, Pacher and Vest are back to full strength, WSU should supplant Green Bay as the league's favorites. They sure as hell won't look pretty doing it, though. Consider this second-place vote a hedge.
3. Cleveland State
--Coach Gary Waters watched his team slump to only 14 wins last season, as it never quite found a groove once forward Anton Grady's knee took him down in November. Now, the Vikings return a very interesting equation: Grady + four starters + two experienced reserves + a trio of interesting newcomers. As for what that all equals, check back in March, but it looks like big numbers from here.
What he said.
Grady was set to blow up in his first season as a starter, racking 13.7/5.5 with more than two steals per game when he tore his meniscus against Bob Morris. He was one of the nation's top defensive rebounders as a freshman, and the Vikes could have used him last year (67.4 DR%, 8th in the HL).
Guard Bryn Forbes stepped into the scoring vacuum, making 39% from deep and putting up nearly 13 PPG to win the Horizon's Newcomer of the Year award. Point guard Charlie Lee had Forbes' back, making nearly 40% of his own threes and leading the HL in assists. Unfortunately, Lee also turned the ball over 3.5 times per game. A team that gave up 51% two-point shooting can't afford to allow free possessions.
Penn State transfer Trey Lewis is another streaky shooter who carded three double-figure games in half a season in State College. Junior Sebastian Douglas will likely lose his starting spot and become the bench's top defender.
Up front, forwards Marlin Mason, Devon Long and Ludovic Ndaye provide some great size, rebounding ability and shot blocking. Long was the only Viking to take more than half his shots near the rim last season. That trio is joined by 6'10" juco center Ismaila Dauda, a top-60 transfer who averaged a double-double last season. Ex-Miami (OH) forward Jon Harris gives Waters yet another shooter, one who averaged 8.5 PPG on 38% three-point accuracy each of the past two seasons.
The Vikings have more than enough offensive talent to win the Horizon, but can it all come together on the defensive end? CSU surrendered 57% true shooting (8th-worst in America), 19.6 fouls per game (most in the HL) and 1.07 PPP (last in the conference). Until the Vikings prove they can stop somebody, they'll sit third and like it.
4. Oakland
--As if the shameless Travis "The Master" Bader didn't shoot enough as it was, he'll likely enter his new conference firing like Chow Yun-Fat in "
The Replacement Killers.
" Bader hoisted 360 three-pointers last season, an average of almost 11 per game. Only about 250 players in the country took that many shots from anywhere. Bader needs only 101 more threes to pass J.J. Redick for the most all-time. He'll definitely have that by Valentine's Day.
(Editor's note: Bader likes to use "Darth" as a nickname, but "The Master" is just something we're kicking around the TBI offices. Carry on.)
Point guard Duke Mondy may be just as important to OU's prospects as Bader. The ex-Providence playmaker stuffed stat sheets like few others in the Summit League last season. He ranked second in the Summit in assists (5.1/gm) and led the nation in steals at three per game. Oh, and 12 points and 4.4 RPG. Mondy flirted with a trip-dub while the Grizzlies flirted with a win over West Virginia last December. Don't be surprised if he finishes the job against some poor suckers this season. 5'9" senior Ryan Bass takes whatever looks are left over when Bader and Mondy finish eating.
Call 6'10", 245-pound junior Corey Petros "The Janitor," because it'll be his job to clean up the misses from Bader and Mondy this year. Petros came in second in the Summit at 8.2 RPG and shot 56% from the floor. While Alec Brown gets NBA scouting love because of his size, he might get exposed against the more physical Petros. Coach Greg Kampe hopes that Dayton transfer Ralph Hill can take over for Valentine as Petros' rebounding support. The 6'6" Hill put up good board percentages in limited minutes as a Flyer.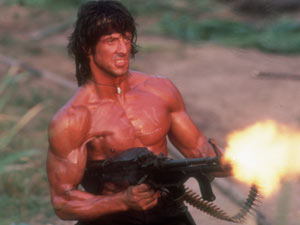 Rambo envies both Bader's stamina and his rate of fire.
Senior Raphael Carter, junior Dante Williams and freshman Jalen Hayes will add frontcourt depth. Williams is more comfortable on the wing and Carter will do the grunt work inside. Rookie guard Kahlil Felder is it as far as backcourt reserves with any upside. Fellow frosh Nick Daniels suffered a broken foot last week that will keep him out until almost Christmas.
Kampe would be well served to develop some depth, as it's a requirement to play at OU's usual breakneck tempo. The Griz gave up an ugly 57.9% on two-point shots last season, owing partially to their tendency to gamble for steals but also dead legs late in the game. Bader, in particular, needs more than 1.8 MPG of rest. He led the nation in playing 95% of OU's minutes.
5. Youngstown State
--Six of the Penguins' eight rotation players return, seeking the school's second straight (and second ever) postseason trip after last year's CIT cameo. As long as Kendrick Perry is upright and ballin', YSU is no less than a top-half Horizon League team.
Perry was every bit as good as Detroit's Ray McCallum last season, but McCallum took league POY honors on name value and supporting cast. Seriously, check this chart:
Looks like one shape, doesn't it? That's partially because the colors are nearly indistinguishable, but also because the numbers are just as close. Perry should get himself the trophy this season, but can anyone help him win a conference title before he graduates?
Eh...would you believe a definite maybe? Sidekicks Blake Allen and Damian Eargle are gone, but forward Kamren Belin returns, and he was as effective a shooter as anyone including Perry. Belin is the top returning three-point shooter, making 40% in his first season up from junior college. Part-time starters D.J. Cole and Shawn Amiker return, and Amiker could be a dangerous scorer if he upped the 59% foul shooting. Cole also likes to attack the rim, but at 5'11" and 175, he's not a major finisher if he's not saved by the whistle.
6'10" sophomore Bobby Hain needs to get more touches at the rim, since he finished at an elite 79% rate on those shots per Hoop-Math.com. If he gets full-time minutes and asserts himself as a full-time rebounder, the Penguins will see a needed uptick in defensive efficiency. Senior Josh Chojnacki and junior Fletcher Larson can be rim protectors, and perhaps Larson gets the odd basket inside.
Those big guys in the last paragraph are critical, since YSU was already one of the HL's worst rebounding clubs last season and has to replace Eargle's 102 blocks (3.2/gm, 6th in the nation). The other Penguins need to do everything they can to get Kendrick Perry extra possessions. If he gets enough chances, he can take them back to a tournament of some sort.
6. Illinois-Chicago
--UIC hung in for a mid-pack finish last season thanks to a stout defense. The Flames surrendered only 40.6% shooting from the floor, placing among the nation's top 70. Coach Howard Moore has added a transfer who had potential to be one of the Big Ten's most dangerous perimeter defenders. Now, the big question lies on the opposite end. Three double-figure scorers are gone, so who's going to get buckets?
The Big Ten transfer in question, ex-Purdue swingman Kelsey Barlow, is undoubtedly an electric athlete who's always capable of a SportsCenter dunk. His biggest impact will come on the other end, as he ranked among the Big Ten's top 10 in S% in each of his last two seasons in West Lafayette. The biggest knock on Barlow is that he'll try too hard for those SportsCenter dunks and take unnecessary fouls. He's also not a reliable perimeter shooter.
(FULL DISCLOSURE: the editor of this blog is a lifelong Purdue fan who still harbors some irritation at how Barlow got himself dismissed at Purdue. So, UIC fans, treat this as a public service announcement: KEEP BARLOW OUT OF THE CHICAGO BARS. Thank you.)
Another transfer, 6'8" center Jordan Harks, was a 58% FG shooter at Central Arkansas, averaging about eight points and four rebounds in less than 20 MPG. He'll help take up for departed big man Josh Crittle. 6'10" junior Will Simonton could be a solid shot-blocker, but offensively, he'd rather put up mid-range jumpers than joust in the paint.
Among the returnees, the only reliable scorer is senior forward Hayden Humes. Humes was one of the Horizon's most consistent shooters, carding a 56.5 eFG% including a 40% mark from long range. He attacked the rim a lot more as a freshman at Toledo, so he's capable of doing so. He simply hasn't chosen to since coming to UIC, putting up only a .173 FTA/FGA ratio the last two years. If he finds a happy medium between slasher and shooter, Humes could push for all-conference honors.
The backcourt is shaky at best, with everyone having their glaring warts. Junior Marc Brown should be better at the rim than he is, considering he's 6'4" and nearly 200 pounds. He's a solid foul shooter, but he should get a lot more and-ones. Junior Joey Miller could start at the point if he could shoot straight from anywhere (32.7 career FG%). 6'4" freshman Lance Whitaker could get the start if he impresses with his defensive play early on.
There are five more freshmen on the roster. Texan forward Pat Birt was rated 3* by Rivals.
Expecting a ton from the Flames is a reach this season. Moore's hope needs to be that the young backcourt develops quickly while seniors Barlow, Humes and Harks are around to lead the team.
7. Valparaiso
--The Crusaders lost 144 starts from last season's roster. Five come back. Coach Bryce Drew is learning something about attrition right now.
Drew has to figure out how to replace Ryan Broekhoff and Kevin Van Wijk, two of the program's most iconic players since...well, Drew himself. The top returnees all transferred in from other programs, and they'll need to grow up fast in their first or second seasons. Guard LaVonte Dority (from USF) proved that he could put up points off the bench, averaging 8.6 per game with a high of 20 in his debut against Missouri State. Prospective backcourt mate Jordan Coleman had his moments last season after coming in from Hawaii, debuting with 15 points against Georgia Southern and later putting up six with six boards against Nebraska.
Big man Bobby Capobianco (6'10", 235, ex-Indiana) should lead the team in rebounding after establishing his dominance in short bursts (14.1/21.1 percentages). He should, but he likely won't, since he's dropped some weight with an eye toward playing more of a stretch role. Another transfer, former Alabama center Moussa Gueye, will take over in the pivot. Gueye is offensively challenged and foul-prone, but at 7'0"/270, he's got that thing you can't teach.
Freshman Alec Peters may be a pioneer in Bryce Drew's coaching career. Drew treats his freshmen like Larry Brown always treated his NBA rookies: as practice fodder. Peters, a two-time Illinois All-State selection, is built for college ball at 6'8" and 225, and he's got a silky shooting stroke that the Crusaders desperately need. Yet another transfer, ex-St. Louis guard Keith Carter, was a favorite of the late Rick Majerus, who recruited him to be a Billiken. Majerus called Carter his best point guard recruit since Andre Miller, who only helped Majerus get to his only Final Four. Carter is eligible for Valpo at the semester break.
There are a ton of moving parts on the Valparaiso roster. Drew will have to do the most adept juggling of his young coaching career to pull together all the transfers with his five-man freshman class. If the freshmen grow up fast, the long-term prognosis is good. This season, though, could be a struggle for a program used to riding high in the conference.
8. Milwaukee
--Six of the Panthers' top 10 players are back. The team went 3-13 in the Horizon, though, so this is not altogether great news. A resurrection this season will need to start at the point.
Senior Jordan Aaron averaged four assists per game last season, which is the good news. The bad news is two fold: 3.8 turnovers per game and 45% effective shooting. Coach Rob Jeter may do everyone a favor and take Aaron off the ball in favor of Indiana State transfer Steve McWhorter, who decided not to wither on the bench behind Jake Odum. Senior Thierno Niang is a dangerous defender who can't shoot a dirty look with any accuracy.
Senior Kyle Kelm and sophomores Austin Arians and J.J. Panoske top the rotation up front. Panoske ranked fourth in the league in blocks despite only playing 17 MPG. The 6'9" Kelm can step out to the arc and drain some threes, but he'll need to improve his consistency. Perhaps appropriately for this ragtag team, Kelm's also the best option inside. He may make the biggest scoring improvement this season. Arians is the second leading returning scorer behind Aaron, and they're also the only two returnees who made 30% or better from the arc last season.
Not a lot went right for UWM last year, and unless everyone takes massive leaps forward, this season looks iffy as well. Shooting needs to get better, rebounding needs to get tougher, defense needs to actually make stops. Rob Jeter's to-do list just has a couple of lines on it, that's all.
9. Detroit
--Ray McCallum Sr. thought he'd at least have his boy's backcourt mate Jason Calliste to build around, but then he bolted to Oregon. Everyone else graduated, with only a couple of exceptions.
Big Ray has to build around Fab Five legacy Juwan Howard Jr., along with senior Evan Bruinsma and a bunch of inexperience. Howard will have to expand his game to include some drives to the basket. At 6'6" and 210, he should be able to finish in traffic better than he does. He was the team's top three-point shooter last season. Bruinsma is a much better inside option, making 77% of his shots near the rim. Even he stepped out for the odd three himself, but the Titans will be better served utilizing his post skills.
One thing the Titans do have is size. Seniors Olumide Solanke and Ugochukwu Njoku are built to protect the rim, and Njoku did just that in his limited minutes, blocking 10.7% of available shots. 6'8" freshman wing Paris Bass was a 23-and-12 man in his senior high school season.
Ex-Michigan man Carlton Brundidge, who once lost his roster spot to an unheralded kid named Trey Burke, is the most likely candidate at the point. Pay no attention to his scanty 43 minutes he played as a Wolverine. 6'5" gunner Anton Wilson took only 48 shots as a freshman, and 32 of them were threes.
If Brundidge lives up to his top-100 rep out of high school, if Wilson can sustain a respectable stroke in full-time minutes, if the Nigerian big men keep opponents out of the lane and if Howard and Bruinsma step up like veterans, the Titans could contend for a mid-table finish. But holy damn, that's a lot of ifs.
"No, I didn't sing with Carrie Underwood. Quit asking."
MARQUEE MATCHUPS:
Cleveland State:
Nov. 9 vs. Iona
--A good test of whether or not CSU can stop anybody: the team that's led the nation in PPG each of the past two seasons.
Detroit:
Nov. 23 vs. Toledo
--The Rockets are a MAC favorite, and a much better barometer for where Detroit stands than the "bigger" games like UConn and NC State.
Green Bay:
Dec. 7 vs. Virginia
--UWGB also hosts in-state rival Wisconsin for the first time since 2009, but this one's the first time back to Green Bay for ex-Phoenix hero Tony Bennett as an opposing head coach. Reinforce the roof.
Illinois-Chicago:
Dec. 4 vs. SMU
--Neighbors Northwestern come in as well, but no one's touting the Wildcats as a budding top-25 program. SMU's made waves this offseason, so eyes will be on every game.
Milwaukee:
Nov. 19 vs. DePaul
--A top-level Horizon team could seriously test DePaul. Milwaukee's not a top Horizon team.
Oakland:
Dec. 14 vs. Michigan State (at The Palace of Auburn Hills)
--Technically a neutral-site game, but the Palace is literally just down the street from OU. Lots of nominees for this one, since Oakland's packing a murderous non-con schedule this year.
Valparaiso:
Dec. 7 vs. Saint Louis
--The Billikens' 13-point home win last season wasn't pretty, but Valpo hung in late. That might not be the case this year, even though SLU is coming east.
Wright State:
Nov. 13 at Georgetown
--There's no doubting JT3's coaching skills, but his teams tend to play down to their opposition. After all, the Hoyas launched both VCU and Florida Gulf Coast on stirring NCAA runs in the past three seasons.
Youngstown State:
Dec. 21 at St. John's
--Eh, it's Carnesecca Arena, not MSG, but still. New York's New York. See some sights for Christmas, see if Perry can outplay Phil Greene or Jamal Branch, and trade snow for...more snow.
YSU beat Georgia because of this man.
ALL-HORIZON FIRST TEAM:
Travis Bader, Oakland
Alec Brown, Green Bay
Anton Grady, Cleveland State
Kendrick Perry, Youngstown State
Keifer Sykes, Green Bay
ALL-HORIZON SECOND TEAM:
Bryn Forbes, Cleveland State
Jordan Fouse, Green Bay
Charlie Lee, Cleveland State
Duke Mondy, Oakland
Jerran Young, Wright State
PLAYER OF THE YEAR:
Kendrick Perry, Youngstown State
--He's going to end his career as the greatest player in Penguin history. Sorry, Jeff Covington.
COACH OF THE YEAR:
Greg Kampe, Oakland
--He should earn this award by unanimous vote if he can get Bader to do anything other than shoot.
NEWCOMER OF THE YEAR:
Jordan Harks, UIC
--Because no one who's paid much attention should trust Barlow.