Liberty getting the automatic bid lessened any chance of the league springing an upset, which may have been possible if it had been Charleston Southern or High Point in the dance. The Flames became only the second team in NCAA tournament history with 20 losses, joining Coppin State's 2008 squad.
As long as everyone stays healthy (and TBI is saying a prayer for High Point stud John Brown; more on him in a bit), the BSC should have a team qualified to pull a No. 15 seed. As Florida Gulf Coast proved, the 15 need not be a death sentence.
This season, the Big South has one team with a tremendous pair of forwards that need guards to step up and help. Several teams have strong backcourts, including one that's probably the best duo you've never heard of.
Let's look at this season's Big South and decipher who's got the best chance to dance...after the jump.
(All statistics and rankings per StatSheet.com unless otherwise noted.)
PROJECTED ORDER OF FINISH:
North Division:
1. High Point
--The Big South Conference should become Mr. Brown's House this season. John Brown dropped 50 points, 15 rebounds, seven steals and seven blocks in his first two collegiate games. In all four of those categories, he ended the season top-12 in the conference despite playing only 26 minutes per game. Provided he's fully back from an injury that cost him most of the last four games, including a pair of avoidable postseason losses, Brown should be everyone's favorite for Player of the Year.
The Tonto to Brown's Lone Ranger, the Sundance to his Butch, and the Giles to his Buffy also returns. It only seems like Allan Chaney got to Florida at the same time Teddy Dupay did, but he's got one more season to go at HPU. Chaney survived a heart condition and transfers from Florida to Virginia Tech to HP to average 14.5/8.0 last season. During Brown's absence, Chaney put up 16.8/9.5 with 2.5 blocks per game.
The Panthers can expect great production from their inside game, but the perimeter attack will determine how far they ultimately go. The team shot only 31% from three-point range last year, and it would like sophomore guard Adam Weary to help pull that up. Weary averaged 10.2 PPG while only making 28% from deep. He and senior Derrell Edwards were most prolific shooters in terms of attempts, but Edwards was no better than Weary.
Senior Dejuan McGaughy, junior Devante Wallace and sophomore Lorenzo Cugini all shot 34% or better from the outside, with McGaughy getting up to 42. If that trio can get a higher percentage of the looks, HP may become a more dangerous shooting team.
The Panthers' primary question lies at the point. McGaughy is the top returning A% guy and may be the only real candidate to take the spot. If he goes down, head coach/former North Carolina guard Scott Cherry may be forced to suit up. Or freshman Jorge Perez-Laham, a 17-point, 8-assist, 3-steal guy as a high school senior in Miami. Whoever.
2. Liberty
--While the Flames catch some grief over sneaking into the tournament, it's primarily because they were missing some intriguing talents. Solid forward Antwan Burrus missed last year with an injury after an 11.2/6.2/53% FG junior season. He would have lent one more credible inside option to take pressure off the solid--if small--backcourt of Davon Marshall and John Caleb Sanders. Burrus is back for one more run this year.
Sanders and Marshall combined for 28 points, six boards and six assists per game, with Marshall making it rain to the tune of 43% from long range. He hit a three-pointer in every game but one last season, drilling 39 in the Flames' final nine games.
Sanders spent a lot more time on the ball as a junior, more than doubling his A% from the previous year. He was also extremely secure with the ball, recording a 19% turnover rate despite attacking the rim relentlessly. He ranked second in the Big South in both free throws made and attempted.
Backcourt depth could be a problem, with senior Casey Roberts and junior Chad Donley providing the only experienced relief.
Up front, however, there's a great deal of size, and much of it has been productive. J.R. Coronado, Tomasz Gielo, Andrew Smith and Joel Vander Pol are all upperclassmen, and all measure at least 6'8" and 220 pounds. Coronado ranked third in the BSC at 8.2 RPG. Gielo struggled with his shot as a sophomore after being a 57% effective shooter as a rookie. Vander Pol dominated the glass in his limited minutes (14.0 MPG), carding percentages of 15.1/22.7. Smith excelled at drawing contact and converted nearly 70% of the resulting foul shots.
If everyone stays healthy, there's no way that the Flames will drop 20 games, and an NCAA bid will be fully legitimate.
3. Radford
--The Highlanders are another team that tilts heavily toward the backcourt, returning four guards who each averaged at least 8.1 PPG last season. One of the quartet, 6'4" senior Javonte Green, plays more like a power forward, attempting only 26 threes (fortunate, since he only hit five) and ripping down 8.1 RPG, fourth in the Big South. Green also came in 11th in scoring, second in steals and 10th in FG%. He may have the best chance of breaking up a potential High Point/Charleston Southern all-league first-team duopoly.
Junior R.J. Price and sophomore Ya Ya Anderson were prolific three-point threats, especially Price, who made 2.7 threes per game. Sophomore Rashun Davis led the team in A%, but his assist/turnover ratio was upside down.
Radford is, however, lacking in frontcourt bulk. Green was by far the team's top rebounder, with 6'5", 205-pound Kyle Noreen coming second in RPG and 6'8", 195-pound Jalen Carethers posting the next best percentages. Sophomores Kion Brown and Brandon Holcomb were fairly reliable, but still, neither tips the Toledos at more than 215. Coach Mike Jones really needs 6'8", 260-pound freshman Hulian Terrell to throw that weight around to chase down some of the backcourt's missed shots.
The Highlanders don't have a significant senior on the roster, so barring mass transfers, RU will make serious noise in 2014-15 if it doesn't come this season.
4. VMI
--The Keydets have to regroup following the loss of Big South Player of the Year Stan Okoye, but they still boast the conference's best big man. That's a good place to start.
D.J. Covington enters his senior season after finally making it through a full year in 2012-13. All he did in that time was rank in the Big South's top five in FG%, eFG%, TS%, offensive rebounds and blocked shots. If there was a downside, it was the 6'9" 235-pounder's tendency to get in foul trouble. He fouled out five times and averaged three whistles per game. If he stays on the court for 30-plus minutes a night, he can challenge for Player of the Year.
Beyond Covington, however, there's no size on this roster. No other player is above 6'7" or 215 pounds. The next best rebounder and shot blocker last season was 6'5", 210-pound forward Phillip Anglade. That tells us all we need to know about how VMI will play.
Coach Duggar Baucom likes to push the ball hard, so too many big men may bog down the attack. Still, every team needs those guys who can go get the rebounds. VMI ranked 314th in America in DR%, giving opponents a ton of extra possessions. With Covington the only reliable rebounder, those headaches will continue for the defense.
Guards Rodney Glasgow, Brian Brown and Tim Marshall were not super-efficient, but they did produce. Glasgow was highly secure with the ball, dishing 2.5 assists per turnover and turning the ball over on only 18% of his possessions. Glasgow and Brown were also both 37% three-point shooters.
Freshmen Trey Chapman and Craig Hinton will need to help bolster the frontcourt immediately. Both are 6'7" and solid athletes. Guard Q.J. Peterson should have no problem adapting to the rigors of a military institution, since he prepped 90 minutes up I-81 at Massanutten Military Academy.
VMI can always score, although second and third options will need to blossom behind Covington. Stopping opponents will still be an adventure, however, especially if the struggles on the defensive glass continue.
5. Longwood
--New Lancers coach Jayson Gee comes over from Cleveland State promising to institute a pressing, up-tempo attack. Some pieces are in place, but like VMI, there's not a lot of length to the Lancers. (And yes,
that is what she said
.)
Ex-La Salle guard Tristan Carey is the primary option, entering his third and likely final season in Farmville as one of the Big South's most efficient scorers for two years running. In both of his seasons, he's put up 51% eFG's and 53% TS figures. Those are incredible numbers for a player who took nearly 450 shots last season. He also pulled five rebounds per game and led the conference in steals.
Inside presence Michael Kessens decided to transfer to Alabama, so the only "big man" with significant experience is 6'6", 225-pound junior Jeylani Dublin. The Brooklyn native averaged 10 points and 5.7 boards last season in only 24 MPG. He set a career high in the Lancers' fourth game with 19 points against Creighton.
Point guard Lucas Woodhouse was a promising addition as a freshman. The pass-first guard replaced an injured Nik Brown midway through the season, and produced 8.3 APG over Longwood's final 16 games. Expect him to be a favorite for the league assist crown under the tempo-minded Gee.
Senior David Robinson and sophomore Karl Ziegler both flashed solid scoring ability, as well. Robinson hung 18 points on VCU's vaunted Havoc defense just before Christmas. Never mind that he turned the ball over seven times and that the Lancers lost by 37. Mere details. Ziegler was a strong sixth man who ended the season with six straight double-figure scoring games.
Depth will be provided by six freshmen, only two of which stand taller than 6'4".
6. Campbell
--The Camels are another team that took a big hit from a Division I transfer. 14-PPG point guard Trey Freeman transferred to Old Dominion, adding insult to the injury of star forward Darren White, whose eligibility ran out as he sat on the disabled list.
The top three scorers are gone, but the next seven do return for new coach Kevin McGeehan. Chief among those are forward Marvelle Harris and ex-VCU swingman Reco McCarter. Harris has started 77 of the 95 games he's played as a Camel, averaging six boards and shooting 50% for his career. McCarter averaged 8 PPG in his first season at Campbell on respectable 54% true shooting.
Additional frontcourt minutes will come from junior Darius Leonard and senior Antwon Oliver. Both were around 9.0/14.0 in their rebounding splits last season. Sudanese senior Leek Leek flashed some shooting skill, making 34% of his threes.
Aside from McCarter, the backcourt is a bit messy. Junior Andrew Ryan averaged 7 PPG on 49% effective shooting. Freshmen Kyre' Hamer and Quinton Ray will need to learn fast. Ray averaged six dimes per game as a high school senior, while Hamer contributed 16.7 points and six boards.
Guard depth is shaky, only two players are listed as taller than 6'6" and the team already struggled on defense last season. Opponents hit 51% of their two-point shots against the Camels. A rough season or two will greet McGeehan until he can build another couple of recruiting classes.
South Division:
1. Charleston Southern
--If High Point has the conference's best frontcourt duo, CSU sports the finest backcourt tandem. It only seems like Arlon Harper and Saah Nimley have been around a long time, since both are only juniors.
The 6'1" Harper is the more efficient scorer, boasting a career .448/.394/.757 shooting line. He's also swiped two steals per game in each of his two seasons. At 5'8", Nimley struggles to score inside the arc, making only 39% of his career two-point shots to date. Where he excels is in distribution, racking a 31.3 A% last year with a 1.8 A/T ratio. And strangely, Nimley also finished second on the team with 5.3 RPG last season. It says a lot about Nimley's toughness and tenacity, but there's also something there about a lack of quality big men at CSU.
Only two players taller than 6'7" are listed on the Bucs' roster, and they've combined for 66 career minutes. 6'9" freshman TyQuan Bitting averaged 13.0/10.3 with 6.8 BPG as a senior. If he can walk and chew gum at the same time, he should see plenty of early PT.
Senior Alhaji Fullah and juniors Paul Gombwer and Cedrick Bowen are the best rebounders on the roster, but all stand between 6'5" and 6'7". Bowen and Fullah at least have some weight to throw around, both weighing over 230. As for Gombwer, he actually led the team with 6.3 RPG last season. Bowen could be a double-figure scorer if he gets the ball in the paint (78% FG at the rim per Hoop-Math.com).
With third guard Jeremy Sexton departed, someone has to step up to give Harper and Nimley the occasional rest. Veteran options include seniors Matt Kennedy and Sheldon Strickland, along with sophomore Malcolm Bernard. Kennedy can be dangerous from the outside, while Bernard has shown playmaker skills on defense.
Juco forward Will Saunders was a 40% three-point shooter. Freshman wing Bakari Copeland scored 23.5 PPG as a senior. Both measure nearly 6'7" and should have a couple of strong scoring nights before the season's over.
Despite not having many huge bodies on hand, the Buccaneers solidly outrebounded their opponents last season (53.1 total rebound percentage, 41st in the nation). If that continues, CSU should run away from the weaker South division.
2. Winthrop
--Nine players averaged at least 13 MPG for Pat Kelsey's Eagles last season, and six of them return. Six of the top seven scorers are back. What the Eagles desperately need is to find better shots, as their eFG% and TS% both ranked in the 240-260 range nationally.
Guards Derrick Henry and Andre Smith were largely responsible for the weak shooting success, although to be fair, the 5'10" Smith's primary struggles were inside the arc. He made nearly 39% of his threes. Henry led the team in scoring strictly on volume. There was only one game against a Division I opponent in which Henry shot 50%. His shot selection and conversion must improve if Winthrop plans to contend.
Backcourt depth is thin, as senior Christian Farmer is the only returning guard who's seen major D-I playing time. He's a one-trick pony so far in his career, with 75% of last season's shot attempts and makes coming from three-point range. Redshirt juniors Keon Moore and Brandon Vega will compete with freshmen Keon Johnson and Hunter Sadlon for extra time.
Up front, senior Joab Jerome closed last season on a roll, scoring nearly 16 PPG on 54% shooting over the team's final nine games. He needs to keep control of the ball, however, as he committed nearly as many turnovers as any two teammates combined.
6'6" junior Larry Brown was the team's top rebounder and shot-blocker, despite playing only 23 MPG. That's both a testament to Brown's athletic ability and toughness and an indictment of the team's biggest player, 240-pound James Bourne. While Bourne is a solid offensive option (62% FG, including 48% at mid-range per Hoop-Math), he should be a much more dominant force on the glass.
Freshmen Jarad Scott and Duby Okeke will be expected to pitch in down low, while rookie swingman Josh Davenport could see time if he emerges as a consistent scorer.
3. Gardner-Webb
--Even when it's a
nouveau riche
program like Butler on the phone, when your head coach leaves to take a job as an assistant somewhere else, doesn't it speak on the stability of the program? It's like giving up banging some unknown hot chick to go clean Kim Kardashian's pool.
Right, Kris? You know what we mean.
Chris Holtmann bolted for Butler, leaving Tim Craft to run the Runnin' Bulldog program. Seven of the top ten rotation players return, so the bowl's not totally empty in Boiling Springs.
Junior wing Donta Harper is the only returnee to average more than 6.1 PPG last year, though. The aggressive penetrator was fourth in the Big South with a .484 FTA/FGA ratio, and he made enough shots for opponents to pay (71%). Unfortunately, he also committed a conference-leading 106 turnovers.
The rest of the frontcourt is fairly unproven. Sophomore Jerome Hill took a couple of BSC Freshman of the Week honors, shot 51% for the season and established himself as one of the league's best offensive rebounders. Senior Onzie Branch couldn't shoot an apple out of the produce section, but was another successful Bulldog rebounder. G-W needs either senior Mike Byron or junior Corey Hensley to produce in the paint, because they're the only players taller than 6'7". (I'm sensing a pattern in this conference, how about you?)
Point guard Tyler Strange is reasonably secure with the ball, as long as he's not shooting it. He'll likely line up next to Texas A&M transfer Naji Hibbert, who was a top-75 prospect back in the day. Hibbert started only nine games in three seasons at A&M, showing the ability to get to the rack (51.4 FTA/FGA in 2010-11) and an intriguing outside stroke (36.4 3P% in '11-'12), just not at the same time. If Hibbert learned the offense well during his redshirt year, look for him to get plenty of shots.
Mount St. Mary's transfer Josh Castellanos joins the Bulldogs for his final season, and he's a pass-first, shoot-please-for-the-love-of-God-never point guard much like Strange. Freshman forward Donell Tuff averaged 13/10 with seven BPG in his senior year of high school ball.
Harper needs scoring help, and Hibbert looks like the most likely suspect. Holtmann's offense succeeded because it wasn't totally predicated on the three-point shot (46.7 2P%), and Craft would be wise to leave the system intact until he gets some shooters who can spread the floor.
4. UNC-Asheville
--At least G-W's coach left for Butler. UNC-Asheville lost head man Eddie Biedenbach to an assistant's job at UNC-Wilmington. Let's see if we can continue the above metaphor. Bailing from one school to another in the same state system (neither being the worthwhile one in Chapel Hill) is like...leaving Kylie Minogue to be Dannii Minogue's gardener?
Both of them were once hot, allegedly.
Asheville lost stud forward Jeremy Atkinson to graduation and sniper guard Keith Hornsby to LSU. Would this be a good point to pause for a musical interlude from Keith's father Bruce? Sure, why not?
Asheville fans will surely check out a few LSU games in the next few seasons, living and dying with
Every Little Kiss
off the glass. Only question is, did Keith take the
Valley Road
out of town? I'll stop before I waste an hour trying to come up with a cheesy Mandolin Rain pun.
The Bulldogs do welcome back shooter Trent Meyer and slasher Will Weeks, who will likely be the top two scoring options. Meyer has gradually improved his three-point stroke over his three years, but only to about 33%. He led the team in assists and steals last season, as well. Weeks converted nearly 60% of his shots, drawing nearly eight FTAs for every 10 FGAs. The sophomore will need to start making more than 59% of said foul shots, however.
6'10" center D.J. Cunningham could be a breakout candidate in his own right. The fifth-year senior regressed offensively last year from before his redshirt in 2011-12, but he did swat three shots per game to lead the Big South.
The other wild card could be forward Jaron Lane, who's coming off a redshirt year of his own. Lane had a great junior year in '11-'12, averaging 11.5 PPG on 61.7% effective and 66.6% true shooting. That latter figure ranked ninth in the country. If Lane is back to pre-injury form, he's an All-BSC candidate.
Asheville's biggest problem is that depth is a rumor on this roster. Junior Corey Littlejohn could be a shooting threat off the bench, but there's little else to speak of.
Last year's club lost by single digits to the likes of Tennessee, NC State and Providence while beating St. John's. The schedule's not nearly as aggressive this season outside of meetings with Kentucky and Duke. Mere seven-point margins in either of those games would send ESPN to DEFCON 2, shrieking "WHAT'S WRONG IN DURHAM/LEXINGTON??!?!?!?"
5. Coastal Carolina
--The Chanticleers had a golden opportunity in the Big South tournament, with the entire thing being played on their home court. All they did was hock up a 17-point loss to Liberty. The stud backcourt of Anthony Raffa and Kierre Greenwood is gone, so who are going to be the sharpest spurs for the Big Fighting Cocks this year?
(What? The school's
website says itself
: "The Chanticleer is a proud and fierce rooster who dominates the barnyard." Sounds like a Big Fighting Cock to me.)
While CCU's returning nucleus spent its time deferring to Raffa and Greenwood, there is some talent here. Guard Warren Gillis scored 10.5 PPG as the third option, but wasn't super-efficient about it. How will he do being guarded as a leading scorer?
The frontcourt appears to be in able hands with African imports El Hadji Ndieguene, Badou Diagne (both Senegal) and Michel Enanga (Cameroon) drawing most of the minutes. The three paced the team in rebounding, while Enanga established himself as a defensive playmaker (3.3 S% and B%).
Coach Cliff Ellis will need to find a shooter, because outside of those four players, not a single man on this season's roster made a three-point shot last year. The hope is that juco guard Josh Cameron (46% on threes last season) or grad transfer Eric Smith (40% for South Carolina in 2011-12) can establish a stroke early. Smith may get first crack at the point next to Gillis.
6. Presbyterian
--The
Depressed Prostitutes
Blue Hoes
Blue Hose still don't have a winning D-I season on their books. Don't look for this one to be the first. The cupboard's not bare, but coach Gregg Nibbert appears to be cooking with off-brand ingredients.
Junior guard Jordan Downing is a solid first building block. He was a 52.4% effective shooter last season, making 43% from outside the arc. If no one else steps up to carry some weight, Downing could average 16-18 on sheer volume.
The best candidate to help may be a freshman. 6'4" guard Reggie Dillard turned down the likes of Tennessee, Vanderbilt, VCU and Tulane to attend PC, so don't expect him to walk in and sit on the bench. Rivals rated him as a three-star prospect, a rare beast in the Big South. The Greensboro native could line up as the replacement for Big South assist king Eric Washington at the point.
Guards Ryan McTavish and Austin Anderson will help with backcourt depth, helping freshmen Will Adams and Markus Terry come along slowly. Big man William Truss (6'7", 257) may be alone in the frontcourt, unless freshman Danny Herrera and 7-foot sophomore Jake Campbell come along quickly. Truss ranked second on the team with 4.6 RPG and shot 59% from the floor, so he may be a reliable option in the paint if anyone can get him the ball.
The Hose weren't terrible offensively last season, placing top-3 in the league in FG%, FT% and 3P%. However, their defense was near the bottom in all those categories and they also got killed on the glass with a league-worst 45.1 TR%. The newcomers will have to ratchet up some defensive pressure and Truss needs help on the glass. Otherwise, the Hose are screwed...and not getting paid for it, either.
MARQUEE MATCHUPS: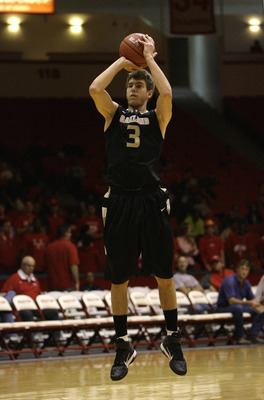 Pictured: Every moment of Travis Bader's life.
Campbell:
Dec. 13 at Loyola (Ill.)
--Very winnable game in the Missouri Valley's new favorite road trip destination.
Charleston Southern:
Dec. 3 vs. Delaware
--Part of a home-and-home, it's the second look Harper and Nimley get against another of the country's best unknown backcourts, Devon Saddler and Jarvis Threatt.
Coastal Carolina:
Nov. 24 vs. Oakland OR Louisiana (Maui on the Mainland Invitational)
--CCU hosts a Maui regional bracket, and could face either Travis "I Shoot More Than All The Expendables Combined" Bader or Elfrid "U-S-A!" Payton in its second game.
Gardner-Webb:
Dec. 19 at Georgia
--After likely getting smoked at Duke, Athens will seem like a picnic. Besides, the Dawgs don't appear to have done much to replace Kentavious Caldwell-Pope.
High Point:
Dec. 28 at Arkansas
--By this point, the Hogs will know if freshmen Bobby Portis and Moses Kingsley are fitting in or not. If not, Brown and Chaney could have big games.
Liberty:
Jan. 4 vs. Princeton
--The Sporting News' Ivy League favorite (yeah, maybe if Harvard falls in a giant sinkhole) makes the trip to Lynchburg.
Longwood:
Dec. 7 vs. Eastern Kentucky
--EKU is getting support to end the Murray State/Belmont death grip on the OVC. A game like this is one that a conference champion should win, road or not.
NC-Asheville:
Dec. 28 vs. NC-Wilmington
--Asheville's first home game against a D-I opponent, and it's Coach Eddie coming home.
Presbyterian:
Nov. 8 at Georgia Tech
--Tech should have some tools to compete in the ACC this year, especially if Trae Golden gets eligible. PC's not winning this one, but hopefully the Hose get to check out some of Atlanta.
Radford:
Dec. 22 vs. Sacred Heart (Las Vegas Classic in, duh, Las Vegas)
--There are better opponents, sure, but this is a winnable game in Vegas. Take those where you find them.
VMI:
Nov. 8 vs. The Citadel
--Home? Check. Winnable? Check. On ESPNU? Check. Inter-military dick-swinging bragging rights game? Double check.
Winthrop:
Nov. 16 at VCU
--Could get ugly fast, but best available considering the Eagles had to drag in three non-D-I opponents.
ALL-BIG SOUTH FIRST TEAM:
Wanna be on a poster? Just try him.
F John Brown, High Point
F Allan Chaney, High Point
C D.J. Covington, VMI
G Arlon Harper, Charleston Southern
G Davon Marshall, Liberty
ALL-BIG SOUTH SECOND TEAM:
F Antwan Burrus, Liberty
G Tristan Carey, Longwood
G Rodney Glasgow, VMI
F/G Javonte Green, Radford
G Saah Nimley, Charleston Southern
PLAYER OF THE YEAR:
F John Brown, High Point
--He had too many dominant games to think he won't get even better with a year's experience.
COACH OF THE YEAR:
Dale Layer, Liberty
--The Flames were just a little ahead of their time. At full strength, they can be an interesting team.
NEWCOMER OF THE YEAR:
F Naji Hibbert, Gardner-Webb
--Former four-star recruit has one more shot to salvage a disappointing career. He'll get plenty of chances to be part of the offense.