Fast forward to the new season, and college basketball's inevitable change appears to have been unkind to the Southland's elite. SFA lost three All-SLC players as well as its head coach. ORU likewise lost two, plus another who could have made the leap this year. Northwestern State may be in the best shape after losing an all-conference performer of its own, but it still returns two more.
What really damages the league's stock this season is not so much the top of the food chain, but the bottom. The Southland went all Statue of Happiness on us this summer, asking for college basketball's tired, its poor and its Division II.
New Orleans spent a large part of a decade as an independent as its school and program tried to recuperate from Hurricane Katrina. Houston Baptist fled from a much smaller-scale disaster, one which most of us knew as the late, unlamented Great West Conference. Finally, two Division II schools, Abilene Christian and Incarnate Word, are beginning their transition to D-I. It will be 2017 before the two are eligible for any postseason play.
All four will need a couple of seasons before the benefit of affiliation with a real live conference shows up in recruiting.
When the season shakes out, there may be a surprise waiting for us. Of course, it wouldn't be a surprise if we saw it coming, and right now, there doesn't appear to be a whole lot coming out of the Southland. Just what we can expect will be spelled out after the jump.
(All statistics and rankings per StatSheet.com unless otherwise noted.)
PROJECTED ORDER OF FINISH:
1. Northwestern State
--Northwestern State and Southern both got tremendous contributions from guys who were cool with the whole sixth-man thing. Both made the NCAA tournament. Yes, it's likely a coincidence. Why do you people have to read so much into everything?
In his first season out of junior college, DeQuan Hicks won Southland Newcomer of the Year despite only starting three games and playing just over 20 MPG. He still led the team in scoring and rebounding with a 60.9 TS%. He put up only three single-digit scoring games, dropped 28 on LSU and had a sick game in January vs. Lamar. How sick? 22 points and nine boards in ONLY 17 MINUTES. Over the full 40, that's 51 points and 21 rebounds. That's ballin' out no matter what conference you're in.
Another first-year Natchitoches stud, point guard Jalan West put up 10 points, five assists and two steals per night. He ripped at least one steal in every single game, which landed him squarely on the league's All-Defensive team. Expect him to be a fixture on that team until he graduates or decides to transfer up. (
Oh, and West only started three games. Best bench in Louisiana, to be sure. That may include the Pelicans.
)
Seniors Gary Stewart and Patrick Robinson are returning starters in name only, as they ranked sixth and seventh on the team in minutes. Stewart is a much more enthusiastic than successful shooter, while Robinson is a skilled defensive playmaker who loves to crash the rack offensively. White averaged 1.6 steals per game in less than 19 minutes per game.
Last year's second-highest scoring team in America will struggle to ascend that kind of height again unless the three-point shooting improves. The Demons drained only 31% from the arc last year, and a couple of their best perimeter guys are gone. Still, there's good depth for coach Mike McConathy to run with.
2. Oral Roberts
--It was a pretty good maiden voyage for the Golden Eagles in the Southland, racking a 13-5 record good for third place. Two CIT wins were a nice salve, but ORU still fell short of the preseason goal of a championship.
Losing all-conference selections Warren Niles and Damen Bell-Holter hurts, but it was expected. Having to boot would-be senior forward Steven Roundtree after his arrest for domestic assault was not. Now, coach Scott Sutton has to rebuild around ex-Utah forward Shawn Glover, a 14.4-PPG man in his own right.
Glover found his weight class in the SLC, raising his FG% by 15 points from his sophomore year at Utah and raising his offensive efficiency by 13. He put together a superb run of four 20-point outings in five games during late January and early February, then ended the season with eight double-figure nights in his final nine. Expect him to contend for league Player of the Year honors.
Sophomore guards D.J. Jackson and Korey Billbury both endured some growing pains as part-time starters. By season's end, though, they dueled for the team lead in assists, Bilbury tied for the team lead in steals and Jackson drained 38% of his threes. The 5'11" Jackson didn't convert two-point shots well, but that has to do with him drawing lots of contact. An 85% foul shooter, he made aggressive opponents pay.
Former Western Illinois guard Obi Emegano becomes eligible this season, and he was a 13-PPG man in the Summit League. Freshman Dederick Lee was committed to Arkansas before pulling out and signing with ORU. Lee was a two-time Arkansas state champion, three-time All-State selection and a 2,500-point scorer, so he should adapt quickly to Southland competition.
For as loaded as the backcourt appears, Glover's front-line support appears to be building on the fly. Sophomores Brandon Conley and 7-footer Jorden Kaufman are the only frontcourt players with ORU game experience. Junior Drew Wilson was ruled immediately eligible after coming in from Missouri State, and he brings a good 6'7" build. He pulled 3.4 RPG in only 13 minutes, recording a superb 15.6 OR%.
Juco forwards Denell Henderson (6'7", 235) and Adrion Webber (6'5", 210) bring strength and verticality to Tulsa, especially Webber, the former Oklahoma regional high jump champion. Webber is also expected to replace some of Niles' shooting ability.
If the chemistry gets tight quickly, expect ORU to hit March hard, trying to atone for last season's disappointment.
3. Stephen F. Austin
--In a league featuring the No. 2 scoring offense in the nation, of course America's No. 6 scoring defense contended for the title, too. The big story for the Lumberjacks, however, is in the departures. Not only did top scorers Taylor Smith and Antonio Bostic graduate, along with defensive stopper Hal Bateman, but coach Danny Kaspar headed to new Sun Belt member Texas State. In Kaspar's place, former Frank Martin aide Brad Underwood takes over.
There is one good building block to work with, that being senior Desmond Haymon. The 6'3" guard was one of the Jacks' top 3-point threats, making 37%. He also came second on the team in rebounds. SFA was one of the few teams in the nation to trot out the same starting five in every game, and junior Jacob Parker is the other one returning. He drained 41% from behind the arc, albeit for a team that didn't emphasize the three. SFA took only 413 bombs all season, 12th-fewest in the country.
The top four minute earners off the bench return. Forward Nikola Gajic and guard Thomas Walkup had two of the top four steal percentages on the team, and were also the team's two most efficient offensive rebounders, albeit in limited minutes. They stand 6'5" and 6'4" respectively, however.
5'9" sophomore Trey Pinkney will get a shot at filling Bateman's point guard spot, but he may have to hold off 6'3" freshman Dallas Cameron. Pinkney was a terrible two-point shooter in his limited attempts (4-25 total), but he can make freebies and stroke threebies. He's another dangerous passer and ballhawk, and Cameron will have to show he can score to win the spot.
The Jacks' size will come from juco forwards Sharife Sergeant (6'9", 235) and Tanner Clayton (6'9", 210). Clayton came in just short of a double-double average last season. Backup off-guard Deshaunt Walker was a terrible shooter last year, so he'll have to hold off juco Connor Brooks and freshman Justin Dotson.
4. McNeese State
--Now, we reach the sticky, gooey center of the Southland Conference. The top three clubs look like the undisputed class of the league, while the other 11 could be an interchangeable mess.
McNeese should fit the "best of the rest" bill thanks to returning three of its top five scorers. Juniors Desharick Guidry (12.6 PPG), Kevin Hardy (9.7) and Craig McFerrin (8.7) will carry the offensive weight. Hardy should see some All-Southland support for his solid all-around game, as he added 6.2 RPG, 4.5 APG, 2.2 SPG and 1.2 BPG last season, ranking in the SLC top-10 in all four. Guidry and McFerrin were also solid on the glass, with 7.5 and 6.5 per game respectively.
Unfortunately for the Cowboys, all their opponents were solid on the glass, too. McNeese was outrebounded by more than four per game and allowed opponents to rip 37.3% of available offensive rebounds, the eighth-worst figure in the country. Coach Dave Simmons hopes that 6'8" sophomore Austin Lewis can help if given full-time minutes. Lewis carded solid 12.0/12.5 rebounding percentages as a rookie and also blocked 1.4 shots per game.
Senior Adrian Fields can add a little scoring and a lot of experience off the bench.
5. Nicholls State
--The Colonels have to replace Southland scoring champion Fred Hunter, but the defense is an even more pressing concern. Opponents racked a 52.1 eFG% against NSU last season, which ranked 309th in the nation. The opposition didn't have to settle for threes, either, as only 27% of the shots taken against Nicholls came from behind the arc.
Australian big men Cade Towers and Liam Thomas will get the call to stabilize the post from their first days on campus. Thomas nearly averaged a triple-double for Central (La.) Private School, carding 14.1 points, 10.5 rebounds and 9.1 blocks per game in his senior season. Towers is a former member of the Australian U17 and U20 teams.
The bulk of the offense will come from three of the mere four upperclassmen on the NSU roster. Senior guard Dantrell Thomas should improve into an all-conference performer after scoring 13.8 PPG last year. He ended the year on a 16.1-PPG run over his final seven games. He does need to rediscover his three-point stroke, however, after he dropped from 36% as a sophomore to 16% as a junior.
One guy whose stroke was solid all year is sophomore guard T.J. Carpenter. Carpenter nailed 35% from the arc as a freshman. Sophomore Amin Torres drained 36% from deep and should be the first scoring option off the bench.
Senior Jeremy Smith was a solid 53% effective shooter, but is not a threat past the mid-range. Junior Shane Rillieux wasn't much of a threat from anywhere last year, with an eFG% less than 36. Another Aussie, redshirt sophomore Sam McBeath, played in only six games last season after averaging 8.0/4.4 as a frosh.
6. Southeastern Louisiana
--SELA had to raid the junior college ranks for reinforcements following the loss of four double-figure minute men. All-leaguer Brandon Fortenberry and top rebounder Roosevelt Johnson will be missed most acutely.
5'9" senior Dre Evans is the top returning assist man, but he's also one of the Southland's more dangerous three-point shooters. He's the likely replacement for Fortenberry. Classmate Jeffery Ricard is the other returning starter, but he could be in jeopardy if he can't improve on last season's 20% from the arc.
Juco guards Julian Chiera, Andrew Guillory and JaMichael Hawkins were all 40-plus shooters from deep last year and are all bigger than Ricard's 6'2" and 170. That length could also help a perimeter defense that surrendered 38% three-point shooting last year, 14th-worst in the nation.
NOT PICTURED: Forrest Johnson.
Johnson's board work will be harder to replace, especially for a team that struggled in that department last season. The Lions pulled only 27.2% of available offensive caroms, good (?) for 307th in the nation and dead last in the Southland. 6'6" junior forward Onochie Ochie should provide some help in that department. His block percentage and eFG% both led the team, and he ended the year with 27 points and 12 boards in SELA's two SLC tournament games.
Beyond Ochie, look for post contributions from 6'7" senior Antonnio Benton (who led the team in blocks last season), 6'9" juco Devonte Upson and 6'8" freshman Forrest Johnson. Johnson averaged 10 RPG and 3 BPG as a senior, but only three points. Hakeem Olajuwon he ain't.
The Lions have rebounding and defensive issues to fix, but if the new crop of junior college products can be immediately productive, it's possible that SELA makes a few waves in mid-March.
7. Houston Baptist
--The Huskies have to be thrilled, finally joining a league with an automatic bid to the NCAA tournament. Not that they'll be equipped to snag it or anything, but stranger things happen in a one-and-done tournament.
As the new kids in town, it's only fitting that HBU has seven new faces and no one in his final year of eligibility. SMU grad transfer Ricmonds Vilde completed his degree after being removed from the team when Larry Brown began cutting more people than Jason Voorhees. The 6'11" Vilde should be expected to handle the grunt work in the paint, but he can also step out for the mid-range shot.
The strength of HBU, however, will be the backcourt. Coach Ron Cottrell likes to run, and he has a crew of guards who can do just that. Tyler Russell (6'0" junior), Marcel Smith (5'6" junior), Caleb Crayton (6'3" sophomore) and Rob Lewis (6'0" sophomore) combined for 33 PPG last season. The depth allows Cottrell to bring top returning scorer Russell (11.4 PPG) back at his own pace after January ACL surgery.
Those guards will, however, need to tighten up the ballhandling. Baptist committed 17.2 TOPG, the sixth-most in the country.
Up front, the Huskies will call on sophomore Dauson Womack for additional rebounding help, as well as freshmen Alex Fountain and Cody Stetler. Womack was a 10.2/18.5 rebounder last season. Fountain (6'7", 200) and Stetler (6'9", 245) were both double-double men as seniors.
8. Texas A&M-Corpus Christi
--Last season was the fifth time Islanders coach Willis Wilson has won six or fewer games in a season. Two of those have come in his first two years in Corpus. This year, he returns nine of the top 11 contributors from last season's squad and hopes like hell that the year of experience together will make the group better.
Point guard John Jordan, the only SLC point guard named to the Bob Cousy Award watch list in December, leads the returnees. He ranked second in the league at 5.5 APG while also ripping down nearly five boards and scoring 12.8 per game. He was also secure with the ball, losing possession on only 19% of his possessions and sporting an A/T ratio of 1.9. Only three times in his final 12 games did Jordan hock the ball up more than twice.
The only two seniors on the team, swingman Joy Williamson and 6'10" post man Zane Knowles will be needed for big production this year. Knowles started 12 games last season, averaging 5.3 points and four rebounds in only 15 MPG. He also shot 51% from the floor, including a stellar 77% at the rim
per Hoop-Math
.
Junior guard Hameed Ali improved his shooting from his freshman season, but only to about 37%. He's a microcosm of the Islanders as a whole, since the entire team needs to improve last year's 45.1 eFG%. Wilson hopes that 245-pound freshman forwards Jeff Beverly (6'6") and Rashawn Thomas (6'7") can assert themselves as viable inside presences. If they adapt quickly to the college game, CC will have a seriously formidable post group.
9. Sam Houston State
--The Bearkats started the season with a mere five-point loss at Arkansas' Bud Walton Arena. That set the tone for a year in which SHSU dropped nine of its 17 losses by five or less. Like Corpus Christi, Sam Houston struggled with shooting, putting up a sickly 44.4 eFG%.
Its physical defense kept it in games, but also caused late-game struggles thanks to referees' whistles. The 'Kats committed 719 fouls, sixth-most in America. Those violations allowed opponents to take .47 foul shots for every FGA and get more than 26% of their points at the stripe. Trimming five points per game in conference would have left the Bearkats with a 13-5 record and propelled it past Northwestern State into the Southland title game.
No one averaged double-figure scoring, but a whopping 11 players averaged double-figure minutes. Eight of the 11 return, and the most likely to see scoring improvement should be 6'5" senior forward James Thomas. Thomas led the team in scoring, rebounding and FG%, plus he recorded exactly 96 boards on each end. 2.9 DRPG isn't all that impressive, but 2.9 ORPG is pretty studly. Thomas ripped down 20 offensive caroms in three meetings with Central Arkansas alone.
Sophomore Paul Baxter should get first look at the point. Like so many distributors at this level, he struggled mightily with his two-point shots, making 37%. As a three-point threat, however, he hit a respectable 35%. He put in 16 points in 12 minutes against Howard Payne in December, a game that convinced coach Jason Hooten to put him in the starting lineup after New Year's.
Five other returnees averaged between 5.9 and 8.6 PPG. Senior Will Bond was the top three-point threat (38%), with classmate DeMarcus Gatlin hitting 44%, albeit in a small sample size (11-25). Junior guard Marquel McKinney was third on the team with 38 treys. Senior forward Terrence Motley (6'7", 240) came in second on the team with five boards per game, including three dub-dubs. 6'11" center Michael Holyfield blocked 28 shots, as many as his next three teammates combined.
A juco-dominated program adds another solid pair in Seward County (Kan.) CC's backcourt of Kaheem Ransom and Jabari Peters. The two combined for almost 30 PPG and 110 threes made, with Peters ripping more than two steals per game. That type of defensive playmaking will be very welcome in Hooten's lineup.
10. Central Arkansas
--August is a rough time for a college program to see its coach leave, but that's exactly what happened to the UCA Bears. Corliss Williamson took off for the NBA, leaving assistant Clarence Finley the job on an interim basis. All he has to do is improve a team that allowed 49% two-point shooting and loses four of its top five scorers. No pressure or anything.
The papa among the returning Bears is senior guard LaQuentin Miles. He finished among the SLC's top 15 in scoring, rebounding, assists and steals en route to third-team all-conference honors. Going into this season as the team's top option, he has to make foul shooting a priority, as he's only a 52% career shooter.
Miles' former high school teammate DeShone McClure is the only other returnee who averaged 5 PPG last season (5.9, to be exact). Sophomore Daouda Berete, junior Lenell Brown and senior Ryan Williams can all pressure the ball and spark some transition chances.
As for experienced size, there isn't much. Senior Terry Tidwell sat out last season, but the 6'8", 230-pound brute returns and will likely see starter's minutes. He shot nearly 60% from the floor with good rebounding percentages in 2011-12, but only canned 40% of his free throws. Aside from Tidwell, all the other Bears taller than 6'6" combine for 15 minutes of UCA playing time. Forward Jeff Drew was a double-double man for Southern University-Shreveport (a juco, not the SWAC school that scared the bejesus out of Gonzaga).
11. Incarnate Word
--The school's full official name is The University of the Incarnate Word. Fans will undoubtedly be incarnating a few words, and not nice ones, when their team begins struggling in the SLC with no hope of postseason redemption for four years.
A .500 Division II program last year, the Cardinals will need rapid improvement from their returnees to pressure even Southland opponents. Two of the top three scorers are gone, but 6'4" guards Denzel Livingston and Kyle Hittle return after combining for about 23 PPG last season. Hittle was a 41% shooter from three last year, while Livingston posted a great all-around line of 12.6/4.5/2.5/1.9/1.5. Yes, that's 1.5 blocks per game out of a 6'4" guard. A relentless slasher, Livingston also made 57% of his two-point shots and took one free throw for every 1.8 FGA.
Sophomore Mitchell Badillo will run the point after dropping nearly four dimes per game and hitting 40% from long range as a rookie. Ex-Campbell Camel Anthony Horton is a stretch-4 who struggles in the post. Despite his 6'8", 230-pound frame, he could only manage 3.4 RPG last season while shooting only 30% on threes and 41% on twos.
For actual low-post bulk, coach Ken Burmeister will have to turn to juco Winslo Barry and former Wisconsin Badger Ian Markolf. The 7'1" Markolf, who played all of eight minutes in two seasons under Bo Ryan, was a solid contributor for UIW in 2011-12 (7.5/6.1 with 1.1 blocks) before missing last season with an injury. Barry was a sporadic contributor for Tyler (Tex.) JC, but could prove to be a decent rim protector.
The word for Incarnate Word must be "defense" this season. Even in D-II, UIW surrendered nearly 76 PPG on 51% two-point shooting. The Cards will struggle with Southland opponents if they allow that much free access to the basket this year.
12. Lamar
epic rant
about his senior class. That group rose up and put him into the NCAA tournament, giving him what remains the best single-season winning percentage he's had in his career. So what exactly could he have said about last season's team that slumbered its way to a whopping three wins?
Evidently, not much, since most of them are now gone, traded in for five juco transfers and two freshmen. Only one senior and four sophomores return.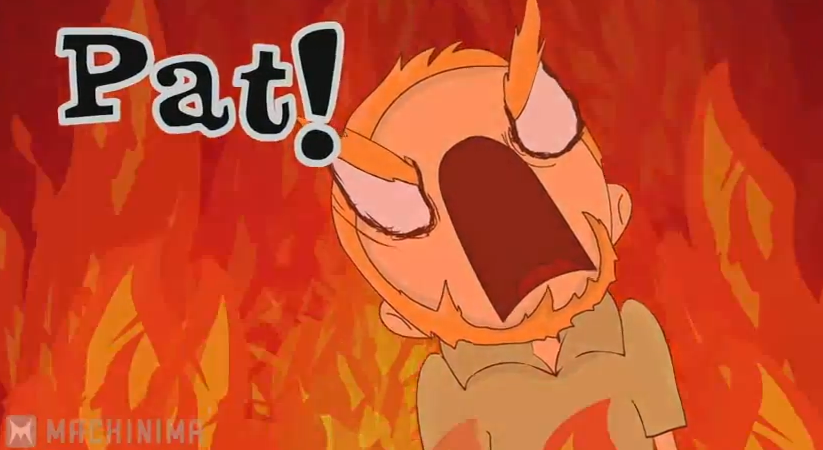 Pat's dad would recommend more fire and/or brimstone.
Of those returnees, three averaged at least 5.4 PPG, paced by sophomore swingman Rhon Mitchell at 10.3. Mitchell racked four double-doubles on the season, but was wildly inconsistent with his shooting. Only twice in conference play did he shoot 50% from the floor.
Senior Amos Wilson is the next leading returning scorer and rebounder. Like the entire team, shooting was an adventure for him; he made only 40.8% from the floor, and that was without hocking up threes.
As a whole, the Cards were allergic to the three all season, attempting only 188 all season and making 57. The 346th-ranked team in America--George Washington in both categories--shot 301 and made 84.
Of the newcomers, Gainesville, Fla. product Octavius Green may be most intriguing. At only 6'6" and 194, he averaged 12.5/12.9 for South Georgia Technical College. Juco transfer Nimrod Hilliard IV (yep, real name) may get first crack at the point. He averaged 8.8/3.3/5.2 last season after spending his freshman season at South Dakota.
13. New Orleans
--Like Lamar, New Orleans has a huge class coming in, with four freshmen, three jucos and a D-I transfer arriving. The D-I in question, forward Matt Derenbecker, spent one year at LSU and one year of active play at Dayton. He's a career 38% shooter from three and should immediately find himself in the starting lineup.
Among the returnees, 6'7" forwards Cory Dixon and Kevin Hill are the first names on the depth chart. The two were the Privateers' top two rebounders and shot blockers. Dixon is also the leading returning scorer despite ranking fifth on the team in minutes and never starting a game.
Seniors Tradarrius McPherson and Isaac Mack both struggled as shooters and ballhandlers last season, so freshmen Christavious Gill and Nate Frye may get chances to take over the point guard role. Another freshman, off-guard Tevin Broyles, was a 14/10/5 guy as a junior in high school, following that up with 18.7/9.8/4.0 as a senior.
The Privateers will from here on be referred to as the Privvies, at least until such time as they can rescue themselves from the Southland's outhouse.
14. Abilene Christian
--Can't tell the players without a program at ACU, the other Division II immigrant. Coach Joe Golding welcomes in 11 new faces, nine from junior colleges. At this rate, the players will need name tags in practice until Christmas.
The only new guy with D-I experience is 6'2" Texan Julian Edmonson, who started his career at Middle Tennessee State. The son of ex-Purdue All-American Keith Edmonson, Julian scored all of eight points in 10 games at MTSU, and those points all came in one game against UL-Monroe.
Sophomore guard Parker Wentz is the only returnee of note. He averaged 8.3 PPG and shot 39% from three. He'll likely have to hold off Edmonson for the starting two-guard spot. 5'10" LaDarrien Williams and 6'0" Harrison Hawkins will battle for the point, with Williams more used to getting his own shot at the juco level.
Golding did draw a couple of big men, getting 6'9", 245-pound Alek Milosavljevic and 6'10", 235-pound Jacob Lancaster. The former was a bench piece for D-II Southern Arkansas as a freshman before going to a juco, while Lancaster was likewise sporadic for Northeastern (Colo.) JC.
MARQUEE MATCHUPS:
What, them worry?
Abilene Christian:
Nov. 17 at Iowa
--ACU has an ambitious early schedule full of potential blowout defeats, so why not go for the gusto and take a road trip to hoop-mad Iowa City? Although this may not be the type of game that will pack the students in.
Central Arkansas:
Dec. 1 at Kansas State
--See above, although unlike Iowa, K-State may be a bit down this season. Not to suggest that UCA can pull an upset, but Cat fans could get nervous.
Houston Baptist:
Nov. 8 at Texas Tech
--The Huskies welcome Tubby Smith to the new job. Etiquette dictates that they bring either wine or a covered dish and not defeat their hosts.
Incarnate Word:
Nov. 26 at North Texas
--The ONLY D-I school on UIW's non-conference slate. Seriously, it seems everyone else was all booked or had spent enough money on body-bag games.
Lamar:
Nov. 9 at Butler
--Any time Pat Knight returns to Indiana, it's news. The bigger question will be just how down Butler is as it transitions to the Big East.
McNeese State:
Nov. 8 at Michigan State
--Welcome to the Izzone, Cowboys. Try to hang on for eight seconds, at least.
New Orleans:
Nov. 23 vs. Boise State
--There are advantages to playing in a popular tourist destination. A potential Mountain West champion making the trip to kick your ass at your house instead of theirs is one of them. If that's what turns you on, that is.
Nicholls State:
Nov. 8 at Auburn
--Auburn is bad this year. Real bad. Lose at home to a Southland school bad? Maybe.
Northwestern State:
Nov. 15 at Auburn
--Is there an echo on this blog? When an SEC team dips this heavily into the Southland, they're bad. And the Demons may have a real chance to pull this one off.
Oral Roberts:
Nov. 10 at Tulsa
--ORU has some big targets lined up (St. Louis, Wisconsin, Wichita State, Baylor, etc.) but the Mayor's Cup is a good way to start the year with some hardware. Should be a solid game, too.
Sam Houston State:
Dec. 28 vs. LIU-Brooklyn
--Perennial tournament team in your house missing its best player? Sure, why not.
Southeastern Louisiana:
Nov. 22 at LSU
--It was either this or the trip to Arkansas. Both should feature stud frontcourts dunking all over the Lions, but at least for one, SELA doesn't have to leave the state.
Stephen F. Austin:
Nov. 15 at Texas
--Rick Barnes is paying lip service to playing defense in Austin. Last year's SFA team could have shown him how it was done. Can this year's?
Texas A&M-Corpus Christi:
Dec. 28 at Minnesota
--If only for the culture shock of a bunch of kids getting used to South Texas weather, then trucking up to Minnesota just after Christmas. That'll freeze your Corpus Christis right off.
ALL-SOUTHLAND FIRST TEAM:
F Shawn Glover, Oral Roberts
G Kevin Hardy, McNeese State
F DeQuan Hicks, Northwestern State
G John Jordan, Texas A&M-Corpus Christi
G Jalan West, Northwestern State
ALL-SOUTHLAND SECOND TEAM:
F Desharick Guidry, McNeese State
G Desmond Haymon, Stephen F. Austin
G Denzel Livingston, Incarnate Word
F Craig McFerrin, McNeese State
G LaQuentin Miles, Central Arkansas
PLAYER OF THE YEAR:
F DeQuan Hicks, Northwestern State
--Mike McConathy likes to run players out there in hockey shifts, but if he's going to change up that style, Hicks is the guy to do it for. He could rack sick numbers if he plays 30 per night.
COACH OF THE YEAR:
Ron Cottrell, Houston Baptist
--Should bring in the "Wow, you guys don't suck nearly as bad as we thought" vote.
NEWCOMER OF THE YEAR:
G Obi Emegano, Oral Roberts
--Either he or Dederick Lee will start for ORU. Whichever one does will win this award. Not like there aren't plenty of newbies to choose from in this league.