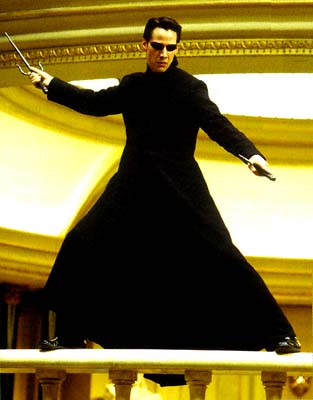 Hey, Neo, Elektra wants her sai AND dress back.
Our last post was all about movies, and the Atlantic Sun Conference has its own movie-related issues this season. After all, the A-Sun just had its masterpiece moment, its
Citizen Kane
or
The Godfather
, when Florida Gulf Coast stormed through the conference tournament and all the way to the Sweet 16.
After a great movie in the modern film industry, there's always the pressure to deliver with a sequel.
The Godfather
pulled it off (once), but most franchises stumble. Looking at you here,
Matrix
.
It's unreasonable to expect a reprise of last season, but no one ever accuses sports fans of being rational beings. While FGCU or any other A-Sun team once again making the Big Dance's second weekend would still be a bet that the adventurous gambler could retire on, we know somebody from this conference is going to the tournament.
Who's most likely? Read on after the jump.
(
All stats and rankings via StatSheet.com unless otherwise noted.)
PROJECTED ORDER OF FINISH:
1. Florida Gulf Coast
--The team that told Georgetown and San Diego State to get bent returns largely intact, not just for this season but next as well. Star guard Sherwood Brown and reserve forward Eddie Murray were last season's only seniors and forward Chase Fieler is the only one this year. In the meantime, ex-Kansas assistant/East Carolina head coach Joe Dooley has a bright, shiny brand of basketball to sell to prospective recruits. Oh, and a campus close enough to the beach that the sound of high tide probably distracts from sociology midterms. Rough life.
One player who sums up FGCU's entire 2013-14 campaign is point guard Brett Comer. Comer will be a SportsCenter fixture this season as he flings up alley-oops with reckless abandon, "reckless" being the key word. While he finished second in America with a 44.9 A%, he also coughed up turnovers on 30% of his possessions. Dial back the crazy lobs just a bit, and he's a lock for every mid-major All-American selection out there.
The other three returning starters--guard Bernard Thompson, forward Eric McKnight and Fieler--combined for 33 points and 14 rebounds per game last season. Expect both numbers to rise this season as Thompson and Fieler divvy up the 449 shots that Brown took as a senior. McKnight will likely split post minutes with 6'10" Georgia Tech transfer Nate Hicks, and the two should combine for very respectable numbers.
Comer and Thompson will have to keep balling hard, because Marquette transfer Jamail Jones is it as far as backcourt depth goes. Jones had a pair of double-figure scoring games in a pair of years at Marquette, but he should get plenty of opportunities in his new, warmer home.
Lost in all the hype about the #DunkCity offense was the fact that Gulf Coast also packed one of the A-Sun's most effective defenses (2nd in defensive efficiency, 2nd in dFG% and first against the three). If that end doesn't suffer in the search for dunks, Gulf Coast has what it needs to take the regular-season title rather than trying to sneak up on everyone. Good luck with that now.
2. Mercer
--Attrition ate some conferences for breakfast, but not so much the A-Sun. Only two of Mercer's top 11 players from last season have departed, leaving behind a core that's loaded with grit even while it lacks star power.
Point guard Langston Hall is the closest thing the Bears have to a big name. He's the top returning scorer at 11.3 PPG and posted a 35.9 A% that ranked 30th in America. Hall made substantial improvements as a scorer last season, upping his eFG% by five points and his TS% by six. With prolific gunner Travis Smith gone, Hall may have to ratchet his attempts back up.
Forwards Jakob Gollon and Bud Thomas like to drag opponents out to the arc and let it fly themselves. The pair combined to make 80 threes last season. Thomas is a more consistent scorer who could double last season's seven PPG if he takes over for Smith as the primary shooter.
Luckily, the idea for new Mercer unis was rejected.
Frontcourt grunt work comes from the upperclass trio of Daniel Coursey, Monty Brown and T.J. Hallice, who measure 6'10", 6'11" and 6'9" respectively. The three split time pretty evenly last season, combining for nearly 15 points and nine rebounds per game. Coursey blocked nearly one of every 10 available shots, accounting for 1.3 swats per game. That ranked fourth in the A-Sun despite his limited minutes. The 250-pound Brown (not to be confused with the former Buffalo Bills LB/pro wrestler seen at left) is also a dangerous rim protector and strong offensive rebounder.
Senior Anthony White and sophomore Jibri Bryan will get a shot at running alongside Hall. Both were dangerous from the arc last season, shooting 35 and 45% respectively, but they were also terrible two-point scorers (combined 26-76 for 34%).
The Bears were the best defensive team in the A-Sun last season. With so much experience coming back, a repeat could easily be in the cards. If they replace Smith's shooting, it's easy to see Mercer getting revenge on the high-flying Eagles and reaching its first NCAA tournament since 1985.
3. USC Upstate
--Upstate returns seven of its top nine rotation players, but the main attraction remains former/possible future A-Sun Player of the Year Torrey Craig. The 6'6" swingman averaged 14.4 points as a freshman and has steadily increased his output since, winning the league's last two scoring titles. The scary part for the rest of the conference is that Craig has steadily improved at shooting the three, drawing fouls and hitting the resulting free throws. One more season of increased accuracy could put Craig into 20-PPG territory.
Fellow seniors Ricardo Glenn and Jodd Maxey provide great support in the frontcourt. Glenn is one of America's best offensive rebounders, ranking 30th, third and 11th nationally in OR% over his career. Thanks to all the putbacks, his 58% FG shooting led the conference last season. Maxey's not a consistent scorer (only eight double-figure games last year), but he's ranked third and first in the A-Sun in blocks the past two years. Fifth in steals as a sophomore, too. He crushed Lipscomb for 26 points, 13 boards and six swats last January.
The backcourt is led by junior Ty Greene, who's a defensive pest (eight three-plus steal games last year) and a dangerous shooter (36% from deep, down from 40% as a freshman). Only Glenn had a higher offensive rating than Greene's 108.2. Juniors Fred Miller and Mario Blessing will battle for the other starting spot, with the 6'4" Miller having a size advantage. Miller also led the team in A% and S% last year, averaging a steal in only 16 MPG. That's 2.5 over the course of a full game.
Senior Babatunde Olumuwiya, a solid rim protector, is the only reserve with major experience. The Spartans may be undone by a lack of size and depth unless some untested players come out strong. Watch for 6'11", 250-pound redshirt freshman Michael Buchanan.
4. Jacksonville
--Once we get past the top three in the A-Sun, the rest of the group is pretty muddled. The Jacksonville Dolphins sum it all up: a team that lost five conference games by five points or less and won six by three or less or in overtime. A basket here and there and JU's either your conference champion or fighting the rats for space in the basement.
Three starters are back, hopefully hardened by all the close games last season. Senior Keith McDougald led the team with 13.1 PPG and a 36% mark from three-point range. Sophomores Kordario Fleming and Jarvis Haywood both had solid all-around freshman seasons, with Haywood earning conference all-freshman honors with his 11 points and four boards per game.
260-pound part-time starter Javon Dawson is the team's best returning rebounder by percentage, but is unlikely to be a major scoring threat. At only 6'6", he's not as equipped to shoot over opposing bigs as that weight might indicate. Sophomore center Tyler Alderman should step into a starting spot if he can stay out of foul trouble (nearly eight whistles per 40 minutes). If not, look for Alderman to split minutes with South Carolina grad transfer R.J. Slawson. A more experienced version of Alderman, Slawson also shares his tendency toward fouls (8.5 per 40 last year).
Five freshmen also join the Dolphins this season. Anyone who can help keep the perimeter defense solid and make some shots himself (32% from deep last season) will see minutes.
5. North Florida
--Finally, we come to the first A-Sun squad that had graduation and transfers take a chunk out of its hide. UNF returns two starters, one valuable reserve and one occasionally valuable reserve, none of whom will be likely to help with the Ospreys' major weaknesses.
UNF was one of the worst defensive rebounding teams in the nation last season, giving opponents extra looks at the basket a whopping 38% of the time. On this season's roster, only two players are listed taller than 6'7", with one of those being guard Beau Beech.
Beech is a decent shooter (35% from the arc), but didn't really concern himself with rebounding as a freshman. Supposedly, that was senior forward Travis Wallace's job. Wallace's rebounding percentages took a dive last season, resulting in him pulling 0.1 fewer board per game in four more minutes per game compared to his sophomore year. Great, he blocked a few more shots, but at 6'6", he's not going to be Jeff Withey any time soon. Wallace is a solid scorer (14.4 PPG on 58% effective shooting), but on the defensive end, he'll need to rededicate himself to crashing the glass.
Forwards Charles McRoy and Demarco "BaeBae" Daniels return, and both are solid offensive boardsmen. Daniels in particular could become a scoring threat after last season's 53.6 eFG%.
The backcourt could be terrible unless jucos Jalen Nesbitt and Devin Wilson rise up quickly. Both are surprising rebounders for their sizes. Nesbitt stands 6'4", Wilson's 5'11" and both averaged better than five boards per game. Both were also 40% three-point shooters, so that will help ease the pain of sharpshooter Parker Smith's graduation.
Freshman forward Chris Davenport, 6'7" with a 7' wingspan, and 6'11" center Romelo Banks will be counted on to help on the glass. Perhaps Banks can help get some of those swats and let Wallace stay focused on the boards once in a while.
6. East Tennessee State
--Five of ETSU's top seven players return from a team that surrendered 1.08 PPP, one of the 30 worst figures in the country. So, the experience falls under the heading of "for what it's worth." Still, the Buccaneers want to make their final season in the A-Sun a notable one before they head for the SoCon next year.
There's still not much height on the team, but bulk is on hand. Forwards Hunter Harris, Lukas Poderis, Kinard Gadsden-Gilliard and Ron Giplaye all stand 6'6" or 6'7", but each weighs in at 235 pounds or more. Harris, Poderis and Giplaye have all shown the ability to crash the glass, especially on the offensive end, but Poderis (foot) and Giplaye (heart surgery) have to get back to form after health concerns. Giplaye is currently sidelined indefinitely following his procedure.
Sophomores Lester Wilson and Petey McClain will figure in the backcourt rotation along with junior Rashawn Rembert. Wilson and Rembert are both dangerous shooters, combining for 38% accuracy from deep. McClain's a good distributor, but if he turns the ball over on 36% of his possessions again in full-time minutes, he shouldn't be getting full-time minutes.
Newcomers have shots at starting jobs if they prove they can contribute to coach Murry Bartow's zone defense. Swingman A.J. Merriweather and forward Isaac Banks have impressive length that will help disrupt passing lanes. 6'4" freshman point guard Devin Harris could take McClain's job if he shows the ability to hang onto the ball.
7. Stetson
--New Stetson boss Corey Williams brings experience as an NBA player, but none as a head coach. He comes from Florida State, a program whose defensively-oriented strategy was diametrically opposed to Stetson's up-and-down offensive style. How he adapts his style to fit his roster will determine the Hatters' success this season, since adapting the roster to fit the style is hard to do in the short term.
Sixth man Aaron Graham is the top returning scorer, but his efficiency has dropped as his usage increases. As the likely top option this season, he needs to come somewhere close to 40% from the floor and 36% from deep if not better. Fellow seniors Hunter Miller and Willie Green made 54 of 62 possible starts. Green handles most of the post duties at 6'6" and 210. He came top-10 in the A-Sun in FG%, eFG%, TS%, rebounds and blocks. Miller rarely shot, but he was reasonably accurate when he did (41% from the arc).
Bigger post help is on the way in the form of 6'8" juco Kentwan Smith, 7'0" Oakland transfer Kyle Sikora and 6'11" freshman Andrew Zelis. Louisiana transfer Raymone Andrews should take over at the point. As a junior in 2011-12, Andrews averaged 6.3 points and 2.2 assists, draining 35% of his threes.
8. Lipscomb
--A subplot to the 2013-14 A-Sun season centers around new Lipscomb coach Casey Alexander and whether he can take the Bisons farther than his former program, Stetson. If he can, it will be a Coach of the Year performance. LU will sorely miss conference Freshman of the Year Stephen Hurt, who has headed for a junior college and will play for Kansas State in 2014.
Lipscomb has routinely been a running team, which will fit well with Alexander's style. The dissonance will come from Alexander's preference for three-point shooting over penetration. Last season, the Bisons ranked 15th in America in FT rate, putting up 44.6 FTA per 100 FGA. Alexander's Stetson team ranked in the 200s at less than 35.
Returning rotation players Khion Sankey, Martin Smith, Malcolm Smith and Carter Sanderson combined for sub-30% accuracy from the arc, making Alexander's shooting style an ill fit in the short term. If the shooters do get a green light, however, Sankey could be a dark horse double-double candidate. He put up 8.3/7.0 last season at only 6'5".
Expect the Smith twins to push double-digit scoring again this season. They combined for 22.3 points and 9.5 rebounds per game as sophomores. Redshirt freshman Charles Smith and true frosh Brett Wishon are the only men on the roster taller than 6'6", so one or both could see big minutes immediately. Sophomore J.J. Butler is the likely point guard after leading the team with a 1.3 A/T ratio.
9. Kennesaw State
About-Schmidt
ugly. See below.
KSU won all of three games, and that was with Markeith Cummings, one of the greatest scorers in A-Sun history. He and top rebounder Aaron Anderson are both gone now, so what's left?
Direct complaints to @3HL4LIFE on Twitter.
Junior guard Delbert Love has put up 12 PPG in each of his first two seasons, and he'll need to score at a Cummings level to keep the Owls above water. Problem is, his eFG% dropped by nearly 10 points as a sophomore.
Aside from Cummings and Anderson, six of the next eight rotation guys return, but again...three wins. Newcomers need to step up big.
Likely candidates include forward Orlando Coleman, rated one of the top 100 juco recruits in America by JucoRecruiting.com. He put up 18.7/11.6 for Alabama Southern Community College. A pair of Ivory Coast natives, 6'8" Bernard Morena and 6'10" Willy Kouassi, come in from Auburn. Kouassi averaged 10 rebounds per 40 minutes during his limited time as a Tiger, while Morena redshirted before transferring. Morena averaged 3.5 SPG in his final prep season.
Five Owls stand 6'8" or taller, so size is plentiful. Unfortunately, right now it doesn't look like talent is in large enough supply to get the Owls in the hunt.
10. Northern Kentucky
--NKU stunned the world by pulling a .500 conference record in its inaugural D-I season. Then, all but one starter messed around and graduated. (The nerve of some people.)
Lone returning starter Chad Jackson is a strong scorer at the rack despite measuring only 6'4". He took nearly 70% of his shots in the lane and made more than 63% according to Hoop-Math.com. He's not a three-point threat, but look for him to score from nearly everywhere else. Able support should come from sophomore Jalen Billups, who missed all but seven games last year. In that limited sample, he converted 61% from the floor, put up 14.2/23.0 rebounding splits and blocked nearly 10 percent of opponents' shots. If he's fully healthy and in similar form, the Norse are much closer to that .500 team from last year.
It's anyone's guess who plays in the backcourt. Sophomore Tyler White, a 32% three-point shooter, may hold down one spot, but newcomers could figure prominently. Juco guard Jordan Jackson was nearly a six-APG man for his team last year.
MARQUEE MATCHUPS:
East Tennessee State:
Nov. 16 at Western Kentucky
--Two straight NCAA tourney bids make Western a good-sized fish for a team like ETSU.
Florida Gulf Coast:
Dec. 1 vs. Iona
--These two teams like to get up and down so fast, the crowd will think they're at a tennis match.
Jacksonville:
Nov. 8 at Florida State
--FSU dropped one to South Alabama early last season, and JU wants to expose the Seminoles for the second year in a row.
Kennesaw State:
Dec. 22 at Indiana
--Have fun freezing your nuts off in an Indiana winter, fellas.
Lipscomb:
Nov. 8 vs. Belmont
--Battle of the Boulevard Round 1 gets the season started in some style. Biggest question: will Rick Byrd show any mercy to his former player?
Mercer:
Nov. 8 at Texas
--The Longhorn program is on shaky ground, with longtime coach Rick Barnes feeling some pressure. A home loss to an A-Sun program would put it into full-on crisis mode.
North Florida:
Nov. 16 vs. Southern
--Try out the new guys at home against an NCAA team you can actually beat. (i.e. Not Florida, Ohio State, Michigan State or Indiana)
Northern Kentucky:
Nov. 10 at Kentucky
--Hide the women and children, and not because the Norse are coming to rape and pillage.
Stetson:
Nov. 30 vs. Davidson
--Davidson looks like it's on the ropes entering this season, but is the program down that far? At least the Hatters have this one at home.
USC Upstate:
Nov. 16 at Tennessee
--Upstate wears green, but UT will be seeing red in facing another A-Sun team. Remember, the Vols tanked in the first round of the NIT against Mercer.
ALL-ASUN FIRST TEAM:
Brett Comer, Florida Gulf Coast
Torrey Craig, USC Upstate
Chase Fieler, Florida Gulf Coast
Ricardo Glenn, USC Upstate
Langston Hall, Mercer
ALL-ASUN SECOND TEAM:
Ty Greene, USC Upstate
Khion Sankey, Lipscomb
Bernard Thompson, Florida Gulf Coast
Lester Wilson, East Tennessee State
Travis Wallace, North Florida
PLAYER OF THE YEAR:
Torrey Craig, USC Upstate
--This would be Craig's second trophy, and he'll have to earn it over the budding rock stars in Fort Myers.
COACH OF THE YEAR:
Joe Dooley, Florida Gulf Coast
--Managing the hype and continuing to win is a lot harder than it looks these days.
NEWCOMER OF THE YEAR:
Devin Wilson, North Florida
--With all the returning veterans, impact newbies are thin on the ground. The Ospreys could have a strong impact backcourt if Wilson and Nesbitt are ready to play quickly.