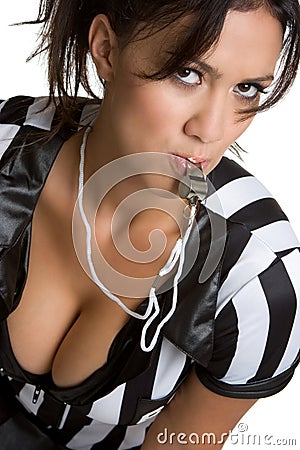 1. Somebody Get These Referees Some Chapstick
--We've discussed the impact of the new hand-checking and impediment rules all offseason, and we've feared that games will become mindless death marches from one foul line to the other. It happened in several places on opening night.
Indiana made (MADE) 45 free throws in routing Chicago State.
Marquette survived against Southern because the Eagles outshot the Jaguars 53-13 from the line. Davante Gardner made 15 by himself.
Oklahoma State and Mississippi Valley State combined for 60 fouls and 79 FTA.
So some, but not all, referees did more blowing than
Alexis Texas
in these first real games. This trend will continue, but just wait it out. By January, the bigger leagues with the better athletes and better coaches will improve their defensive technique or get blown out on the regular. The other conferences won't be heard from until Championship Week.
The new rules will help open up driving lanes, but what will really help college scoring is when high school and AAU players learn how to friggin' shoot. But that's a rant for another time.
Four more takeaways after the jump.
2. Major-Conference Players Can Be Scoring Kings, Too
--Before Erick Green of Virginia Tech led the nation in scoring last season, no power-conference player had worn the national crown since Glenn Robinson back in 1994. If opening day is any indication, there are a few big-league gunners who could threaten for the title.
T.J. Warren will always be the first option for NC State, and occasionally he'll be the second option too. He put up 27 in the Wolfpack's curtain-jerker, but it came against Appalachian State.
His name's Cotton, but he ain't soft.
Now, D'Angelo Harrison of St. John's and Bryce Cotton of Providence need no such disclaimers. Harrison hung 27 on Wisconsin, but the Badgers showed that they're not a boring walk-it-up team in an 86-75 win. Cotton paced the Friars with 28 points--seven in overtime--as PC outlasted Boston College in a battle of two unheralded teams who are NCAA equipped this year.
Cotton may be most likely to keep putting up those numbers if the officials keep it tight, as PC bruiser Kadeem Batts only managed eight points before fouling out. He may be even more likely to lead the nation if PC struggles the way VT did with Green last year. A bad team tends to throw caution to the wind and let their primary gunner fire.
3. It Ain't the Rapture, But It's a Win
Alex Rodriguez has a poster of himself just like this.
--Andrew Wiggins dropped in 16 to lead Kansas to a win over UL-Monroe. Wait, that's it?
Yeah, but none of the Jayhawks should have had to overextend themselves for a win over ULM. It was an ugly game with 58 fouls and 72 free throws.
Wiggins only made five baskets, but two of them were threes, a positive sign. He turned down several open looks that an alpha scorer takes, and that's a negative sign.
For all the droolers who claim that Wiggins is the next Jordan, the first place he needs to improve in is the attitude. Jordan took every look, gesture and comment from an opponent as a slight worthy of disembowelment. Wiggins may show up hard in the games against Oklahoma State after Marcus Smart's (entirely correct) comments about Wiggins not earning the hype, but what other games will get him that fired up?
Expect a more aggressive game against Jabari Parker and Duke on Tuesday. Don't expect him to give a blind man back his sight or turn the concession stand soda into wine.
4. The Rest of the Big 12 Just Might Suuuuuuuuuck
--Kansas rolled an opponent it should roll. Oklahoma State crushed a SWAC team and sent it home with cabfare. Baylor went to Dallas and convincingly took down an expected Pac-12 contender in Colorado.
For the rest of the conference, not much to get excited about. Oklahoma's win over Alabama is a nice one that could stand as a positive by March. But, Texas beating Mercer by three at home? Mercer should wage a fierce battle with #DunkCity in the Atlantic Sun, but this is not the kind of win that's going to get the Texas Exes off Rick Barnes' ass.
Hope you saved the jacket, Bruce. Some real estate company might use it.
Northern Colorado beating Kansas State in the Octagon of Doom? More like the Octagon of Pleasant Conversation and Light, Airy Tea Cookies. K-State simply doesn't look like it has the scorers to contend in the conference this season.
We've yet to see Iowa State in action, but if DeAndre Kane isn't an All-Big 12 first-teamer, this conference could very easily send only three teams to the Dance.
5. Oregon's Backcourt Will Be One of the Three Best in America
--Even without the suspended Dominic Artis (nine games for selling a pair of shoes FTL), Oregon traveled halfway around the world and stuffed Georgetown in South Korea.
Pictured: Waverly Austin.
While the Ducks frontcourt looked like actual mallards swimming out of the path of the USS
Abraham Lincoln
whenever they tried to guard Josh Smith (25 points but, oddly, no defensive rebounds), Oregon's guards likewise got whatever they wanted.
Transfers Joseph Young and Jason Calliste combined for 40 points, draining all 23 of their FTAs. Artis' replacement, Jonathan Loyd, merely put up nine points and seven assists with nary a turnover. Damyean Dotson struggled through a 1-8 shooting night, but he did pull eight rebounds and helped hold Hoya guard D'Vauntes Smith-Rivera to only 2-10 from the floor.
When Artis is back, this is a serious five-deep backcourt rotation. Perhaps the Ducks' only equals in both talent and depth may be UConn and Memphis. Duke and Louisville would also have a case.
Bonus Coverage of TBI's Schools
Matt Painter's death glare = 0.6 on the Martin scale.
--Purdue nearly took a total gaspipe against Northern Kentucky, surviving for a one-point win on a pair of free throws with :13 left. It would have been the Boilers' second straight season-opening loss, but there was no shame in losing to Bucknell last year.
This one would have hurt badly. NKU's not even full D-I for three more years. The Norse brought their shooting shoes to Mackey Arena, splashing 13-26 from deep. Encouraging signs for Purdue were 7-11 shooting from Ronnie Johnson and 80% foul shooting as a team. The Boilers made 65.3% from the line last year, 11th in the Big Ten.
Middle Tennessee doesn't open its season until Sunday, and hopefully the Blue Raiders are already cutting up the scouting film of Southern from tonight. As alluded to earlier, the Jaguars gave away a lot of careless fouls, were outscored 33-6 at the stripe and still only lost by seven to TBI's preseason No. 20 team.
A large portion of the nucleus that scared the balls off Gonzaga (seriously, they still didn't find them in time to play Wichita State two days later) is back, and MTSU doesn't have a low-post workhorse like Davante Gardner. Middle needs to show up and show out, otherwise the SWAC will rack a respected mid-major scalp.