He was 18 when MSU-UK tipped off.
If you stayed up for all 29 or so hours of ESPN's College Hoops Tip-Off Marathon (aka Starbucks and Red Bull's Christmahanukwanzakah), I have two things to say to you:
1) You are a sick, maladjusted, misanthropic person who will die alone unless you adopt 18 cats; and
b) I so wish I could match that stamina and lack of daytime gainful employment/small people waking up before dawn.
Some teams had a great time tipping it off at ungodly hours, while others played like they'd already had their warm milk and binky, merely needing their favorite blankets to nod off like a toddler.
Let's look back over the two days in which we were all contemplating doing rails of coke off a hooker's ass if it would keep us awake through the second half of West Virginia/Virginia Tech.
Check after the jump for some of those who absorbed should-be-illegal benefits and some who took must-be-pitied damage for even being in the vicinity of the Marathon.
She played strip H-O-R-S-E with Tyler Haws.
WINNERS: People Who Like Scoring
--BYU and Stanford combined for 215 points. Relative to the era we're trying to leave behind, these teams made Loyola Marymount look like Princeton.
Marquette was 239th in the nation in tempo last season, but found time to score 114 against Grambling. Yes, it's Grambling, but still. That kind of output is usually a good week for the Golden Eagles.
New Mexico State tipped off at 3 AM Mountain time and still managed to score 95 points on 58% shooting.
Through the first six days of the season, scoring was up to about 74 PPG from last season's 68 at the same point. (h/t
KPI Sports
) Post players with a physical advantage over their opponents are operating with a lot more impunity. Georgetown's Josh Smith scored 25 points in his Hoya debut, and he's loving life.
"You can check a guy once, then you have to back off," Smith said Tuesday
to the Washington Post
. "I love it because the rule is, in the post they can't arm-bar anymore. They can't put two hands on you. As a post player, I have no problem with it."
Smith's coach, on the other hand...
LOSERS: People Who Bitch About #AlloftheFouls
--Hoyas coach John Thompson III told the Post, "They want to get scoring up, which is fine, so you penalize guys for touching on defense. If you look at college basketball the last couple of years, I don't think the games have been less exciting. If you want to say scoring is down, that may be true. But some people get excitement off of defensive stops, as much as scoring."
To judge from all the pissing and moaning all over Twitter, the season's first six days has seen approximately 92,472 fouls called leading to 341,567 free throws that extended the average game to nearly five hours and three minutes. Give or take.
One of my favorite people on the Internet is Travis Miller, the poobah of Purdue's SB Nation blog
Hammer and Rails
. Much as I respect him and his work, he's a pretty strident overreactor to this point of the season:
I really wish they hadn't outlawed defense because of these ticky-tack fouls that are supposed to be called now.
— Travis Miller (@HammerAndRails) November 13, 2013
Here is the one thing I'll say for now: if every one of your team's games is being extended to unbearable lateness by a procession to the foul line, it means only one thing, and I'll emphasize it so it stands out:
YOUR TEAM PLAYS SHITTY DEFENSE AND YOU NEED TO FIND ANOTHER SCHOOL TO SUPPORT.
There is no conspiracy, the referees are not paid off by the opponent and there's no taxi-style meter in their whistles toting up bonuses by the blow. Your team is simply struggling to grasp the concept of moving feet on defense instead of smacking people upside your head, say oops upside your head.
Dig, if you will, the unfortunate case of the Southern University Jaguars. (They didn't play as part of the Marathon, but dig them anyway.) Over three games, the Jags have committed 34, 36 and 28 fouls resulting in 53, 55 and 40 free throws. Those games ended up losses to some decent programs: Marquette, Middle Tennessee and Tulane--by a combined margin of 16 points. Seriously, Marquette scored all of THREE FIELD GOALS IN THE SECOND HALF and still slithered out with a win. Maybe they needed Jameel McKay more than Anonymous Eagle wants to think they did.
Cut 10 fouls out of each game, and SU is 3-0 with some serious resume wins. There may be more lenient whistles in the SWAC, but coach Roman Banks has to push the defense to get better, especially when Texas Southern comes in looking to hammer away with big man Aaric Murray.
Gonzaga needed only 11 made foul shots to score 93. Texas held South Alabama (and its stud big man Augustine Rubit) to 42% shooting while committing only 14 fouls. KPI Sports tells us in the same post linked earlier that fouls are up 15%, or 2.7 per team per game. We're seeing five extra fouls per night on average.
Let's stop pissing and moaning because Seton Hall and Niagara (102 FTAs, remember) can't play defense. The sky isn't falling.
WINNER: Indiana
--IU wasn't a part of the Marathon, and holy damn, are they glad they weren't. The Hosers did NOT want their titanic struggle with LIU Brooklyn broadcast on the Worldwide Leader.
The Blackbirds laid out a blueprint for the rest of Indiana's opponents to follow: Play zone and make Indiana pop threes all night. At one point, the Loosiers bricked 15 threes in a row. All of this was going on while the hoop world was firmly focused on Michigan State and Kentucky.
LOSER: UNLV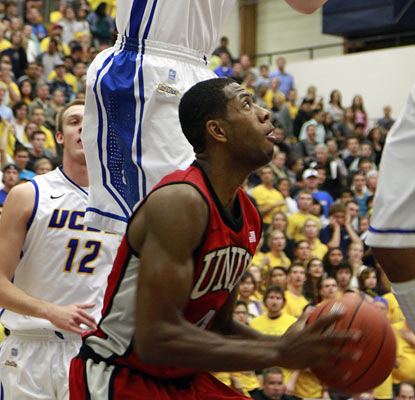 "Don't teabag me, bro."
--UNLV was also in action while the Champions Classic was in full swing. Unfortunately for the Rebels, losing a game you should have no business losing tends to linger like a fart in church. Scrutiny arrives eventually, more so than squeaking out a win the way Indiana did.
Much like LIU did to Indiana, UC Santa Barbara threw a zone at Vegas and dared it to pop jumpers. UNLV didn't need any prompting to hoist from outside last year, and it certainly didn't on Tuesday night, either. The Brickin' Rebels carded a 42.9 eFG% while ignoring the other end, allowing UCSB a flaming 64.4 eFG.
And each team committed all of 20 fouls. Stuff it, whiners.
WINNER: West Coast Conference
--The WCC's Big Three all worked Monday night into Tuesday morning, and they didn't have easy jobs. Gonzaga faced off with Colorado State, BYU went into Stanford's house and St. Mary's took on Akron.
Combined score: West Coast 290, The Other Guys 227.
Gonzaga made it rain like Pacman Jones at the "scrip" club, hoisting 31 of its 59 shots outside the arc. Still, the Zags also hit 20-of-28 from two-point range. Considering that Gonzaga's replacing some studs, it underscores just how tough a rebuild Larry Eustachy might be in for this year.
Stanford gets to the NCAA tournament, or Johnny Dawkins gets the ax. There didn't seem to be a ton of extra motivation, as BYU ran the Cardinal out of their own house. 145 shots went up, or one every 16.6 seconds. In the era where coaches fancy themselves chess masters, painstakingly orchestrating every possession, the game was a welcome dose of up-and-down frenzy.
Akron will miss point guard Alex Abreu (gone from the university after a
drug trafficking arrest
) a lot more than it will miss 7-footer Zeke Marshall. Abreu's replacement, Carmelo Betancourt, was largely a non-factor against St. Mary's, a team breaking in a new PG itself in former wing Stephen Holt. Holt looked like a stud with 14 points, seven dimes and no giveaways.
LOSER: SEC
--Perhaps this could be a push, because no one at an SEC school outside of Lexington, Ky. even knows basketball is going on already. Still, seven SEC teams laced 'em up on Tuesday, and all the ones faced with major competition lost. Missouri beat Southern Illinois and Vanderbilt had to rally to get past Georgia State.
Granted, the latter is a decent win in TBI's book, since we're picking G-State to win the Sun Belt in its first go-round. That doesn't change the fact that Joe Vandy Fan would puke in his latte if his team lost to a Sun Belt team.
Most damning may have been Tennessee falling to Xavier. X doesn't lose in the Cintas Center, but it was also missing two primary pieces in Justin Martin and Dee Davis. Jarnell Stokes and Jeronne Maymon didn't get Josh Smith's memo about post players being helped by the Byzantine rule changes, as the two combined for 11 points, seven turnovers and nine fouls.
Florida lost to Wisconsin with a highly depleted roster, but the chemistry and discipline on that team look troubling no matter who's sick, injured or suspended.
WINNER: The Cult of the Freshman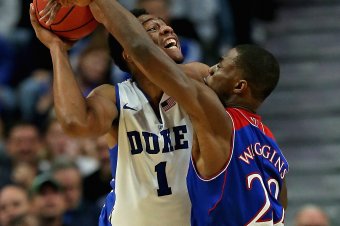 --Jabari Parker, Andrew Wiggins and Julius Randle made Twitter NBA tanking slogans a cottage industry Tuesday night. From "Riggin' for Wiggins" to "Scandal for Randle" to "Hari-Kari for Jabari," we ended up back at the start when Wiggins finished what Parker started in their head-to-head matchup.
Randle clearly established himself as a guy who needs only work on a new post move when opponents get film on his spin. Coach Cal likely already has Hakeem Olajuwon on the first thing smokin' headed for Lex. Even he, though, had difficulties early on. In the first six-plus minutes of the game, Randle didn't score despite getting 27 touches according to STATS LLC.
The larger issue with UK, however, will be the Harrison twins. Andrew carded four turnovers and four fouls, but only three assists. Aaron clanged all five of his three-point attempts. Most tellingly, both had moments where their offensive struggles bled onto the defensive end.
Wiggins took on Parker face-to-face during the second half, and he slowed the roll on his equally hyped classmate. After being mostly a spectator in the first 20, Canadian Jesus went to work in the second. And work was the operative word. He didn't light the highlight reels on fire, no matter how much Dickie V wanted to scream to the heavens on a pedestrian dunk. Dude simply made plays. If he does that all season, the SportsCenter junkies will dub him a bust because mid-range jumpers and steals don't give them dunkrections. But Kansas will win. A lot.
Parker scored every which way but doggy during the first half, ripping twine on threes and pounding home alley-oops that DID set SportsCenter ablaze, justifiably so. He did become obviously timid on defense with foul trouble late before fouling out on Wiggins' final slam. Still, there's every bit of evidence that Jabari is every bit the player Wiggins is, and possibly better.
I don't rate freshmen on my preseason All-America teams, but damn if I didn't come very close to breaking the rule for these three guys and Aaron Gordon.
LOSER: College Football Fans
--Look, cup-sniffers, here's the major problem your sport has compared to mine. Great basketball teams get to go play other great basketball teams, and it doesn't completely torpedo their seasons.
Your coaches would rather piss on a space heater than book a national title competitor in September. Ours put it on the line just to see how damn good their team really is. Say what we want about Calipari, he's not ducking people this fall. Self and Krzyzewski don't either.
Enjoy Alabama vs. Chattanooga, kids.