The headline pretty much says it all, eh? I didn't bust out a new Top 25 last Monday because seriously, how do we re-evaluate from preseason expectations based on (mostly) one game? Not even Kansas State losing to Northern Colorado moved the needle that much, since I fully expect Kansas State to continue sucking buttermilk all season long.
Thanks to teams actually understanding what Tim Miles and Jamie Dixon
figured out years ago
, we saw some very good early matchups. Schools are scheduling to try and play the RPI like Charlie Daniels plays the fiddle, and to get there, they need to take some risk from time to time.
Unless, of course, you're Louisville, who'll simply begin the Cupcakes Across America tour with visitors from the Northeast and welcome the Midwest in later. Southern Miss, Louisiana and Western Kentucky are the closest things to hardcore challenges the Cardinals will face before having to go to Rupp Arena Dec. 28. If U of L isn't undefeated going in against UK, it won't be in the top 10.
So, let's take a look at this week's TBI ballot, starting before the jump with the Faceplants (those who dropped out from the preseason rankings):
Faceplants: No. 18 Marquette, No. 25 Iowa
--Marquette couldn't even shoot 20% from the floor against Ohio State. That would be grounds for immediate NCAA ineligibility if I were Tournament Czar. Iowa munched its cupcakes hard, but it simply got pipped by teams knocking out quality opponents. More on them after the jump.
25. Gonzaga (3-0, LW NR)
SPOILER ALERT: Swish.
--The Zags have re-invented themselves quite well as a bomb-happy guard-oriented outfit. One concern, though: Oakland racked up a 61.1 eFG% on Sunday. The sub-40% performance allowed to Colorado State wasn't realistic to expect every night, but the defense must stay consistent against the lower-profile opponents. One would think after Wichita State last March, that lesson would have sunk in.
24. Tennessee (1-1, LW 20)
--Seven of 19 from the foul line? Are you joking? Losing to a full-strength Xavier team at the Cintas is a game with no shame. A hobbled Xavier team can still pull something out as long as Semaj Christon is vertical. But when you leave 12 points on the table in a four-point loss, that's a problem that tends to linger. Plus, Jarnell Stokes and Jeronne Maymon aren't quite out of each other's way yet.
23. Harvard (3-0, LW 22)
--I like me some Holy Cross, and Dave Dudzinski is one of the best big men middle America hasn't heard of. Still, the Crusaders were winning that game with five minutes left. Call me when you knock out Colorado or Denver.
22. New Mexico (2-0, LW 23)
--A couple of relative cupcake wins, although the Lobos showed they could score with anyone in a 109-93 win over a good Charleston Southern team. There will be a few more games in which Cameron Bairstow and Alex Kirk each break 20.
21. North Carolina (2-1, LW 12)
PICTURED: J.P. Tokoto's max range.
--No P.J. Hairston, no Leslie McDonald, no perimeter game at all. 5-17 from three against Holy Cross and Belmont. Holy Cross should have won at the Dean Dome and Belmont did. Meanwhile, J.P. Tokoto should have been made to scrub out the team laundry with his toothbrush after a 4-16 from the line against the Bruins. Zombie Wilt Chamberlain erupted from his grave just to point and laugh at you, J.P. Louisville could beat UNC by 25 next weekend.
20. Wisconsin (3-0, LW NR)
--When will I learn? Bo Ryan is the Evil Wizard and we must all bow before his black sorcery. St. John's in South Dakota, Florida at home and at Green Bay are all quality wins, believe it or not. By season's end, the Johnnies could look like the ultimate teases and Florida might stagger to a mid-level NCAA seed, but for now these are strong. Now comes the rest period against various one-bid leagues before St. Louis arrives next Tuesday.
19. BYU (4-0, LW 24)
--The Coogs have yet to be held below 80. Twice, they've broken 108. If the new rules were designed to get more points on the board, behold your poster boys. Wednesday, Iowa State comes to Provo with Melvin Ejim back and fresh off a win over Michigan. There will be points. BTW,
TBI first-team All-American
Tyler Haws is averaging 30 and 10 so far.
18. Creighton (3-0, LW 21)
--Doug McDermott "only" put in 20 points and the Jays still beat a decent St. Joseph's team in its own house. Feel free to stamp this bunch as a one-man team until it stones your team. The upcoming schedule definitely has Arizona State and Cal. It could have San Diego State and Marquette if results fall right at the Wooden Legacy. Moral of the story: watch Creighton whenever they're on.
17. Florida (2-1, LW 14)
--There's no shame in losing to the Evil Wizard at the
Fortress of Blood
Kohl Center, especially in one's second game. Everyone does it. However, there nearly was shame in losing to North Florida, a game that got saved by 84% foul shooting. That gonna happen again? Not often. Patric Young is still sleepwalking and Damontre Harris is "off the team," according to Billy Donovan. Depth will stay an issue.
16. Virginia (2-1, LW 16)
Only two of these so far. There will be more.
--The Hoos lost on a last-second bomb against VCU, then held Davidson to 30% shooting. That's the definition of a push week. Joe Harris should get his stroke back against Navy, Liberty and Hampton next week before games against SMU, Wisconsin and at Green Bay for the Tony Bennett Hero's Welcome Homecoming Game.
15. Wichita State (4-0, LW 19)
--The one wart to be found on the Shockers' performance so far is that Cleanthony Early keeps bricking threes (22%). Of course, they won't be seriously tested until December 1 against St. Louis.
14. Oregon (2-0, LW 17)
--Joseph Young is averaging 30 PPG because he's made 27-28 from the line. Kids, take notes. The Ducks' defense wasn't so hot in the first half against Western Carolina, but the win over Georgetown was strong front to back. That is, except for the struggles to contain Moby Smith.
13. Michigan (2-1, LW 9)
--Melvin Ejim had a bigger impact on Iowa State's fortunes Sunday than Mitch McGary had on Michigan's. Nik Stauskas is off to another hot shooting start, but Caris LeVert fell off the table with a thud against the Cyclones. Let's see how UM does in Puerto Rico this week, starting with Long Beach State on Thursday. VCU, Florida State or Georgetown could await.
12. UConn (4-0, LW 15)
--Shabazz Napier is close to a triple-double average (13.5/9.8/7.5) through four games. Right now, there aren't many--if any--guards playing his kind of all-around ball. Surviving that opening game against Maryland looked a lot better before the Terps got stiffed against Oregon State. Still, there's a great chance to make statements at Madison Square Garden this week, with Boston College and either Indiana or Washington on tap.
11. VCU (3-0, LW 13)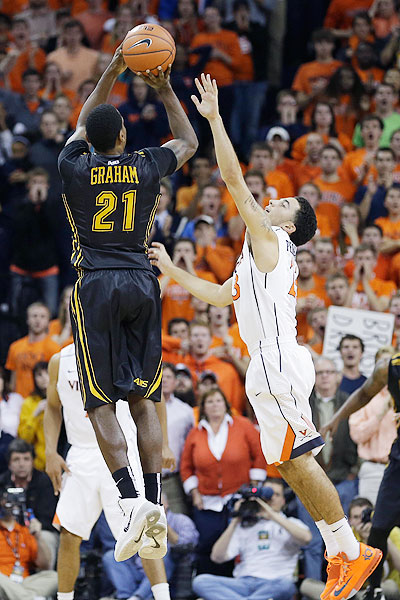 Dagger.
--The Rams are getting a ton of chances from the foul line, but they'll be done in at some point if Juvonte Reddic and Terrance Shannon don't start hitting better than their current 28% combined. Shannon gets to take on his old Florida State team in the Puerto Rico Tip-Off.
10. Oklahoma State (3-0, LW 10)
--Props to the Pokes for making the games that should have been yawners into yawners. Memphis shows up in Stillwater tomorrow night, and this'll be a big referendum on OSU. The Tigers have the size that Okie State lacks, and of course both teams have plenty of ballers in the backcourt.
9. Memphis (1-0, LW 8)
--One game against Austin Peay isn't moving the needle yet. By the time the Tigers go to Orlando for the Old Spice, they'll have only played three games in 20 days. Your granny's nursing-home shuffleboard team has a more grueling schedule.
8. Syracuse (3-0, LW 7)
--C.J. Fair's living up to his ACC POY/potential All-American hype so far, but he's not quite sure who his support will be from night to night. Trevor Cooney's missed eight of nine from deep after that opening-night blitz against Cornell. The 49.5 eFG% and 60.2 FT% probably won't be an issue against St. Francis Brooklyn, but what about against a loaded Maui field next week?
7. Ohio State (3-0, LW 11)
--Saturday's defensive performance would have been impressive against Morgan State, let alone Marquette. Of course, it's not like the Buckeyes were scorching the nets themselves. 1-11 from the line by anyone not named Slam Thompson is bad news. Getting crushed 50-35 on the boards is bad news.
6. Duke (2-1, LW 6)
Boards, handles, shot...Parker's all but driving the bus.
--Duke is third in the nation in both 2FG% and 3FG%. That's the good news. The bad news: bottom 20 in OR% and giving up 52% inside the arc. We knew there wasn't much inside presence, and Jabari Parker's been the only one hitting the glass. Still, all of that shouldn't be a problem until Michigan comes to town on Dec. 3. Even then, I might be talked into taking Parker over McGary.
5. Kentucky (3-1, LW 2)
--UK did a fantastic job keeping its boot on the throat of Bobby Mo, hopefully exorcising the demons from the NIT tanking. The Kittens have three more cakes at Rupp before a nice six-game run that will tell us how hard they roll. Providence in Brooklyn, Baylor in Dallas, Boise State, at North Carolina, Belmont and Louisville will all learn something from Michigan State's blueprint.
4. Louisville (3-0, LW 4)
--Man, Chane Behanan got back in line quickly, didn't he? Might have had something to do with that ugly first 33 against Charleston. As alluded to earlier, there aren't many real threats in U of L's non-con slate, possibly excepting Southern Miss and a potential match against North Carolina in the Hall of Fame Tipoff. Behanan could have sat out until Christmas and probably wouldn't have been missed.
3. Kansas (2-0, LW 5)
--See, Cardinals, this is what aggressive scheduling gets you. KU put a good game together against Duke, and the rest of the non-league slate will be stiff, too. Even the weaker opponents are potential NCAA teams like Towson and Toledo. The Jayhawks will have a very legit No. 1 case if they get to Big 12 play unbeaten.
2. Arizona (3-0, LW 3)
--U of A walked into Viejas Arena and took one away from San Diego State, holding hyped transfer Josh Davis to two points. Was it more a case of Arizona playing great defense or SDSU being overrated as a Mountain West contender? Right now, I lean to the latter. Arizona's only other real chances to show and prove come at home with New Mexico State and at Michigan.
1. Michigan State (3-0, LW 1)
"The hell you mean, we're No. 1? You watch this @%%# game?"
--A nine-point home win over Columbia looks like a bad case of hangover following that hyped win over Kentucky. If not for the Izzone giving false reports of expiring shot clocks, MSU could have been doing the Kansas State Walk of Shame back to its locker room. North Carolina is the only kinda, sorta half-assed test left on Sparty's non-con slate except for a potential meeting with Oklahoma in Brooklyn. Tom Izzo may get his wish for Kansas to lap his team by actually playing a potent group of opponents.
Major Games This Week:
Memphis at Oklahoma State, Tuesday
Iowa State at BYU, Wednesday
Middle Tennessee at Florida, Thursday (Don't sleep.)
Florida State vs. VCU, Thursday in Puerto Rico
UConn vs. Boston College, Thursday in NYC